It's pretty likely that this post contains affiliate links. If you make a purchase through them I will receive a small commission, at no extra cost to you.
For anyone searching for a short city getaway, London always comes up top of the list. If you're reading this article, chances are you're planning to do the same.
London is an incredible city, where you can find rich history, stunning architecture, delicious international cuisines, fun shopping opportunities, a vibrant nightlife and more.
With so much on offer, how do you decide what to see in London if you don't have long?
I've put together this London 2-day itinerary to highlight all the coolest places that you should visit, and structured to maximise your time and minimise travelling efforts. I hope you find it useful in planning your two days in London!
Discover fun facts about London with this London quiz!
London 2-day itinerary: Day 1
This itinerary is mostly a walking itinerary. I've laid out all the stops you should visit and included Google Maps at the end, so you can see how much walking is expected.
I personally love walking and find it's one of the best way to see any city, especially one as trafficked as London! However obviously feel free to adapt the itinerary to your travel needs and take transport where needed!
If you're not sure what the best way to travel around London is, check out this guide on how to get around London.
Oxford Street
We're starting our first day in London at the famous Oxford Street. You want to start your day here fairly early because as time goes on it will get considerably busier.
By considerably busier I mean basically hell on earth for anyone that hates crowds like me. So get there nice and sharp in the morning and you'll be able to do some high street shopping without having to queue hours for a changing room.
Piccadilly Circus
From Oxford Street you can walk to Oxford Circus, down Regent Street and to the popular Piccadilly Circus. This is London's equivalent of Times Square in New York.
With the big bright advertising billboards, multiple road crossings, street buskers and crowds it's quite the sight.
An alternative road you can take is the colourful Carnaby Street, it's just parallel to Regent Street and while it's always busy, it's completely pedestrian so it's a bit more pleasant to walk along.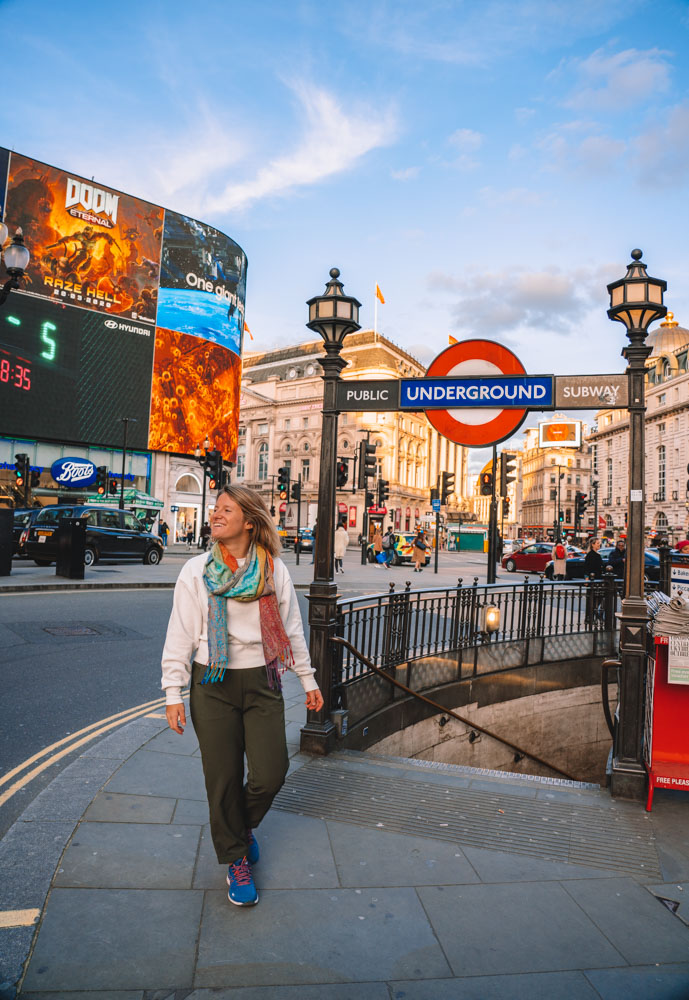 Leicester Square
From Piccadilly Circus it's a very short walk over to Leicester Square. Leicester Square is that place you always see on TV when they do movie premieres in London.
There are a number of very cool cinemas here but if you're only in London for 2 days, you probably don't want to spend a couple hours of your time locked up in a dark room.
There are loads of quick takeaway food places in Leicester Square but they will most likely be over priced and not that great.
Covent Garden
Covent Garden is a short 5-minute walk away from Leicester Square and one of the most famous spots in London.
The central covered area of Covent Garden, known as the Apple Market, is full of cool shops, bars and restaurants, and also a few touristy but quirky market stalls where you can get lovely London gifts.
There are also loads of cute cafes, as well as cafes you can work from if you want to sit for a bit longer.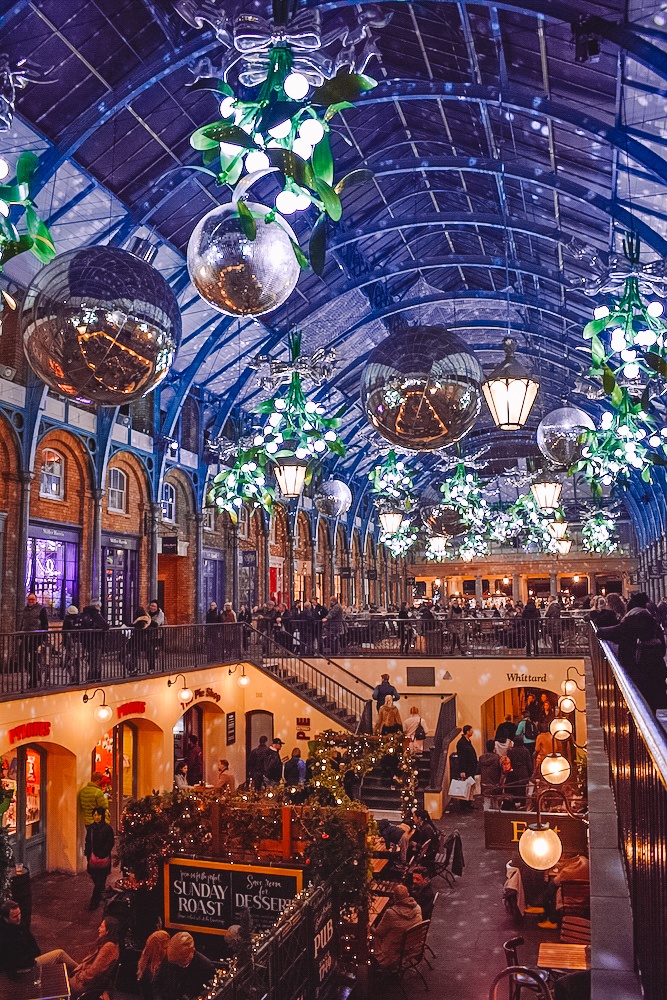 Trafalgar Square
After Covent Garden you can walk down to Trafalgar Square where you can visit the National Gallery. Entry to museums in London is generally always free, you only pay for the exhibitions that are on at that specific time.
I love that all the museums in London are free entry. For those who think London is an expensive city, there's actually lots of free things to do!
If like me you're not a museum person (I'll admit I've only been inside the National Gallery once) Trafalgar Square is still a nice and famous spot of London that you can admire, and from there walk on to your next stop.
Westminster Abby, Houses of Parliament & Big Ben
From Trafalgar Square it's a short walk down to the river, where you will see two of the most iconic London sights. Big Ben is under restructuring works at the moment but you can still visit Westminster Abby and the Houses of Parliament.
London Eye
Just across the river you will see the London Eye, it's hard to miss. In 7 years of living in London I have only been up the London Eye once but I can say it's really something.
Yes it's super touristy but the view is very good, if you have the time I would recommend going up the London Eye. You should book tickets beforehand to save time and jump some of the queue.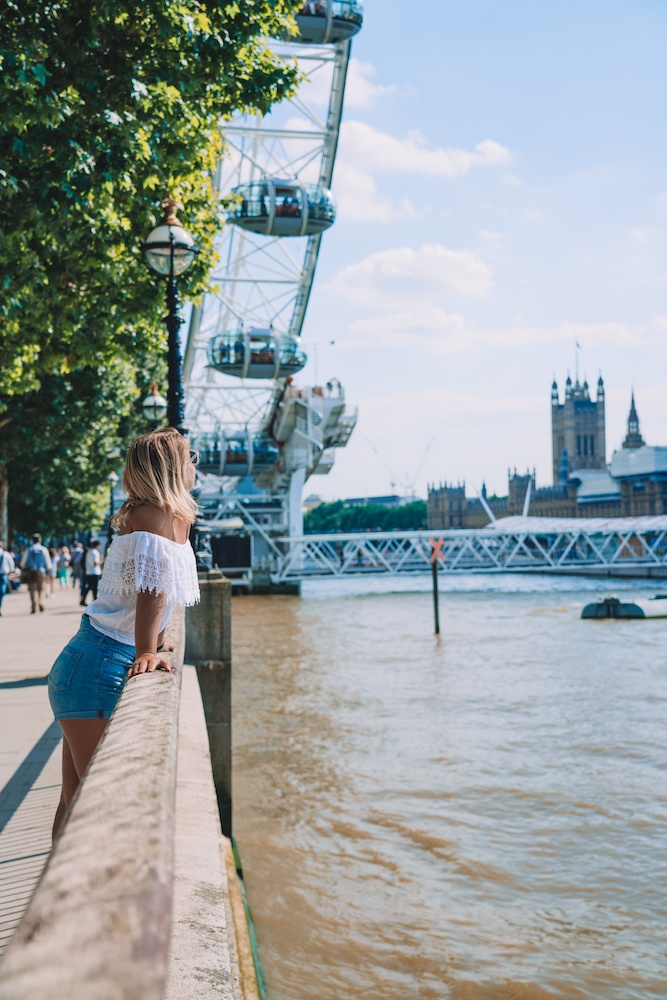 Borough Market
After seeing the London Eye I suggest walking all along the river to Borough Market.
You could also take the tube from Waterloo to London Bridge, which would save you some time, but the walk along South Bank is one of the most beautiful spots in London in my opinion.
Especially if you're visiting London in summer or on a sunny day, walking along the Thames and seeing the skyline of London is pretty epic.
You will see some main landmarks along this walk including the Tate Modern, Shakespeare's Globe and Millennium Bridge. The Potterheads might recognise this last one, as it's one of the most popular Harry Potter filming locations in London.
Borough Market is a great place to try some of London's famous street food. There are tons of different stalls that sell food from all over the world.
It's the perfect place to stop for a quick lunch on the go without wasting hours sitting down at a restaurant and waiting to be served.
The Shard
Just next to Borough Market is the Shard, a skyscraper with 95 floors and one of the best views over London.
There is a viewing platform on the 70th floor, the tickets cost between 24 GBP and 32 GBP depending on how far in advance you book them.
However, there are a couple bars in the Shard just a couple floors below that you can access for free. Cocktails are around 15 – 20 GBP which is expensive, but considering you're at the highest bar in London, it could be much worst.
I'd recommend going to the bar instead of the viewing platform, since you end up paying a similar price but at least you get to have a drink while enjoying one of the best views in London.
Tower Bridge
From the Shard it's a short walk across More London Place to reach Tower Bridge.
If you're visiting London in summer they usually have a street food truck and bar area next to the river with sun bed chairs, and they often have shows on in The Scoop (the round theatre-like area along the river).
From along the river you can walk right up to Tower Bridge and then you'll see a set of stairs that you have to walk up to cross the river.
Tower of London
This is where I admit that I haven't actually visited the Tower of London yet.
I've walked past the Tower of London numerous times, been on river cruises that set off from Tower Pier (a lot of university student clubs do that), even been ice skating at the Tower of London, but I've never been inside.
If you want to see the Crown Jewels and learn more about the Tower of London you will have to go inside, however if you're happy with just seeing it walking around it is enough.
Sky Garden
You're probably thinking these are quite a lot of things to do in one day so don't worry, we have arrived at the last stop of this London itinerary. From Tower of London it's less than a 10-minute walk to Sky Garden.
Similarly to the Shard Sky Garden also has epic views over London, just from the opposite side of the river.
Access is always free but if you visit during the day you have to book a ticket beforehand with specific time slot, after 6PM you can visit on a free walk-in basis but there is a fairly strict smart casual dress code.
Drinks are fairly pricey at the bars in Sky Garden but once again, considering the venue it could be much worst.
I recommend trying to get here for sunset since watching the sun go down over London, turning everything golden, and then the skyline slowly lighting up is pretty magical.
Sky Garden is one of my favourite rooftop bars in London, as well as one of the most Instagrammable restaurants.
I've embedded below a map of this walking itinerary, or you can click here to open it in Google Maps. As you can see this big long list of things to do only adds up to about two hours of walking time.
Obviously it depends on how long you decide to spend in every location, whether you want to go on a crazy shopping spree on Oxford Street or spend hours inside the National Gallery in Trafalgar Square, but roughly speaking the above itinerary can be done in one day and would make for a perfect start to your 2 days in London.
London 2 day itinerary: Day 2
I hope you're not knackered by yesterday's activities, because you have another full day of excitement awaits!
Portobello Market
For your second day in London we're moving away a bit from the hustle and bustle of central London and starting our day in Portobello.
Portobello is a lovely area of London with cute colourful houses and a popular market. The market and shops in Portobello sell all sorts of cool vintage things but also the standard street food and touristy souvenirs.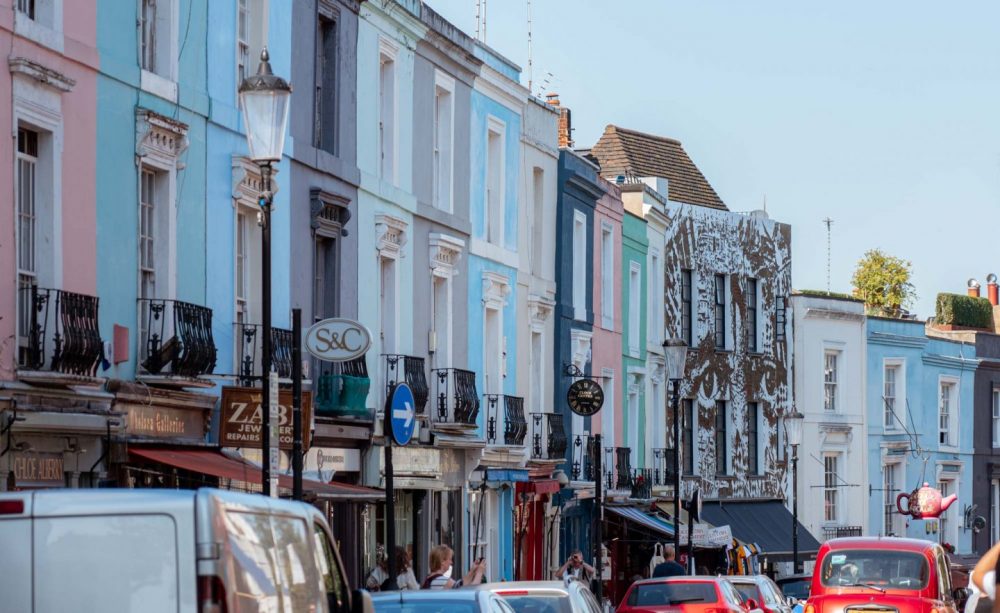 Notting Hill
Portobello is just around the corner from the beautiful white houses of Notting Hill. There isn't one specific spot that you must see; it's just a beautiful area of London that you can walk around for a bit and admire the Victorian architecture.
In Notting Hill you will find some of the prettiest streets in London.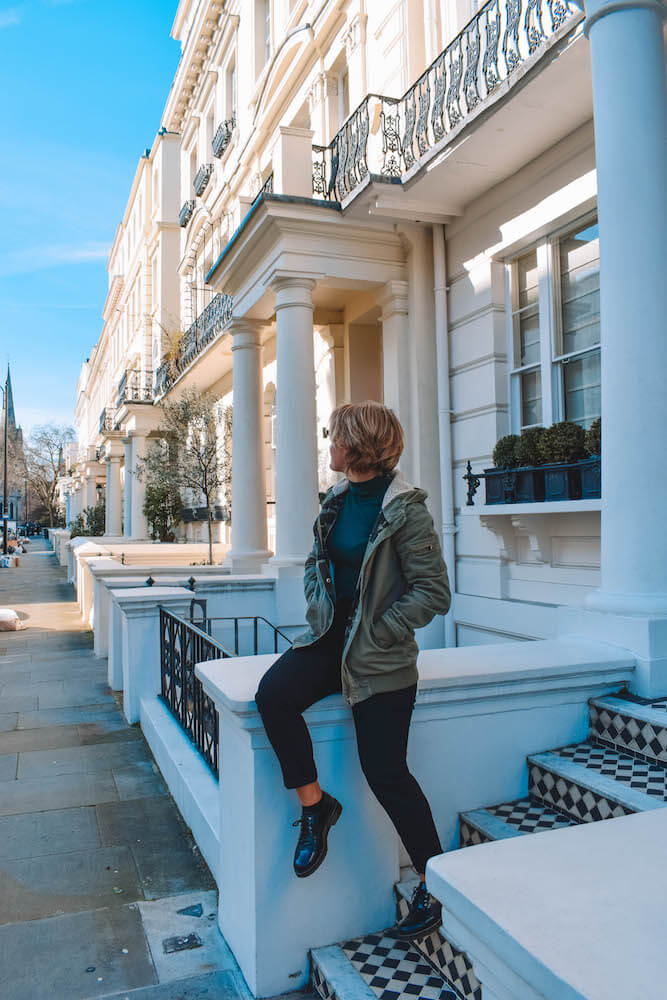 Hyde Park
After Notting Hill you will arrive at Hyde Park, London's most famous park, as well as the biggest one (in central London anyway). If you're visiting in summer or on a sunny day you will find crowds of Londoners basking in the sun.
Even in winter it's a very peaceful area and you can enjoy the beauty of it walking around Kensington Palace and the Serpentine.
South Kensington & the museums
Just make sure that you're crossing the park in the right direction so that when you pop out on the other side you're right next to South Kensington and all the museums.
Walk past the Royal Albert Hall (a pretty stunning building in itself) and you'll reach the Natural History Museum, the Science Museum and the Victoria & Albert Museum.
They're all very different in style and seeing all the exhibitions inside all of the museums would take days.
Unfortunately you only have 2 days in London but its still worth popping inside one or two of the museums depending on your interests. I'm a personal fan of the Natural History Museum and their dinosaur display.
Entry to the permanent exhibitions is free anyway you can just go in and wander around for a bit without feeling like you have to see everything in one go since you paid a ticket for it (or is that just me?)
If you're visiting London at Christmas they always put up a beautiful ice rink at the Natural History Museum where you can try ice-skating. Around here you will also find a lot of the most Instagrammable spots in London.
Harrods
Once you're done exploring the museums it's time to walk on to the famous Harrods. Harrods is a huge department store founded in 1824 where they sell all sorts of things.
One thing to note is that Harrods is very expensive. While I wouldn't recommend buying anything there I still think it's a pretty cool place to see and wander around for a bit, especially if it's your first time in London and you only have two days.
Especially if you're in London around Christmas you will see these gorgeous Christmas lights at Harrods.
Buckingham Palace
From Harrods you can walk through Green Park and arrive at Buckingham Palace in less than 20 minutes. Buckingham Palace is the London residence and administrative headquarters of the royal family.
If you time your visit right you might also be able to see the change of the guard outside the Buckingham Palace gates.
That's all the walking I've got in store for you today, wasn't that bad was it? I've included the map with walking itinerary below or click here to see it on Google Maps.
It's around 1.5 hours of walking but depending on how long you want to spend inside the museums or shopping inside Harrods, it can take up to the whole day.
When I fist moved to London I spent a whole day just inside the Natural History Museum, so I totally get it!
Cool things to do in London not included in this London 2 day itinerary
As I previously mentioned the British capital is pretty huge and seeing all of London in two days isn't very realistic.
There are some areas of London that I personally love but haven't included in my London 2-day itinerary since they're not considered the main tourist attractions and landmarks.
However, if for example you want to see some markets and aren't interested in museums you can skip South Kensington and visit the quirky Shoreditch or Camden instead.
Most of these areas are very popular in evenings so you can always visit them after the itineraries I wrote above.
Shoreditch
Shoreditch is the hipster and artsy area of London. There are tons of cool bars, restaurants, cafes, clubs and shops all over the neighbourhood.
It's a cool area to wander around during the day to explore the vintage and design shops and colourful graffiti, but it's especially popular in evenings. The nightlife in Shoreditch never disappoints.
Camden
Camden was the hipster and edgy area of London before Shoreditch become popular. There's a big market with lots of street food, clothes, jewellery, vintage things, home decor, souvenirs and pretty much anything you can think of being sold there.
It used to be the rebel punk area (to give you a better idea, Amy Winehouse used to live in Camden) and even today there are still tons of tattoo and piercing parlours.
It's become a bit more touristy and less edgy in recent years but is still a cool area to walk around.
The market is closed in evenings but there are loads of bars, restaurants and clubs and there is a lively nightlife so you can always visit Camden in evenings.
Chinatown
Chinatown in London is actually just next to Leicester Square, but I chose not to include it in my London 2-day itinerary as it takes time to explore it properly and it wouldn't have fit in the day 1 schedule.
Also the best part of Chinatown is the food so I recommend going around dinnertime to try one of the many Chinese restaurants.
Soho
Soho is another neighbourhood very close to Chinatown and Leicester Square that I chose not to cover in your day 1 itinerary. It's a vibrant and very cool area to explore but you can do so in the evening, discovering all the cool dining and nightlife options.
Here you can find lots of fun bottomless brunches.
Afternoon tea bus tour
Afternoon tea is a very British tradition consisting of savoury sandwiches, cakes, scones and obviously, lots of tea.
There are loads of places that do very good afternoon teas in London but inevitably will take up a large chunk of your day (if you're a fast eater like me, you might not love afternoon tea, it's one of those things you're supposed to take slow and enjoy the experience…)
If you only have two days in London a good solution is doing an afternoon tea bus tour. This allows you to enjoy the experience while also touring around London and seeing all the main tourist highlights.
British Museum
The British Museum didn't feature on my essential London 2-day itinerary since it's not quite along the walking routes I'd planned out.
However it's not too far don't worry, it's in central London less than a 10-minute walk away from Oxford Street. Entry is free and there are loads of cool things you can see like Rosetta's stone and more.
See a musical!
The West End of London is famous for its theatres and musicals. If you have the time I would highly recommend trying to squeeze in watching a show in your London 2-day itinerary.
Over the past 7 years I've been to see The Lion King, Aladdin, Wicked, Billy Elliot and The Phantom of the Opera and they were all pretty amazing. There are tons of shows I still haven't seen myself!
Regents Park
Regents Park is smaller than Hyde Park and a bit more of a local hangout spot. On one of the park you will find Primrose Hill, where all the Londoners go hang out and have picnics on sunny summer days.
St Paul's Cathedral
St Paul's Cathedral should have probably featured much higher on my list of things to see in London in two days, however I chose not to include it before since you will be seeing plenty of it even without actually visiting it.
As you walk along the river and from all the viewpoints you will be able to see the dome of St Paul's towering over the roofs of London.
If you have time you can go see the inside of the cathedral but if not, no harm done (in 7 years I don't think I've ever been inside myself)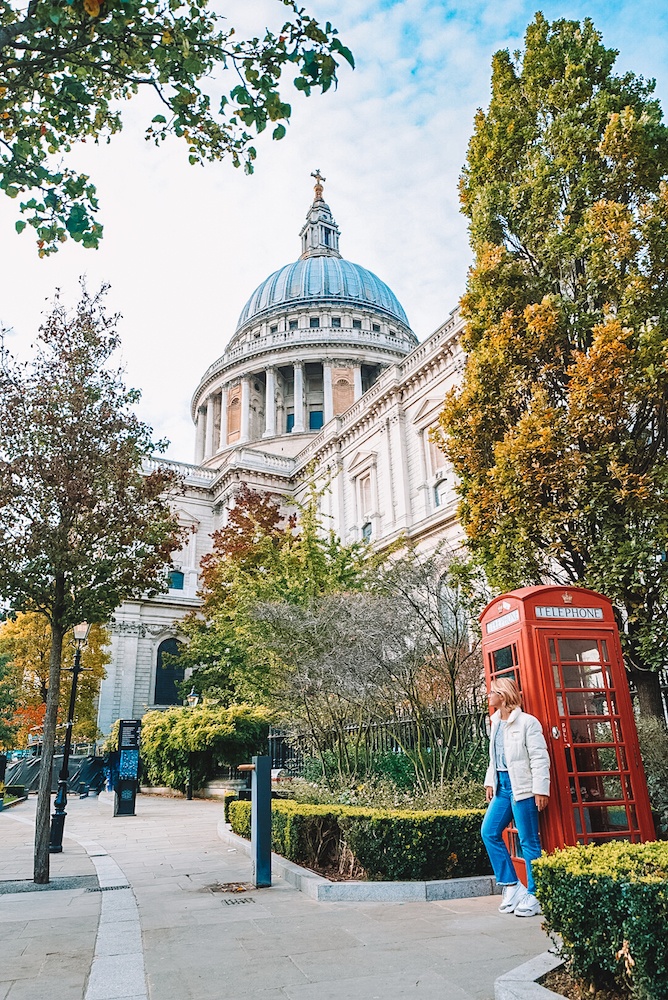 Where to stay in London
Despite living in London over the years I've stayed in a number of hotels throughout London, whether with family when they came to visit (and couldn't fit in my tiny student halls room) or more recently with blog collaborations and I can recommend some hotels in London for every budget.
However more than a specific hotel I can suggest areas of London where you can stay, especially if it's your first time visiting London.
If you only have two days in London you will want to stay very central or you will waste time travelling around, if you go a bit further out make sure to be within 5 minutes walking distance to a tube station.
Personally I would recommend staying either in Camden, Angel or even more central around Holborn and Bank.
Click here to see the latest prices and availability for accommodation in London!
Budget accommodation
There are tons of hostels in London. I've never personally stayed in one but have heard great things of Wombats.
There are also loads of hotel chains with numerous properties around London like Holiday Inn or the Travelodge that are more affordable than independent hotels. The more central ones are a bit more expensive but usually still offer good value for money.
Mid-range accommodation
Just like there are budget chain hostels and hotels, there are also a number of mid-range chains you can go for like Hilton or Marriott spread all over London.
My parents stayed at the Hilton in Angel back when I used to live in the area and loved it, Angel is also a great area to stay as its a bit outside the tourist chaos of London but still within easy reach of all the main attractions.
These options are a bit fancier than the previous budget suggestions but at more reasonable prices than the luxury properties in London.
Luxury accommodation
I spent one night at the St Pancras Renaissance Hotel for a blog collaboration and that was the fanciest place I have slept at in London.
The property is beautiful, the service excellent and the location perfect as base to explore London, especially if you only have 2 days in London.
I also spent an afternoon at Cheval Three Quays where a friend of mine was staying and can highly recommend it, the apartments are new, have a great view of the Thames and are in a great location to explore London.
If you're looking for something more unique there are also lots of cool boutique hotels in London.