It's pretty likely that this post contains affiliate links. If you make a purchase through them I will receive a small commission, at no extra cost to you.
South Kensington is one of the most beautiful places in London, and a must-see on any London itinerary. With its glorious Victorian architecture, entertaining museums, and lively food scene, it has something to offer for everyone.
In this guide I have listed all the best things to do in South Kensington, both the iconic attractions and more hidden local gems. If you're looking for top tips on South Kensington, this is the guide for you!
So without further ado, let's discover this wonderful London neighbourhood!
10 best things to do in & around South Kensington
Visit the Natural History Museum
The Natural History Museum is one of my favourite places in London. There are loads of interesting exhibitions on a huge variety of topics, from dinosaurs to sea animals.
One of the highlights are the many interactive games for children (and young hearted adults like me), as well as the beautiful architecture of the museum.
Both the interior and exterior are simply stunning, and amongst the most Instagram famous spots in London. A visit to the Natural History Museum is a fun learning experience, set in a beautiful location.
Explore the Science Museum
I visited London for the first time at the age of 12, and I made my parents spend a whole day inside the Science Museum. Considering we were only spending two days in London, I'm surprised they let me convince them to do so.
The Science Museum is one of my favourite museums in London. While I find Natural History more fascinating as a subject, the Science Museum is presented in a more engaging and fun way.
There are all sorts of exhibitions on space, genetics and other cool science topics. But the highlight (especially for children) is that every exhibition comes with a multitude of interactive games.
Visit the Victoria and Albert Museum
While I'm more of a science museum fan, no visit to South Kensington would be complete without a visit to the Victoria and Albert Museum.
Located just round the corner from the Science and Natural History Museums, you can easily make it a whole day museum adventure.
The V&A Museum is the world's largest museum of applied and decorative arts and design, as well as sculpture. Inside you will find all sorts of gorgeous artworks. It even houses a permanent collection of over 2 million objects!
Like all the museums in this list, one of the beauties of it is that it's one of London's many free attractions. You will have to pay an entrance fee for special exhibitions, but the permanent exhibition is free entrance.
See a performance at the Royal Albert Hall
I've been to see shows at the Royal Albert Hall twice since I moved to London, and I was amazed on both occasions. This round concert hall is one of the most distinctive and beautiful buildings in South Kensington, if not all of London!
Despite the very grand and traditional setting, the Royal Albert Hall is home to all sorts of performances.
From classic ballet shows like The Nutcracker to concerts of contemporary singers like Bryan Adams or Tinie, the Royal Albert Hall has something for everyone.
Go ice skating at the Natural History Museum
Admittedly you can only do this if you're visiting London around Christmas, but it's a staple on any winter in London bucket list.
You already know I love the Natural History Museum, so it's only natural that I would love it even more when they set up their annual ice skating rink!
Around mid-November you will see ice skating rinks popping up all over London. However the one at the Natural History Museum is easily the best one.
With its grand Christmas tree in the middle, gorgeous Christmas decorations and the Natural History Museum as a backdrop, it makes for quite a splendid sight.
Wander around the beautiful Victorian streets
I know this might seem a bit odd, but trust me on this one. South Kensington is one of my favourite places to walk around in London. There are so many beautiful streets and the architecture is simply gorgeous.
You will find yourself surrounded on every side by stunning Victorian buildings, with their imposing white columns and the tall windows. It's one of the best places if you want to get a feel for traditional Victorian architecture.
I love walking away from the main streets, and soaking in the peaceful residential atmosphere of some of the side streets and mews. It's a very different vibe from the chaos of Central London, but a very typical South Kensington one.
Stroll around Hyde Park
If you're visiting London in summer, then a visit to Hyde Park is a must (and also during other seasons)! Hyde Park is the largest park in central London, and is one of the best places for a leisurely stroll away from the hustle and bustle of the city.
Being so big it's obviously located not only in South Kensington, but reaches also to Mayfair, Paddington and Notting Hill, but I believe it still needed to be mentioned in this South Kensington bucket list.
The vast park provides lots of opportunities for picnics, cycling, walking and playing. It's also the venue of big events like Winter Wonderland and summer festivals.
Visit Kensington Palace & eat at The Orangery
Kensington Palace is a royal residence in Kensington Gardens, close to Hyde Park. It was the birthplace of Queen Victoria, and it was home to the royals for over 300 years.
It's also home to The Orangery, an elegant dining room where you can indulge in a fancy lunch or afternoon tea. While all the restaurants and cafes in South Kensington are lovely, The Orangery is a unique and special venue.
You can dine while enjoying the view over the palace and gardens, picturing what life at the palace must have been like back in the day.
Go souvenir shopping at Harrods
Admittedly Harrods is leaning more towards Knightsbridge, but it's a short walk away from South Kensington tube so I figured it should feature also in this South Kensington guide.
Harrods is possibly the most famous luxury department store in the world. With its iconic architecture and world famous brands, it attracts visitors from all over the world.
The price point at Harrods can be quite high, but you can still find many affordable and lovely items. For example in the food court, you can find delicious tea and biscuit sets, which make for perfect London gifts and souvenirs.
Eat at the Churchill Arms
Located on the border between Kensington and Notting Hill, this famous South Kensington pub has often been claimed by both boroughs.
The Churchill Arms is one of the oldest and well-known pubs in London, as well as one of the most famous on Instagram.
With its floral façade it makes for a very Instagram-worthy snap. Besides the beautiful exterior, the interior is also wonderfully decorated, as well as serving delicious food.
If you want to try some traditional British pub food, in one of the most iconic London pubs, then a visit to the Churchill Arms is compulsory during your time in London and South Ken.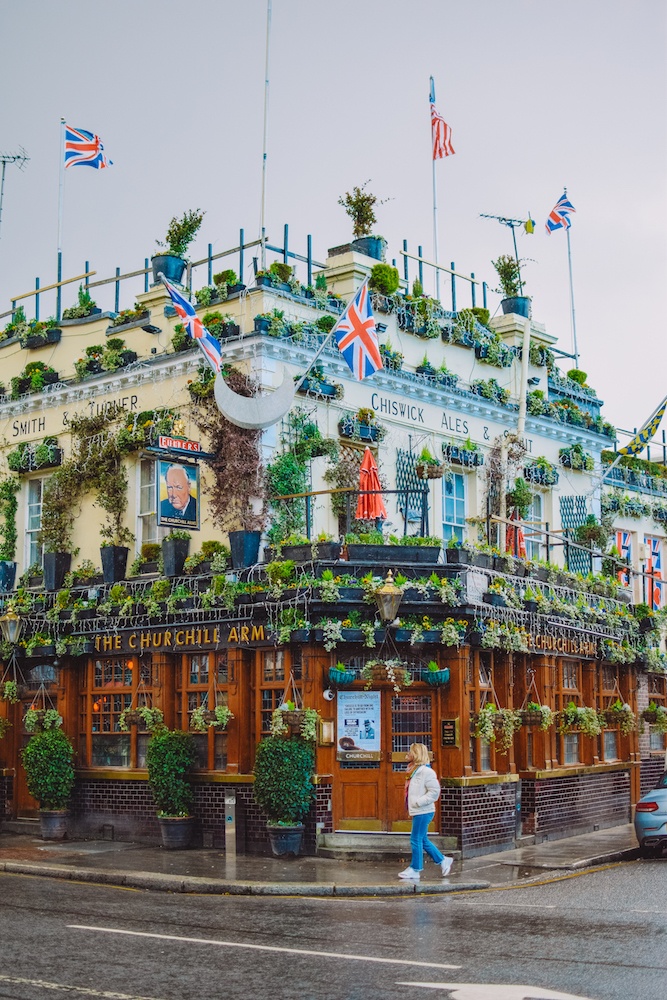 Final thoughts on the best places to visit in South Kensington
There you have it, the ultimate compilation of the best things to do in South Kensington! Are there are cool things to do in this beautiful London neighbourhood that you think should feature on this list? Let me know in the comments below!
South Kensington is one of my favourite parts of London. With its beautiful architecture and charming museums, it's the perfect place to stay in London for a family vacation.
Even if you're not travelling to London with kids, it still provides plenty of entertainment also for adults. I hope you find this guide useful in planning your time in South Kensington!
Enjoyed reading about the best things to do in South Ken? Pin it!