It's pretty likely that this post contains affiliate links. If you make a purchase through them I will receive a small commission, at no extra cost to you.
London, in my personal and unbiased opinion, is one of the most Instagrammable cities out there. The combination of historical and modern architecture, as well as famous landmarks and quirky pop ups creates beautiful opportunities at every corner.
Especially in the food industry, it has become a big trend to ensure restaurants are Instagrammable.
I wrote a guide on the best Instagram photo spots in London, but there are just so many Instagram-worthy restaurants that I thought they deserved a guide all to them!
In this guide I've outlined the 15 most Instagrammed restaurants in London.
Whether it's thanks to their floral shop fronts, to beautiful interior décor, to epic views or aesthetically pleasing food, these restaurants and cafes are places that will make you want to take a million photos, and then dig into your delicious food!
The 15 most Instagram-worthy restaurants in London
Coppa Club
Coppa Club by the Tower of London is without a doubt one of the most Instagrammable and prettiest restaurants in London.
The outdoors ice igloos are positioned to have a prime view of the Shard and Tower Bridge, as well as lovely decorations and fairy lights on the inside.
You will have to make a booking beforehand as the igloos get filled up pretty quickly. The food and cocktails are also delicious, and given the location they're not even unreasonably priced.
Whether it's from inside or outside the igloos, you're guaranteed to snap lots of Instagram-worthy shots.
Peggy Porschen
When it comes to Instagrammable shop fronts, Peggy Porschen is always at the forefront of the London fashion.
Peggy Porschen is one of the most famous London cafes on Instagram, thanks to its pastel pink colours and extravagant floral decoration around their door.
Their cupcakes are equally Instagrammable, if not more, as well super tasty!
Peggy Porschen gets really busy on weekends (like people queuing to get a photo by the door levels busy) so if you want to snap some photos in peace, try to visit during the week if you can.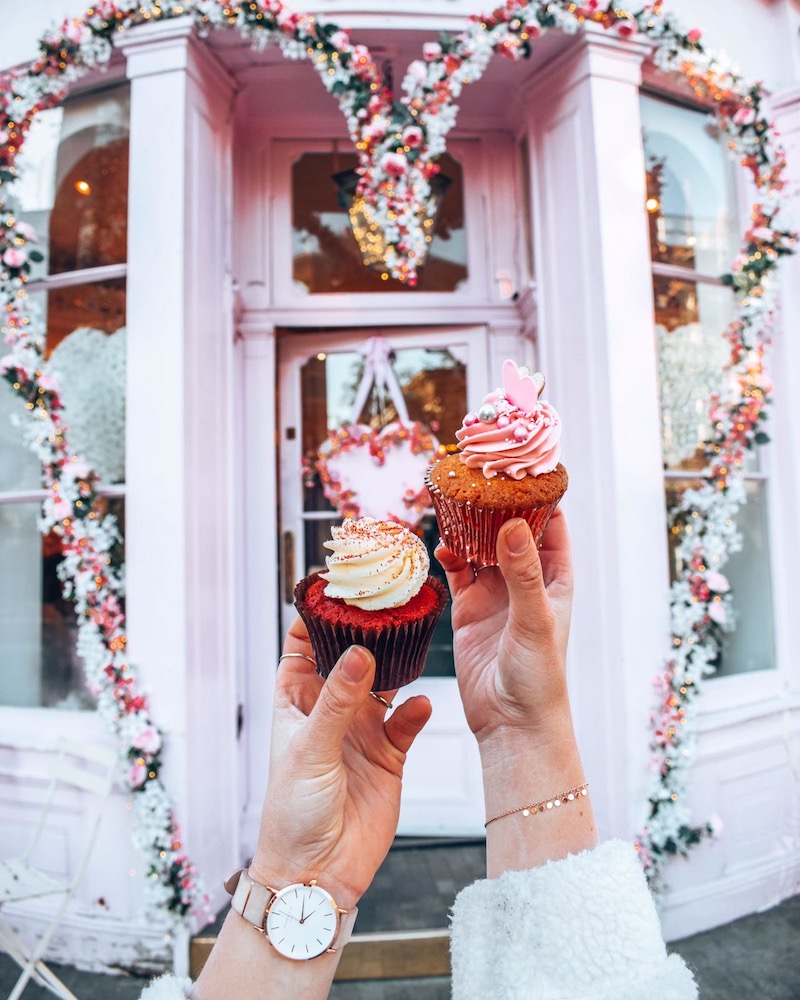 SushiSamba
Located on the 38th and 39th floors of the Heron Tower, SushiSamba is the highest outdoor dining terrace in Europe, and has incredible 360 views over the City of London. But if the sweeping views aren't enough, don't worry, there's more!
SushiSamba has a fun interior décor with plants and fairy lights, perfect for those Instagram shots!
Add to that delicious food created from a fusion of Brasilian, Japanese and Peruvian flavours, and you get both a great dining experience and beautiful Instagram photos!
Sky Garden
If being one of the highest bars and restaurants in London, with an incredible view over the river Thames and London skyline isn't enough, Sky Garden adds a few (a lot) of plants to the mix.
As the name suggests Sky Garden is an indoors garden, restaurant and bar, as well as hosting events such as sunrise yoga. It's not only one of the best rooftop bars in London, but also one of the most incredible viewpoints in London.
Eating at the restaurant here is quite pricey, as you might imagine for such a venue, but the cocktails are actually quite affordable and the view is worth it! If you're just coming for the view entrance is free.
EL&N London
If you're looking to brighten your Instagram feed with a pop of pink, EL&N Café is the place to do so!
They have a number of venues dotted all over London, all with different types of decorations but always in the same style, usually pink flowers and hearts.
My personal favourite is the one in Hans Crescent in Knightsbridge, with its wall of pink sweethearts. Most of the venues also have a bakery corner selling delicious cakes and desserts.
The smashed avo is their signature dish, but every item on the menu is both tasty and beautifully Instagrammable.
Saint Aymes
If you're looking for more floral shop fronts, make sure to add Saint Aymes to your list! Saint Aymes abundantly decorate both the outside and inside of their café with pink and purple flowers.
The interior and furniture is then lined with golden and pastel colours, giving it that extra flair and touch. Their menu matches the Instagram of their décor.
On the menu you can find items such as champagne glasses with an addition of pink cotton candy and waffles with edible flowers.
For maximum pink aesthetics, make sure to get a table either outside or by the floral wall inside, and you're guaranteed some epic Instagram shots!
Afternoon Tea @ Oblix, the Shard
Oblix at the Shard is a beautiful venue. Afternoon tea is always a very pretty and photogenic meal. Put them together and you have one of the most Instagram-worthy restaurants in London.
You can have any meal or drinks really at Oblix and you're sure it will be a great one, I just personally love their afternoon tea.
Oblix is on the 32nd floor of the Shard, and has some iconic views over London. Make sure to get a window table, so that you can have your afternoon tea while enjoying the view! It will also look much better in those Instagram pictures!
Sketch
Sketch is as Instagrammable as it is fun. Sketch has a beautiful pink interior, which is sure to liven up anyone's Instagram feed!
However Sketch is actually famous for a pretty odd feature; their bathroom! Sketch has egg-shaped pods in the bathroom, as well as a rainbow patch ceiling.
It's up to you where in Sketch you decide to take photos (you wouldn't be the first to take a photoshoot in the bathroom!) but wherever you do so, you're guaranteed fun and colourful pictures!
Feya
Feya in Mayfair is one of the best brunch places in Mayfair, and my personal favourite brunch spot in London. They don't take bookings so make sure to be there fairly early in the morning, especially on a weekend.
It's a small venue, but exquisitely decorated, with marble table tops, pastel colours and floral decorations on the ceiling. If possible, the food is even more Instagrammable than the interior décor.
All of the Feya dishes are designed with aesthetics in mind, and thanks to a bit of beetroot to make their hollandaise sauce pink, you can expect beautiful dishes that are both pleasing to the eye and to the palate.
The Orangery Restaurant
Located in South Kensington, the Orangery is one of the most beautiful and historical restaurants in London (as well as being located in a beautiful part of London).
The Orangery is inside a garden pavilion in Kensington Gardens, which was built in 1704 for Queen Anne. With its high walls and white décor, it's the perfect venue for a special occasion.
I went there for afternoon tea with my family before my university graduation ceremony. It's an elegant venue with views over the relaxing gardens, which serves delicious lunches and afternoon teas.
If you're looking to step up your Instagram content with some fancy shots, this is the place.
Cereal Killer
Located in Camden, Cereal Killer is a bit different from the other restaurants on this list. It doesn't have sweeping views over London or floral decorations, but with its bold colours it's just as Instagrammable as the others.
As you may have guessed by the name, Cereal Killer sells loads of different types of cereal, and only that!
Their walls are decorated with cereal boxes from all over the world, giving it a bright and colourful appearance. It's the perfect backdrop for some fun Instagram shots.
The Churchill Arms
Located in Kensington, the Churchill Arms is not only one of the most Instagram-worthy restaurants in London, but also one of the most famous pubs. With its abundance of plants, flowers and flags hanging on its façade, it's easily recognisable.
The inside is decorated with Churchill memorabilia and has a very traditional British pub feel, completely different from the pink Instagrammable venues listed above! And yet, in its uniqueness, it find a way to be just as Instagram-worthy (if not more)!
The Churchill Arms is also in a great location, surrounded by some of London's prettiest streets. If you're visiting London at Christmas, you can expect to find one of the best Christmas light displays of the city here at The Churchill Arms!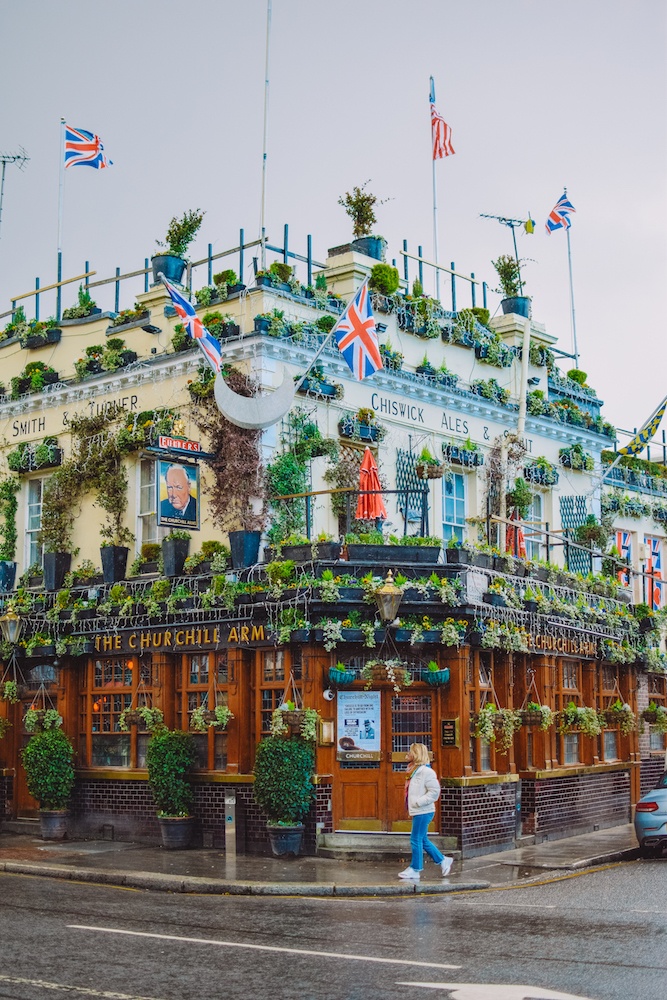 B Bakery bus tour
If you're looking for something Instagrammable, but which is also a fun sightseeing opportunity, then the B Bakery afternoon tea bus tour is just right for you. The interior of the bus is adorned with fairy lights and floral decorations.
Afternoon tea always makes for a pretty photo opportunity, but when you add to that a beautiful interior décor on a bus that is touring around London, you have a winner!
Both the savoury and sweet offerings on the B Bakery menu are delicious, they set the bar for all future afternoon teas way too high!
Aubaine
Aubaine is a French restaurant with a London spin, and multiple venues around the city. Their motto is to make the sophisticated simple and the simple sophisticated, all while maintaining a French dining philosophy.
My personal favourite venue is the Selfridges branch, as the interior is decorated with beautiful purple flowers. You can rest assured that the food will be just as pretty and Instagrammable as the interior decor!
Dalloway Terrace
I couldn't help but end this round up of Instagrammable restaurants in London with a restaurant that has both a beautiful floral interior decor, but also extremely pretty and photogenic food and drinks.
Dalloway Terrace is one of the prettiest restaurants in London, and has floral decorations on the walls and ceiling, which they change with the seasons.
Their food and drinks are tasty, but also colourful and beautifully presented, for that extra pop of colour in your Instagram feed.
Whether you snap pictures with an orange and red background in autumn, or a white frosted background in winter, your food pictures are guaranteed to be super Instagrammable!
Final thoughts on the most Instagram-worthy restaurants in London
Now that you've taken the photos, it's time to share them on Instagram! If you need helping crafting the perfect caption, check out these suggestions for perfect London Instagram captions.
Have you been to any of these restaurants? How did you find them? Let us know in the comments below! If there are more pretty restaurants in London that you think should feature in this list, let me know! I'll make sure to add them to this post.
This is just a compilation of the most Instagrammable restaurants in London in my opinion. Whether you're searching for beautiful food, floral shopfronts, epic views or cute interior decors, there's something for you on this list!
Need help planning your time in London? Check out my London itineraries for one day, two days and five days!
Enjoyed reading about the most Instagrammed restaurants in London? Pin it!