It's pretty likely that this post contains affiliate links. If you make a purchase through them I will receive a small commission, at no extra cost to you.
Whether you're a Londoner or you're planning your first trip to London, it's always good to get a refresher on London's iconic landmarks!
Going for a wander around central London and exploring the most iconic London landmarks always reminds me why I love living in this city.
Seeing beautiful sights like Tower Bridge and the London Eye always gives me a rush and makes me fall in love with London all over again.
You probably already know some of the most famous spots in London, but there are actually quite a few iconic landmarks that you might not think of! In this guide I've outlined all the most iconic landmarks in London.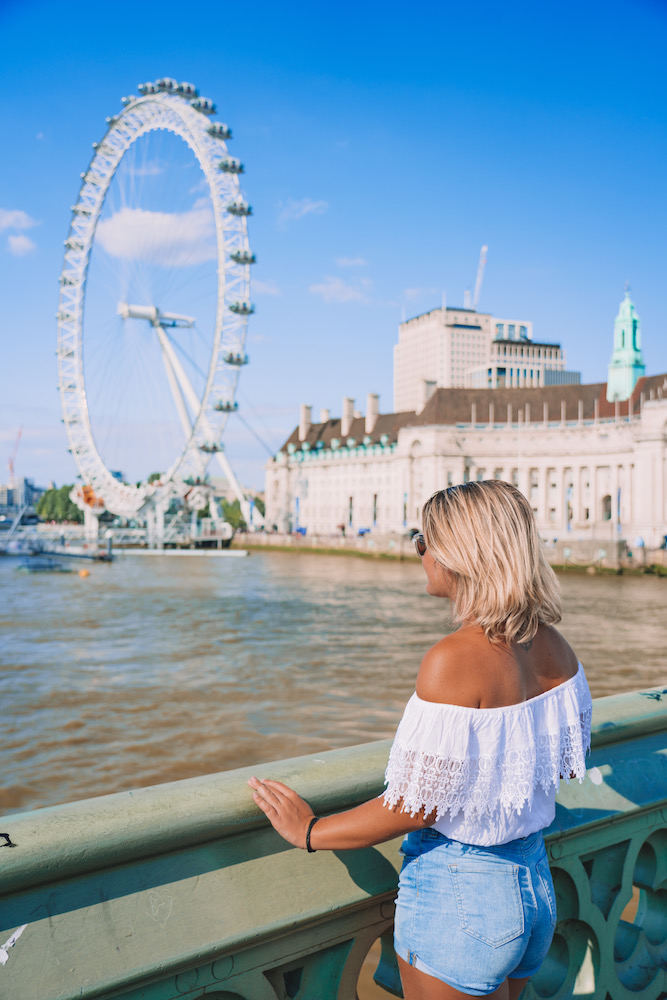 20 famous London landmarks you can't miss
Tower Bridge
Is there a London landmark more iconic that Tower Bridge? With its distinctive towers it's an easy to recognise landmark, and one everyone associates with London.
It's one of my favourites especially because I used to work in an office in More London Place, with a view of Tower Bridge. I hated my job but I loved looking up from my desk and seeing Tower Bridge, it always reminded me of why I chose to live in London.
Nearby you will also find Borough Market, one of the best street food markets in London, and The Scoop, one of my favourite picnic spots in London.
London Eye
Ok actually, maybe the London Eye is even more emblematic of London than Tower Bridge. After all, it's in the name! It's without a doubt one of the things London is most famous for.
The London Eye is an observation wheel on the South Bank of the River Thames. It might be a very touristy spot, but the views from the top of the London Eye is without a doubt one of the most incredible views in London.
I also love the area around the London Eye. Here you will find Southbank Christmas and Summer markets, you will often find street performers and from the nearby Hungerford Bridge you get one of the best sunset views in London.
Tower of London
The Tower of London is a historic castle on the north bank of the River Thames, just a short walk away from Tower Bridge. It's also the home of the Crown Jewels.
I'll admit I've never actually been inside the Tower of London, but there are lots of guided tours that you can do to explore the castle and see the jewels. Around Christmas time they also put an ice-skating rink by Tower of London.
St Paul's Cathedral
Located in the heart of Central London, St Paul's Cathedral is one of the most recognisable landmarks in London. There was a time when the dome of St Paul's was the tallest point in London.
While that might no longer be the case, today you can enjoy an awesome view from the top of St Paul's. You can also take a guided tour of the cathedral and learn about its history.
Nearby you will find Madison's Rooftop Bar, a very cool rooftop bar with epic views over the London skyline and St Paul's Cathedral dome. It's a pretty good spot for those who aren't interested in history and just want to enjoy the view (like myself).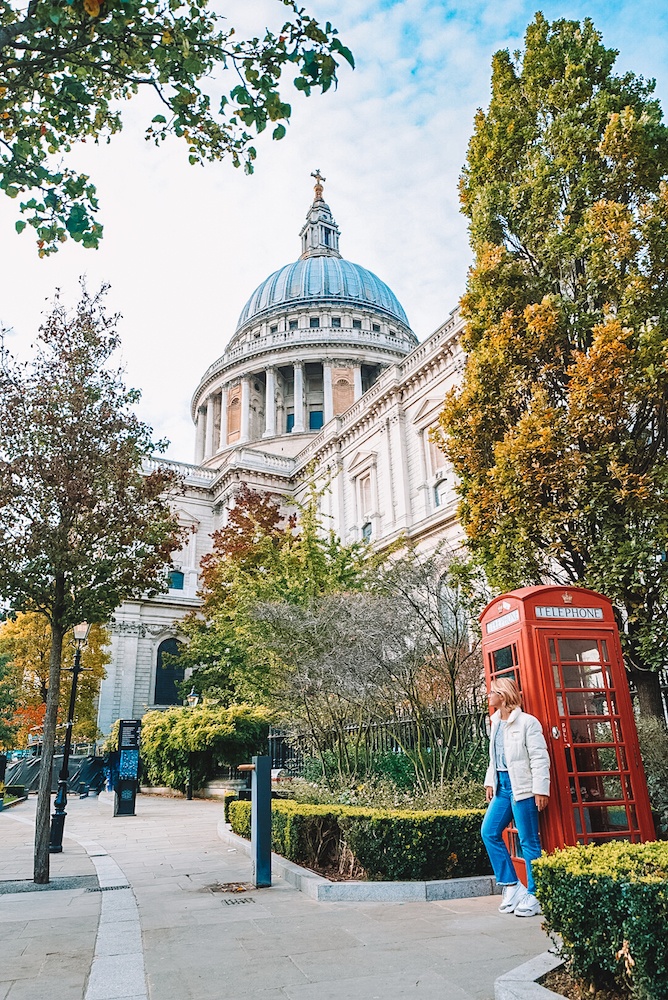 Tate Modern
The Tate Modern might not be amongst the first spot people think of when thinking of London's most iconic landmarks, and yet I believe it deserves its spot in this bucket list.
This institution houses four art museums, encompassing collections of British, international, contemporary and modern art. Located on the banks of the River Thames, it's developed within an old power station.
With its tall chimney it's easily recognisable. Entrance is free and there is also a café with an epic view over the Thames River.
Big Ben
Fun Fact; did you know Big Ben is actually the name of the bell? Everyone refers to he structure as a whole as Big Ben, but the tower is actually called Elizabeth Tower.
Big Ben is probably one of the most iconic landmarks in London, but since it's currently being renovated it's not one of the most popular. There have been construction works around it from 2017 and are scheduled to continue well into 2021.
That said, it doesn't mean you shouldn't pay Big Ben a visit. It's still a beautiful spot in London and it's super close to many other key London landmarks.
Palace of Westminster
First amongst them; the Palace of Westminster! Elizabeth Tower is right next to it and part of the palace.
The Palace of Westminster is the meeting place for the houses of parliament of the United Kingdom; the House of Commons and the House of Lords. There are many options for tours that you can take to visit the Houses of Parliament.
This is where I admit I've never actually been inside Westminster Palace. It's definitely worth a visit if you're interested in history. If like me you're not the biggest history fan, you'll probably be fine just admiring the beautiful architecture from outside.
Westminster Cathedral
After checking out Big Ben and Westminster Palace you can easily walk over to Westminster Cathedral. Westminster Cathedral is the mother church of the Roman Catholic Church in England and Wales.
With its distinctive architecture, it's one of the most imposing and recognisable landmarks in London. They also offer tours of Westminster cathedral if you want to see the interior.
Buckingham Palace
Is there anything more iconic than the London residence and administrative headquarters of the British monarchy? I wouldn't think so.
Located in the City of Westminster, Buckingham Palace is a grand palace and a must-see on every London bucket list. Make sure to visit at the right time so you can see the change of the guard!
Shakespeare's Globe
Shakespeare's Globe might not be one of the first things people think about when they think of London, but it's no less important than the others on this list. If anything I think it's even more worthy of mention.
What better way of spending a Saturday than watching a Shakespeare performance in the same theatre and style where they performed back in the day? With its standing central area you can find very affordable tickets.
Watching a Shakespeare performance there is one of the best things to do in London in summer. There's no ceiling covering the centre of the globe, you wouldn't want to get rained on!
Piccadilly Circus
Some would argue that Piccadilly Circus isn't quite a landmark but I disagree. It's also one of the most iconic London spots so it just had to feature in this list.
With its bright signs and busy streets it's a key representation of the hustle and bustle of London. You can sit at the base of the "Eros" statue in Piccaddilly Circus, as you watch the street performers and soak in the London atmosphere.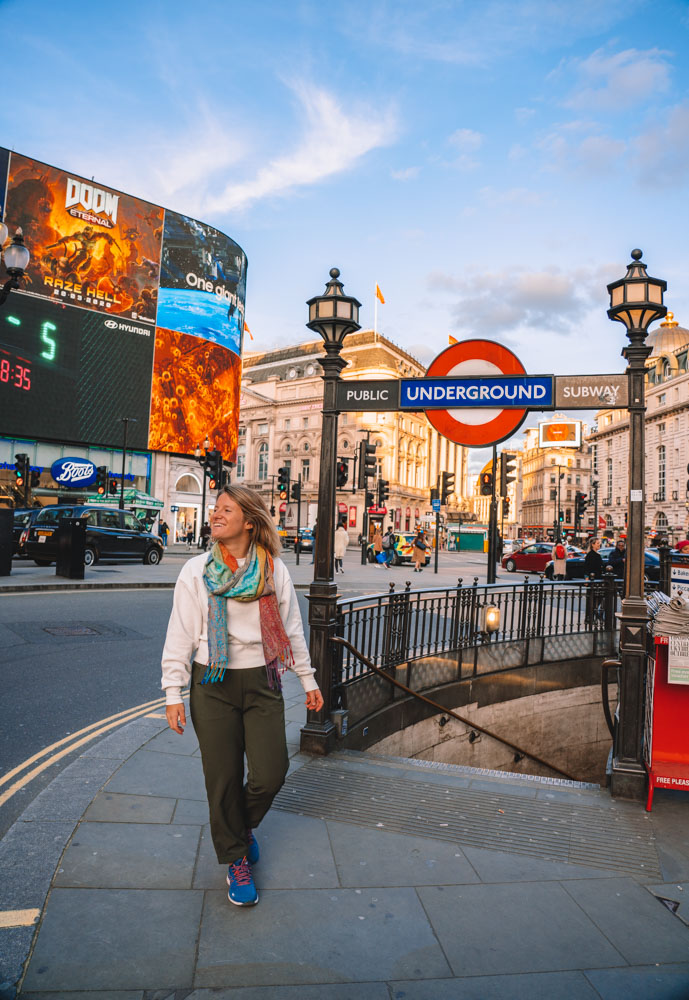 Harrods
Harrods is the most famous shopping mall in London. It's a pretty expensive place to shop, but it's still an iconic spot that always features on any London itinerary.
Personally I wouldn't buy clothes or do my weekly food shop there, but there's no denying that it's really cool. Harrods has a huge food court with lots of interesting sections.
It's also a cool place to buy London souvenirs and London themed gifts. They might be a bit pricey but the iconic Harrods branding will make all your friends and family back home smile.
Natural History Museum
The Natural History Museum is my favourite museum in London. Besides being an extremely Instagrammable spot, both outside and inside, it's one of the most fun museums in London.
They have some incredible permanent exhibitions, ranging from dinosaurs to marine life. It's not only a recognisable landmark with its distinctive exterior, but also one you'll enjoy visiting.
If you're visiting London at Christmas time you'll also find a huge ice-skating rink just outside it, with a beautiful sparkly Christmas tree in the middle. That way you can combine a visit to the museum with ice-skating!
Science Museum
The Science Museum is my next favourite after the Natural History Museum. It's not so distinctive in its architecture and exterior, but the exhibitions you'll find inside are second to none.
I love the Science Museum also because there are loads of fun interactive games at every exhibition (they might be aimed for children, but they're fun also for adults).
Victoria & Albert Museum
The Victoria & Albert Museum completes the trinity of epic museums in South Kensington. After visiting the Natural and Science Museums, head over to the V&A for your art and history fix.
I don't personally love it, but that's because in general I'm not the biggest fan of art museums. Here at the V&A you will find countless pieces gathered from all over the world, including Roman, Greek and more.
The exterior of the V&A is also stunning and an iconic London landmark.
Royal Albert Hall
Always in South Kensington you will find the Royal Albert Hall. With its distinctive circular shape it's one of the most recognisable buildings in London.
When I discovered Imperial College students do their graduation ceremony here I was tempted to change university. As far as concert halls go, it's without a doubt one of the most beautiful!
The Royal Albert Hall is managed by a registered charity and can seat over 5,000 people. Here you can see all sorts of performances. I've been twice, once to see the Cirque du Soleil and once to see a ballet performance.
British Museum
The British Museum is amongst the most popular museums in London, and it's easy to see why. With a huge exhibition featuring famous pieces like the Rosetta Stone, it's only natural that it attracts big crowds.
My favourite thing about the British Museum, and museums in London in general, is that entrance is always free. Considering the reputation it has for being an expensive city, it's great that there are so many fun free things to do in London.
St Pancras Station
This one will be especially iconic to the Harry Potter lovers. Everyone knows Harry takes the Hogwarts Express from Platform 9 and 3/4 at Kings Cross Station, but St Pancras Station is the one that steals the show in the second movie.
As the Weasley light blue Ford Anglia takes off we see St Pacras in all its glory in the backdrop. With its imposing architecture and bold colour it's one of the most recognisable and iconic landmarks in London.
The Shard
Compared to all the other landmarks in this list the Shard is probably the most modern one. Built between 2019 and 2013, designed by the Italian architect Renzo Piano, the Shard is the tallest building in London and amongst the tallest in Europe.
With its 95 floors and over 300 metres in height, it stands tall above London. You can easily recognise its distinctive shape silhouetted against the London skyline.
Inside the Shard you will find offices, apartments, a viewing deck, a hotel and one of the most Instagrammable restaurants in London. With that view, it's easy to see why!
O2 Arena
Another more recent landmarks, the O2 Arena has recently become one of the most famous spots in London. Considering this huge arena can hold up to 20,000 people, it's only normal that it would become so popular!
If you're going to see a concert in London, there's a fairly high chance it will be at the O2.
The O2 Arena is also one of the most distinctive landmarks that you can see from the Emirates Cable Car or if you're doing a Thames River dinner cruise once you go past Canary Wharf.
Final thoughts on iconic London landmarks
There you have it, a comprehensive list to all the most iconic landmarks in London! Whether you're visiting London for the first time and want to make sure you check them all, or whether you're a Londoner needing a refresher, this guide has you covered!
I hope you find this guide useful in planning your London itinerary and which London icons to visit.
Enjoyed reading about the most iconic landmarks in London? Pin it!