It's pretty likely that this post contains affiliate links. If you make a purchase through them I will receive a small commission, at no extra cost to you.
Let's start with the premise that I absolutely adore London in summer. Summer in London is the best time of year. The days are longer, the weather is milder, the rooftop bars and beer gardens open up, and the parks fill up with happy Londoners.
There are always loads of things to do in London, but in summer especially the nice weather opens up hundreds of possibilities and new activities. This guide is dedicated to all the best things you can do in London in summer.
It also goes over some of the logistics like what weather you can expect in London in summer and how to get around. If you're looking for tips on how to spend an epic summer in London, this is the guide for you!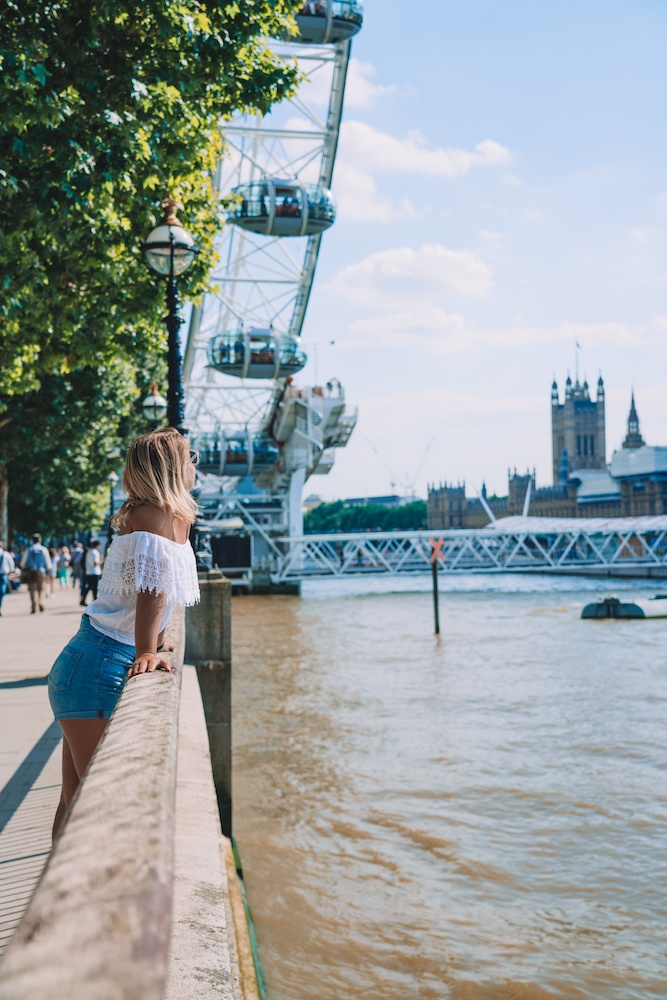 Weather in London in summer
The weather in London in summer is lovely, not too hot and not too cold. Temperatures average between 15°C and 23°C, but can go as high as 30°C on particularly hot summer days.
It does sometimes rain but not as often as in winter, and usually for shorter periods of time.
The days are really long, with sunrises around 5AM and sunsets around 9:30PM. The fact that it's so light until so late is one of my favourite things, since it means you can be out and about enjoying your day until really late.
Getting around London in summer
I always say that the best way to get around London is on foot, and especially so in summer! Walking allows you to see all the cute streets and buildings that you might miss from a bus or tube, and it will also be good for you!
Cycling is also a great way to get around London. I don't cycle often but when I do I tend to stick to the side streets, so that I can see a different part of London and to avoid the traffic and buses.
For long distances, if you don't want to walk or cycle, London has an excellent public transport system. Try to get a bus where you can and sit on the top deck.
Basically my suggestion is to travel around in ways that allow you to be outside. Sunny weather in London doesn't last forever, make the most of it while you can!
15 best things to do in London in summer
Have drinks at a rooftop bar or beer garden
Is it bad of me to say this is my favourite London summer activity and possibly the reason I keep coming back to London? A big part of my social life in London revolves around meeting friends for drinks or evening events.
It's only normal that with the arrival of summer, and bars opening up their outdoors areas, being able to drink outside in the sun makes me happier than being hidden indoors in some dark pub in winter.
Jokes aside and ignoring my slight alcohol issue, the beer gardens and rooftop bars in London in summer are awesome. They're the perfect place to meet friends, have a fun evening out, and maybe snap some Instagram-worthy foodie shots.
Have a picnic outside
There are lots of awesome picnic spots in London. Yes I know you could just head to the park closest to you and have a picnic there, but why not go to some of the most iconic areas in London instead?
There are also some awesome picnic spots like The Scoop and Regents Canal, which besides being great local hidden gems, are also a bit more creative than just having a picnic in the park.
My favourite spots are Primrose Hill and Alexandra Palace, so that you can sit in the sun, enjoy a drink and food, as well as the epic views over the London skyline.
Go cycling in Hyde Park
Hyde Park is the largest green area in Central London. If you want to go on a cycling adventure but don't want to cycle around the trafficked streets of London, Hyde Park is the perfect place to do that.
The park is huge and has wide lanes where you can easily cycle without the risk of crashing into other cyclists or pedestrians. There are also some very scenic spots like along the Serpentine and Kensington Gardens.
Cycling in Hyde Park is the perfect summer activity for those who want to be outside in the sun, but also get some exercise in.
Enjoy the view from Primrose Hill
Primrose Hill is located in the northern part of Regent's Park. It's a 64-metre high hill, with sweeping views over the London skyline.
I love the view from here because you can see iconic London landmarks like the London Eye, the City, the Shard and the BT Tower poking over from the green line of the Regent Park trees.
It's without a doubt one of the best views in London. In summer you will find plenty of Londoners sat here basking in the sun, enjoying the view and a drink.
Sing along at a mass karaoke at the Scoop
I've said before that The Scoop is one of my favourite spots in London, especially in summer. Summer by the River, a daily festival with lots of fun events scheduled across the three summer months, takes place at More London and The Scoop.
They set up a bar, street food shack, dining tables and sun deck chairs where you can grab food, drinks and relax in the sunshine. They also set up a big screen by The Scoop, where they play big sporting events like Wimbledon.
They also have events like movie nights and on Fridays, mass karaoke. If you've never done it before don't worry, it's exactly what it sounds like.
The lyrics play on the screen and everyone sings along, so that the bad singers are drowned out in the crowd.
Watch a movie at a pop-up outdoor cinema
In summer you will find outdoor cinemas popping up all over London. Some are like the screens at The Scoop and Regent's Canal, where they put up a screen and anyone can go along to watch an event or movie night.
But there are also proper outdoor open-air cinemas, with comfy chairs or even bean bags. Some of the most popular are Merchant Square Big Screen or Rooftop Film Club.
Make sure to check their sites to see what movies they have on and prices. It's the perfect summer activity for those who want to have a cinema or movie night, without locking themselves in a dark room for three hours!
Go for a cruise along the River Thames
Is there anything more summery than going for a cruise? The Thames River cruises run all year long, but they are a lot more pleasant in summer when you can sit outside and enjoy the views without a dirty glass window between you and the view.
The Thames River cruises always go past some of the most iconic London landmarks, and allow you to see the city from a completely different angle.
I've done loads over the years, first as university party events and later as fancier cruise dining experiences.
So whether you choose to do a dining cruise or just a sight seeing one, sit back, relax, enjoy the feel of the sunshine on your skin and take in the glorious London views.
Swim in Hampstead Heath Pond
The first time I spent a summer in London I was a bit gutted at not being by the beach. As much as I loved all the cool summer stuff in London, I was used to swimming daily and I missed that.
Imagine how happy I was to discover there are places in central London where you can go for a swim outside! There are a number of bathing ponds in Hampstead Heath Pond, both mixed and divided in men or women only.
Admittedly the water isn't quite crystal clear, but it's still a fun experience. You can get together a group of friends, go for a cooling swim and then bask in the sun in Hampstead Heath.
Eat at a street food market
I love eating at street food markets at any time of year, but doing so in summer when you can actually be outside without having to shelter yourself from the rain is even better.
My favourite street food markets in London are Camden Market, Borough Market and the Dinerama Street Feast venues.
They are all quite different one from the other, but are all characterised by an abundance of international stalls, big tables where you can eat with friends and bars for drinks.
If you prefer to have a proper sit down meal, be it bottomless brunch, afternoon tea or dinner, try to do so at a venue with an outdoors area. The nice weather in London doesn't last forever, make the most of it!
Watch a sporting event along Regent's Canal
I know what you might be thinking, how does one watch a sporting event along a canal? Regent's Canal is a very long canal, starting around Paddington and joining up with the Thames all the way in East London.
It's a tranquil part of London and you can always find Londoners jogging or cycling along the canal. My favourite part is the one behind Kings Cross Station, by Granary Square.
Here you will find big steps leading down to the canal. In summer they cover the steps with fake grass, and hang a big screen on the other side of the canal, where they always play events like Wimbledon.
It's one of my favourite London summer spots. There are loads of bars, restaurants and street food stalls where you can grab food and drinks to have while you watch Wimbledon (or another event) along Regent's Canal.
Explore the street art in Shoreditch
I guess you could do this at any time of year, but walking around in the sunshine and warm weather is always more fun. Shoreditch is the quirky and hipster area of London.
There are loads of beautiful graffiti all over the neighbourhood. You could do a guided tour but you can also do it alone by following my street art in Shoreditch walking itinerary.
You can see some of coolest street art in London, snap some gorgeous London Instagram shots in the sunshine and discover this edgy area of London.
Watch a performance at Shakepeare's Globe
There are plays at Shakespeare's Globe on all throughout the year, however given the open roof characteristic of the venue, you will have a much better time going there in summer.
Shakespeare's Globe is located on the banks of the River Thames, and is home to many of Shakespeare's performances. As the name suggests the theatre has a circular shape, with balconies along the sides and a wide floor for standing spectators.
This is how plays happened back in the day, and the tradition continues to this day. Tickets for a standing spot can be as cheap as £5, however bear in mind you'll be standing the whole time!
Dance at a music festival
You might not associate music festivals with cities, and yet London is home to many music festivals throughout the summer. Obviously they're not grand affairs like Glastonbury with overnight camping, but they're enjoyable nonetheless.
They're usually housed in the bigger parks of London, and last for 3-4 days. Some of the most famous ones are Wireless in Finsbury Park and British Summer in Hyde Park.
You can expect huge stages, big names performing, people dancing all throughout the day and late hours of the night, and lots of fun!
Have fun at Notting Hill Carnival
If the music festivals aren't enough then you should definitely add Notting Hill Carnival to your London summer bucket list. Notting Hill Carnival is one of the coolest free events in London.
It's a huge event that takes place every summer at the end of August. It takes over the streets of Notting Hill in a colourful celebration of the Caribbean community.
Everybody dresses up, joins the parade and dances down the streets, enjoying the music and fun! You will often see also families with children here so has a very different vibe from just any other music festival.
Visit Kew Gardens
Kew Gardens is one of the most beautiful parks in London. Located a bit outside central London, it's home to a stunning botanical gardens.
Parks are always fun to visit in summer, but Kew Gardens especially is worthy of a visit. You can wander around the gardens with all the flowers in bloom, surrounded by the sweet and fresh aroma of summer.
There are also a few designated picnic areas where you can bring your own food and drinks. Perfect for a family picnic in the sun!
Final thoughts on London summer activities
There you have it, the ultimate London in summer bucket list! London is a cosmopolitan and exciting city, rich of things to do at any time of year, but I find it especially comes alive in summer.
Regardless of how much time you're spending in London, these summer activities are perfect for any itinerary! (If you want help with your itinerary, check out my 1-day, 2-day and 5-day London itineraries!)
With the nice weather pubs and bars open up their outdoors areas, lots of fun festival and events are scheduled and you can spend more time outside. It's the perfect time to enjoy this beautiful city!
I hope you find this guide useful in planning your summer trip to London. If you have any questions, or suggestions for more fun things to do in London in summer, just let me know in the comments!
Enjoyed reading about the best things to do in London during summer? Pin it!