It's pretty likely that this post contains affiliate links. If you make a purchase through them I will receive a small commission, at no extra cost to you.
I always marvel at how, despite being a country that doesn't receive a lot of good weather, there are so many elements of British life that are built for the outdoors. Rooftop bars are one of these things.
There are countless rooftop bars dotted all over London, providing the perfect place for a summer (and why not, maybe even winter) night of drinking and partying. With so many to choose from, how do you decide where to spend your summer evenings?
After 8 years I've had the opportunity to try quite a few rooftop bars in London, and I've put together this compilation to help you decide.
I've listed the best rooftop bars in London, which in my opinion have the best views, best vibes, good food and drinks and are reasonably priced. So let's jump in!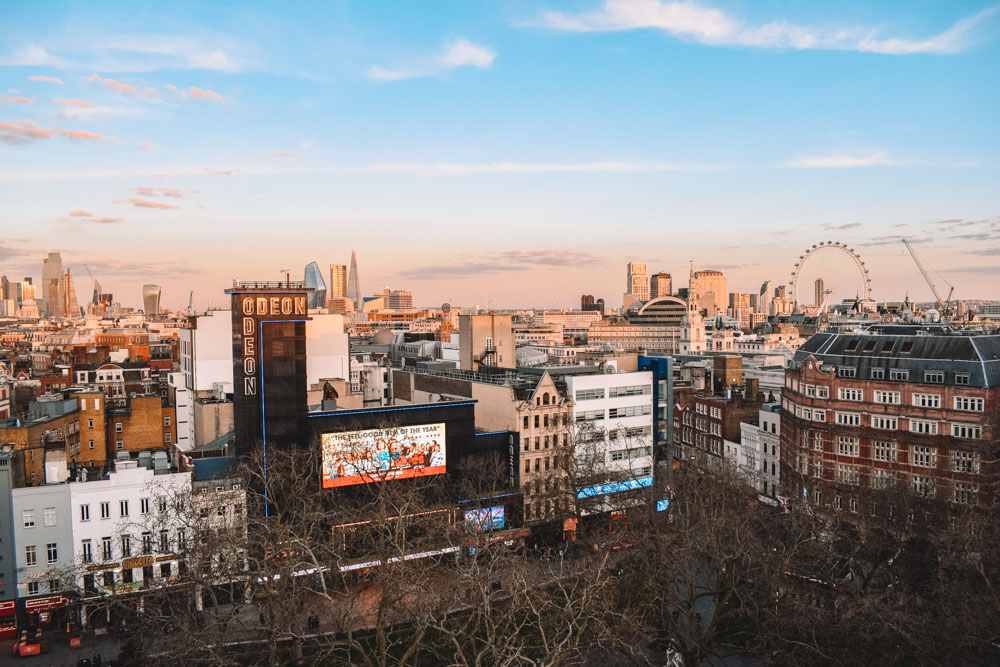 Want to learn more about London? Check out this London quiz!
The 10 best rooftop bars in London
Madison's Rooftop Bar
I may be somewhat biased because one of my best friends used to work here so I used to go quite a lot, but I find the view from Madison's Rooftop Bar to be one of the most fascinating in London.
It might not be as high up as Sky Bar, but being so close to St Paul's Cathedral and its imposing dome is simply incredible.
You can enjoy the view from the bar itself but the best views are from the free terrace. You can see the top of the London Eye peeking over the rooftops as well as the Shard.
Madison's is a pretty fancy bar (there is a dress code and you have to be dressed up for it) but with cocktails priced around £15, it's in the average range for rooftop bars in London. They have both an indoor and outdoor area.
LSQ Rooftop
Located in the heart of Leicester Square, this rooftop bar has recently become one of my favourites in London. It has an indoors area with lovely decorations and floor to ceiling glass windows, which can be opened in summer for a fully outdoors area.
There's also a balcony all along it from which you can properly enjoy the view. LSQ Rooftop is high enough that you can get incredible views over the skyline of London, from the London Eye and Westminster to the Shard and all the way to the City.
You can also look down and see the hustle and bustle of Leicester Square. The view is especially beautiful at sunset, when the sky turns pink and the sun lights up the buildings of London.
Considering the location and view you get, drinks are very reasonably priced. Prices range from around £15 for a cocktail to £8 for a beer. They also have a kitchen and offer some delicious looking burgers.
Frank's Café
Frank's Café is located in Peckham, south of the river, and is somewhat further away from the hustle and bustle of central London compared to other popular rooftops.
And yet the sweeping views over the rooftops of London, with the Shard and London Eye in the distance, are second to none.
Frank's Café is closed in winter and opens only in summer. They offer classic drinks like Negroni and Aperol Spritz for between £7 to £8.50, as well as jugs of Pimms and other cocktails for around £20. They also have food available, both at brunch times and a main menu for evenings.
It's located on the rooftop of the Peckham Multi-Storey Car Park, as par of a not-for-profit organisation called Bold Tendencies. The rooftop has that edgy hipster style, perfect if you're looking for a bit of a different night.
Sky Garden
Sky Garden is always going to have a special spot in my heart. Yes it may be somewhat touristy, but even as a Londoner I love going up there and enjoying a drink while admiring the view over my beautiful city.
Entry to Sky Garden is free all day; the only difference is if you visit during the day you have to book a time-slot online beforehand, whilst it's walk-in entry after 7PM.
It's a fairly fancy place so there's a business casual dress code (in my personal experience I've found this to just mean no trainers).
What I love most about it is that it's not only a bar and restaurant, but it also has the plants and garden area, as well as hosting fun activities like sunrise yoga classes.
There is an outdoor balcony but this is only open during the day, in the evening you can only be indoors. Cocktails at the Sky Pod Bar (inside Sky Garden) are priced at around £15, which I think is very reasonably priced for the view you're getting.
It's also a great spot if you want to refresh your London Instagram feed.
Bar Elba
When compared to the previous rooftops on this guide Bar Elba might not have a jaw-dropping view, but it's a fun bar with a casual vibe and great cocktails. With its colourful design and fairy lights, it's a lovely rooftop for a fun summer evening.
They also have a two-for-one happy hour on every day from 4pm to 6pm, how could you say no? Bar Elba is located a short walk from Waterloo station, which makes it very easy to reach from anywhere in London.
12th Knot
12th Knot in Southbank has some incredible views over the River Thames and London skyline. Here you can enjoy a drink while watching the hustle and bustle of London from above, and the dome of St Paul's Cathedral in the distance.
There are both indoors and outdoors areas, making it a perfect bar for any season or weather. Their cocktails are priced between £13 and £15, but they also have a wide selection of spirits that you can choose from if you fancy something else.
Located on the 38th and 39th floors of the Heron Tower in the City of London, SushiSamba is probably one of the most famous restaurants and bars in London. It's the highest outdoor dining terrace in Europe, and has incredible 360 views of the City.
However the experience isn't limited to the terrace, thanks to their panoramic glass elevators you can start enjoying the unfolding view over London before even reaching the rooftop.
As the name suggests, it's a popular sushi restaurant (with a Brazilian and Peruvian influence) but it also has a bar.
Their cocktail menu serves all sorts of classic with a spin, such as a Cherry Blossom Negroni or a Nashi Martini. Cocktails are priced at around £15. It's a pretty fancy venue so make sure to dress appropriately.
Aqua Spirit
It might not have the iconic views over famous London sights, but Aqua Spirit makes up for that with a very large outdoors area, which other bars often lack. They don't take reservations so make sure to get there early if you want a comfy seat outside.
Cocktails are priced around £14 and they serve a variety of Japanese inspired bar snacks.
Located in the heart of London just next to Oxford Circus, it's the perfect rooftop to relax and enjoy a drink in the sun, without feeling like there might be others waiting for a table (if you care about that sort of thing).
Queen of Hoxton
Queen of Hoxton is a pretty famous nightclub in Shoreditch, which also has a great rooftop bar. If you don't some potentially pretty drunk and loud residents on the ground floor, the rooftop bar provides a unique and fun experience.
The rooftop bar is open year round and has different themes that regularly change, at the moment it's a Wizard of Oz theme called the Emerald Realm.
Besides some fun green decorations you will find some great cocktails like an Emerald Bellini or a Mulled Cosmopolitan, with prices ranging from £8 to £9.50.
There are no sweeping London skyline views here, but there is a much more fun and casual vibe. After a couple (or more) drinks you can always join the dancing on the ground floor!
Capeesh Sky Bar
Moving away from Central London, it's time for a rooftop bar in the financial heart of the city; Canary Wharf. Capeesh Sky Bar is located on the 48th floor and offers incredibly views over Canary Wharf and London.
You can just about recognise the Shard and the London Eye in the distance. This fancy bar has a huge variety of cocktails for £11 to £14. You can also buy directly a spirit bottle and choose your mixers.
They're also an Italian restaurant and have pizzas and Italian snacks on the menu. If you want to see how the bankers of London live and party, this is the spot.
Final thoughts on the best London rooftop bars
So there you have it, the ultimate guide to London's best rooftop! Have you been to a rooftop bar in London that isn't listed here? Let me know in the comments below!
These are just some of my personal favourites based on their views, price to quality of drinks ratio and vibe of the venue. I hope you find this guide useful in deciding which rooftop to spend your London evenings!
Looking for more London advice? Check out these resources!
Enjoyed reading about the best rooftop bars in London? Pin it!