It's pretty likely that this post contains affiliate links. If you make a purchase through them I will receive a small commission, at no extra cost to you.
Everybody thinks the weather in London in winter is awful, and that it's better to not visit London in the winter months. I strongly disagree.
While it's true the weather might not be ideal, there are lots of awesome things to do in London in winter, both indoors and outdoors, some of which you can only do in winter!
If you're planning a winter trip to London, but not sure about what you can actually do in London during the cold winter months, this is the guide for you!
I've put together everything you need to know about visiting London in winter, including what weather you can expect, how to get around and the best things to do.
So let's dive in, and discover the beauty of London in winter!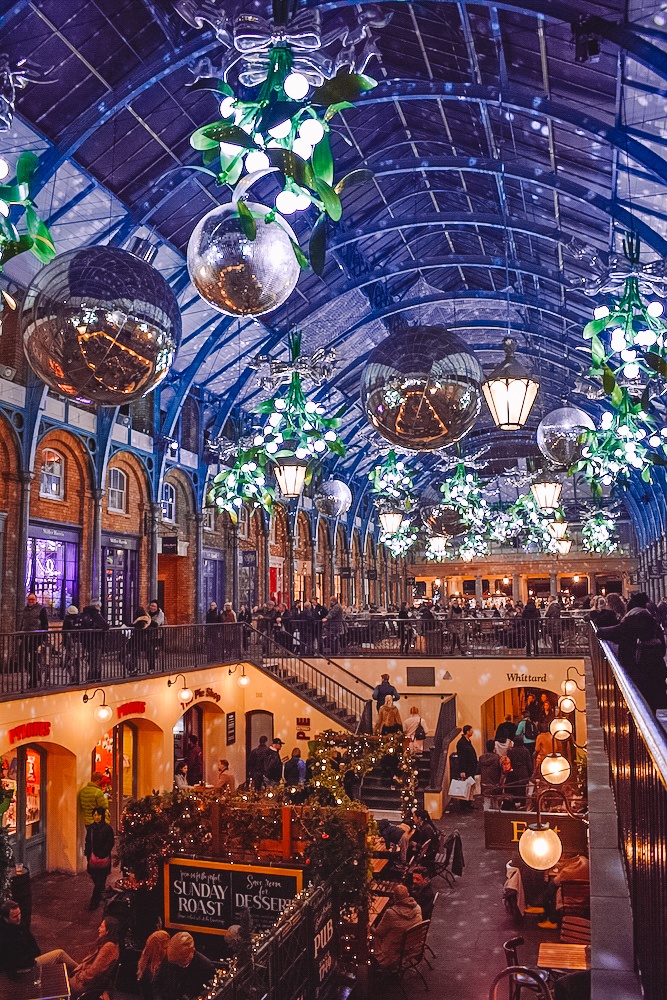 Weather in London in winter
First things first, what kind of weather can you actually expect to find when you visit London in winter? London is notorious for having bad weather, but what does that mean in real life terms?
From November till the end of February the temperatures in London range from 4°C to 10°C. Sometimes it gets colder than that, with temperatures falling below zero or close to it.
There are between 7.5 to 9.5 daylight hours, with the sun rising around 7-8AM and setting around 4-5PM, depending on the month you visit. It might seem like the sun goes down very early but don't worry, there are plenty of things to do in London in winter even when it's dark!
Now I can't say exactly what the weather will be like, you will have to check that closer to your trip date. What I will say is that it doesn't rain anywhere near as much as everyone thinks it does.
Before coming to London everyone, myself included, think it just rains all the time. After 8 winters in this city, I disagree. It's grey and often drizzling a lot, but you don't get big downpours very often. You get on average 55mm of rain spread across 15 days.
Getting around London in winter
My personal favourite way to get around London is on foot. By walking you can see all the pretty streets, houses and hidden gems that you might otherwise miss from a bus, taxi or if you're underground.
However I appreciate not everyone wants to walk outside in the cold and maybe rainy weather of London. The best way to get around London in winter is with the tube (the London underground system).
The tube goes everywhere in the city and if you need to wait for a train, you will do so somewhere warm.
Buses in central London are also great, but if you go a little further out they're not as frequent. Waiting for a bus when it's cold and maybe rainy outside is never pleasant.
If you prefer to move around in comfort you can use Uber. They're cheaper than black cabs and you can easily order one while you're still inside, stepping out in the cold only at the last minute to get in your Uber.
10 best things to do in London in winter
Visit the museums
London is home to lots of beautiful museums, which are mostly free entrance. They're amongst the best free things to do in London at any time of year, but especially in winter when the weather outside is grim!
Most museums have free entrance to their main exhibition, and will then have special exhibitions for a limited time only, which you have to pay for. Whether you have an interest in science, history or modern art, there is a museum for everyone in London.
My personal favourite is the Natural History Museum in South Kensington. You can easily spend a few hours (if not a full day!) exploring the exhibitions of the Natural History Museum, while outside it's cold and rainy.
Explore the Christmas markets
The Christmas markets in London start very early. The Southbank Christmas market starts as early as the 1st of November! If you're visiting London at any time from November to December you have to spend some time exploring the Christmas markets.
Some are bigger than others, but ultimately they all offer a similar experience. Colourful lights, mulled wine, awesome street food and Christmas themed souvenir stalls.
The most famous is without a doubt Winter Wonderland. This huge Christmas fair takes up every year a big corner of Hyde Park, and is considered by many the ultimate Christmas activity in London (as well as one of the prettiest parks in London).
It might be cold outside, but nothing a bit of mulled wine can't warm up! Some of the bigger markets also have outdoors heaters for the outdoor dining areas.
See the Christmas decorations in Oxford Street & Mayfair
If you're visiting London around Christmas time, you will have the pleasure of seeing all the pretty Christmas lights dotted all over the city. You will find the most beautiful and extravagant ones on Oxford Street, Regent Street and Mayfair.
Annabel's Gentlemen's Club has become one of the most visited spots for anyone searching for the best Christmas decorations in London.
With its huge Christmas tree that covers the entire building façade and bright red bows, it cuts quite the striking picture. You will want to go Christmas lights chasing after it gets dark.
It might be colder out but the decorations are much prettier and more remarkable when the lights are on.
Go ice-skating
As the temperatures drop you will find ice-skating rinks popping up all over London. Ice-skating is a traditional winter activity all around the world, but I find it particularly enjoyable in London.
The ice-skating rinks are usually located in strategic tourist spots, meaning you get some very pretty views while ice-skating. Some of the most beautiful are at the London Eye, the Tower of London and Natural History Museum.
Make sure to book online beforehand as the more popular rinks tend to get fully booked way in advance. Pack some warm gloves with you and you're ready to go!
See a musical or West End show
The last few items on this London winter bucket list were outdoors so it's time to head back inside and warm up a little. If you're visiting London in winter, one of the best things you can do is go see a musical or show in the West End.
The West End of London is famous for being home to some of the most spectacular productions worldwide. Whatever your personal tastes, there is bound to be a performance that you will enjoy.
Over the years I've been to see a lot of shows in London, but my personal favourite is without a doubt the Lion King. The costumes, staging and performance of the actors is simply incredible.
Do an afternoon tea bus tour
Afternoon tea is a traditional British meal, serving cakes, finger sandwiches, scones and obviously, tea!
Trying a traditional afternoon tea is one of the best things to do in both London (and the UK more generally) but especially in winter, when you want to spend more time indoors.
Doing an afternoon tea bus tour is a great way to combine seeing London with a traditional British dining experience. After all, if it's your first time visiting London you might not want to spend hours sitting down eating somewhere.
You will spend around two hours driving around Central London, past some of the main sights like Buckingham Palace, Trafalgar Square and Harrods. All while sipping on warm tea and nibbling on tasty cakes. A win-win if you ask me!
The bus tour by B Bakery is not only delicious, but also very pretty! It makes for some gorgeous Instagram photos.
Go for a River Thames dinner cruise
Similarly, going for a dinner cruise will allow you to combine fine dining with seeing the highlights of London from a completely different angle.
You will enjoy a lovely 4-course meal snuggled up and warm in your boat, as you cruise past the main landmarks of London.
From the River Thames you can easily see the Houses of Parliament, the London Eye, the dome of St Paul's Cathedral, the Shard and Tower Bridge. The dinner cruises usually last around 4 hours, going past Canary Wharf and as far as Greenwich.
There are lots of different types of dinner cruises. We did the showboat dinner cruise with City Cruises and found it very fun. Besides the good food and great views, you also get live music.
Eat in the igloos of Coppa Club
One more unique dining experience you can't miss if you visit London in winter are the glass igloos of Coppa Club. This restaurant is located right on the banks of the River Thames, and has some very creative outdoors seating.
Instead of the usual tables and mushroom shaped heaters, Coppa Club is famous for its round glass igloos, decorated with fairy lights and cosy seats. Pair them with sweeping views of Tower Bridge and the Shard, and you have a winner.
Visit Sky Garden
Sky Garden is one of my favourite places in London. It's one of the best rooftop bars and best views in London. It's also completely free, you just have to register online for a specific time slot.
It's a full indoors garden, bar and restaurant, with epic views over the London skyline. Here you can enjoy some lovely drinks and nibbles, while watching the sun go down over the rooftops of London.
It's beautiful at any time of year, but being indoors and warm enjoying such an epic spot when it's cold outside is always more enjoyable!
Explore Chinatown during Chinese New Year
The exact dates of Chinese New Year change every year, but it's usually held around the end of January or start of February. Chinatown is a really cool part of London, where you can taste authentic Chinese food.
It's especially beautiful during Chinese New Year, with all the New Year decorations and lanterns up. It's the perfect opportunity to explore London's multicultural and cosmopolitan side.
London winter packing list
If you're visiting London in winter, there are a couple things you need to remember beyond the usual items you would pack for a trip to London.
Water resistant shoes – It might not rain much, but better safe than sorry! There's nothing worst that walking around all day with wet feet.
Layered outfits – If you want to ensure you're not too hot when you're on the tube, in buses or as you go in and out of shops or museums, make sure to go for a layered approach. Dress in layers with cardigans, sweaters and hoodies, so that you can cover up or undress as appropriate.
Warm water resistant coat – You're visiting London in winter after all, make sure to have with you a coat that will keep you warm and dry!
Power bank – I don't know if it's just my shitty old phone, but it seems to drain the batter much faster in the cold weather. Make sure to have a power bank with you, so that you can capture all the beautiful London winter lights.
Warm gloves, hat and scarf – Nobody likes cold fingers or ears, and it can get pretty windy in London. Bring with you a warm scarf, hat and gloves to ensure you stay warm and cosy!
Final thoughts on winter in London
There you have it, the ultimate winter in London bucket list! Winter in London might be cold and grey, but that doesn't mean the city itself is any less beautiful.
There are lots of awesome things to do in London in winter, some which can only be done at this time of year! Don't miss out, visit London in the winter months and explore some of the Christmas and mulled wine magic it has to offer.
I hope you find this guide useful in planning your own winter trip to London. If you have any questions, just let me know in the comments below!
Need help planning your time in London? Check my London 1-day, 2-day and 5-day itineraries!
Enjoyed reading about the best things to do in London in winter? Pin it!