It's pretty likely that this post contains affiliate links. If you make a purchase through them I will receive a small commission, at no extra cost to you.
For a city as big and rich in things to do as London, one day to explore it might not feel like enough.
However spending one day in London will give you the opportunity to scratch the surface of this beautiful city, get a feel for the London lifestyle and soak in the atmosphere.
Whether it's for a long flight layover, if you're visiting a friend, you're only doing a quick stop as part of a longer trip; London has plenty to offer and is sure to keep you busy.
In this London 1-day itinerary I've put together a walking route that will take you to all the main attractions in London, as well as some hidden local spots.
It's the perfect way to spend a day in London for any first time visitor, and really experience the city.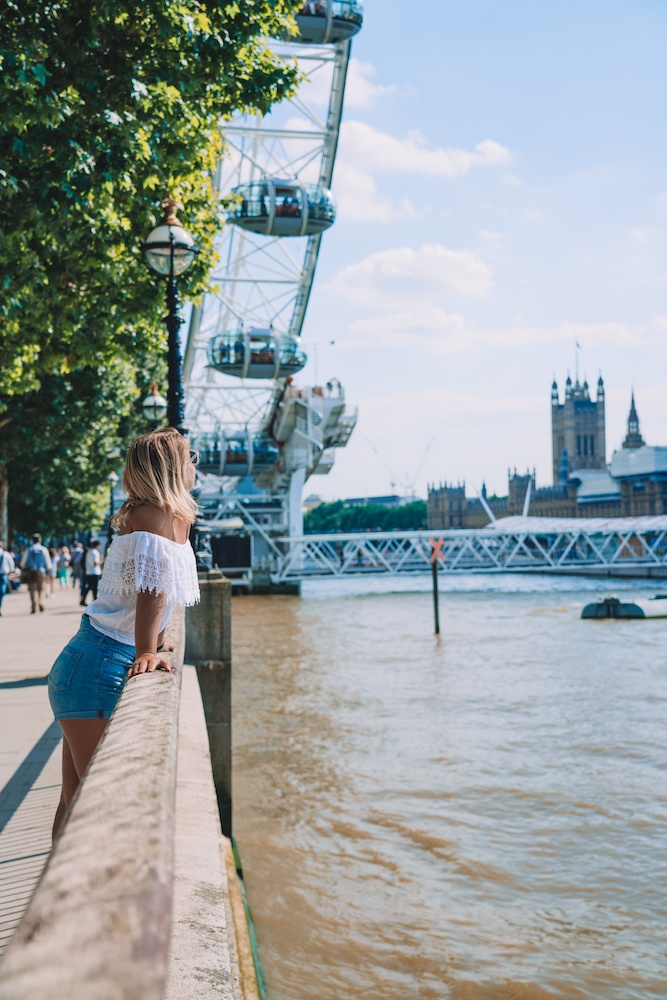 Best way to see London in a day
Personally, if you have 24 hours (or less) in London, I think the best way to get around London is on foot.
While you're walking you will be able to see all the little side streets and corners that you would otherwise miss from behind a car window, as well as really soaking in the London atmosphere.
Also in central London the traffic can get pretty hectic, it's often faster to walk short distances than doing them by bus or taxi! This London 1-day itinerary is a walking itinerary, built around showing you as much as possible of London in one day.
If you don't want to or can't walk you can also take Uber, buses or the tube for the longer distances. An alternative option if you don't want to walk is also doing a hop-on hop-off bus tour.
Yes they may be very touristy, but they drive routes specifically designed to show you all the highlights of London. You also get an audio guide that will explain to you what you're seeing.
My one day in London itinerary
Covent Garden
I recommend starting your day in London in Covent Garden. This is one of the most central spots in the city, easy to reach from any neighbourhood you're staying in and with plenty of fun things to get you started.
In Covent Garden you will find loads of shops, bars, restaurants and market stalls, as well as some unique architecture. Besides the famous Apple Market there are also lots of cute side streets around Covent Garden.
Neal's Yard is one the most colourful and prettiest streets in London, and is a short 3-minute walk away from Covent Garden.
You can start your day by having brunch at one of the many cafes in Covent Garden, maybe do a little souvenir shopping and then hit the road for your next stop!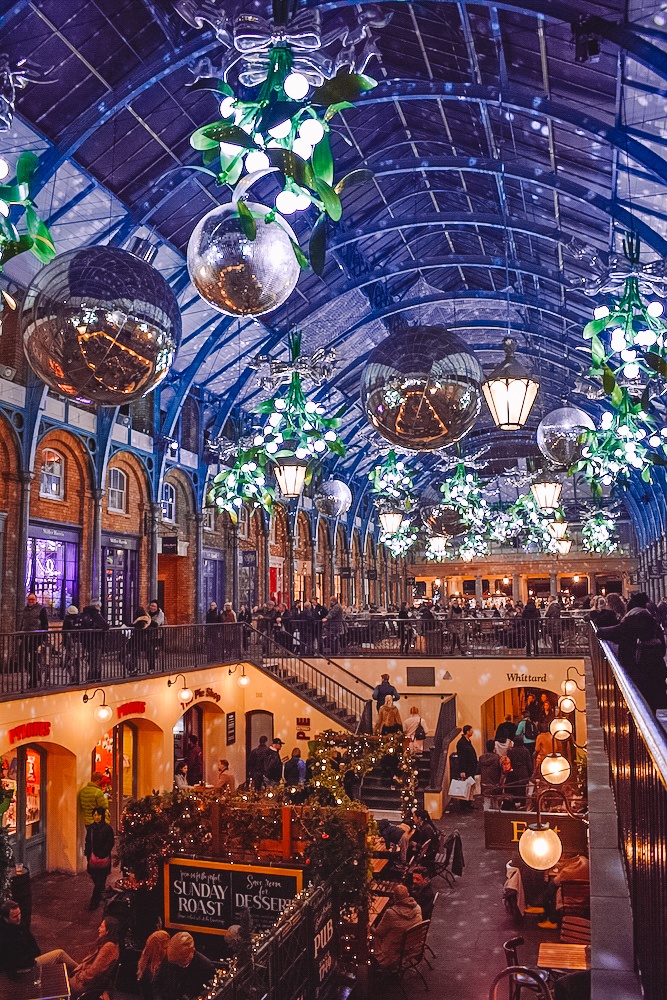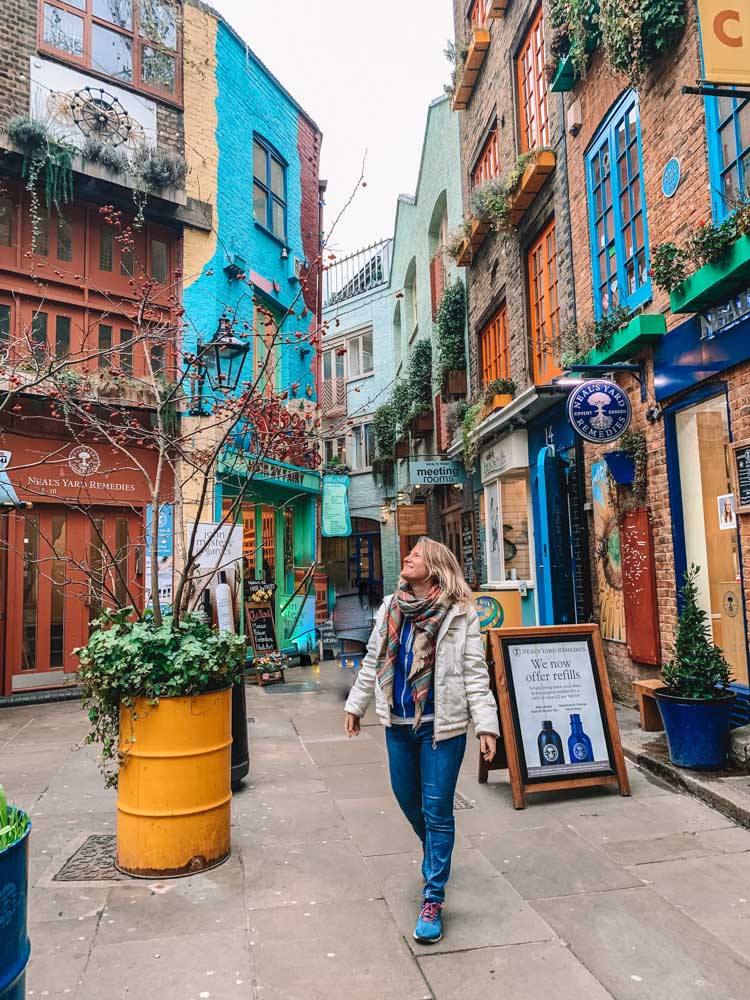 Leicester Square
From Covent Garden you can easily walk over to Leicester Square. Leicester Square is a pedestrian area with cinemas and theatres dotted all around it. This is the very heart of London, and you will find plenty of fun shops, bars and restaurants.
Parallel to Leicester Square you will also find Chinatown. This is a fairly big area of London, which would take up quite a big of time to explore properly, however from Leicester Square you can easily stop by Chinatown Gate.
This marks the "entrance" to Chinatown. It's one of the most beautiful spots in London and definitely worth checking out.
Piccadilly Circus
Piccadilly Circus is the London equivalent of Times Square in New York City. With its colourful billboards and busy streets, it's one of the most iconic spots in London. In Piccadilly Circus you can really appreciate the chaos and busy city life of London.
If you're a shopping fan before continuing with this itinerary you can pop over to Carnaby Street or Oxford Street to check out some shops.
They are both within short walking distance of Piccadilly Circus, and are some of the most famous shopping avenues in Europe.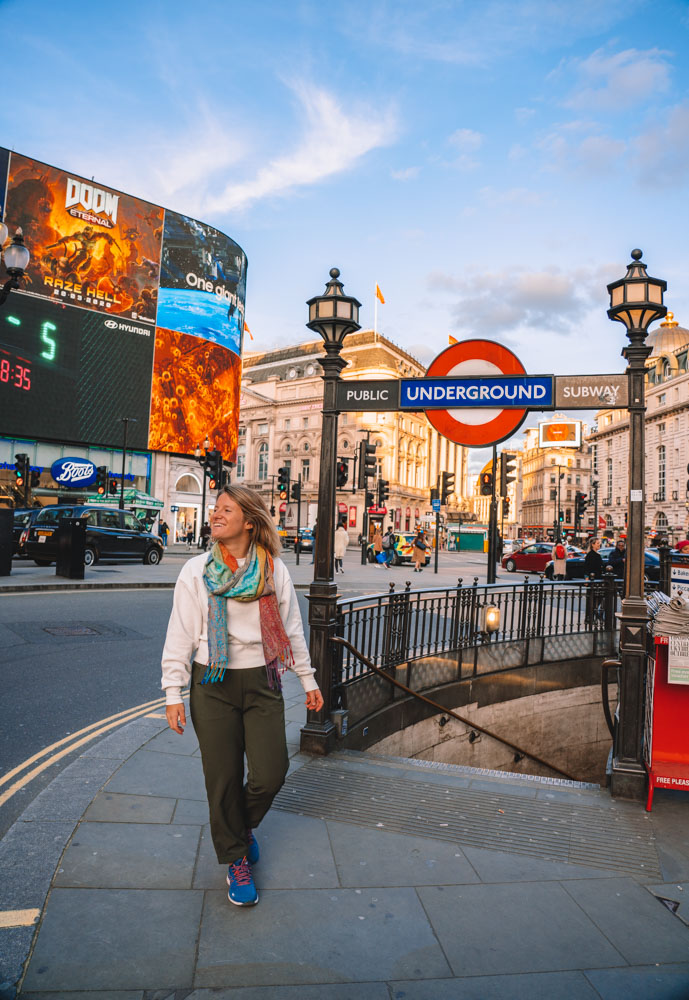 Buckingham Palace
If you only have one day in London, you have to pay Buckingham Palace a visit. Buckingham Palace is the London residence of the royal family, as well as the administrative headquarters of the monarchy.
If you time your day right, you might even be able to see the Changing of the Guard. It happens every day at 10:45AM and is one of the most popular tourist attractions in London.
You will want to be there a bit earlier so you can get a spot with a good view.
You can also visit the State Rooms inside Buckingham Palace if you're interested, but given that you only have one day I would just admire it from outside and then power ahead with your itinerary.
Click here to book your Buckingham Palace tour!
Houses of Parliament & Big Ben
Is there anything more iconic in London than Big Ben and the Houses of Parliament? If you're walking from Buckingham Palace you will first come across Westminster Abbey, another must-see in any London itinerary.
From there just walk on and you will soon see Big Ben and the Houses of Parliament. If you're a history lover you might want to pop in for a visit, however I have personally never been in Westminster Abbey or the Houses of Parliament.
Given that you only have one day in London, I think admiring the beautiful architecture from outside will be enough.
If you do want to visit the inside make sure to book your tickets online beforehand so that you don't waste time queuing or having to buy tickets on the day.
Click here to book your visit to Westminster Abbey!
London Eye
The London Eye is just across the river from Westminster. After admiring the Houses of Parliament and Big Ben, just walk over Westminster Bridge and you will find yourself under the London Eye.
If you want to ride the London Eye you should definitely book tickets beforehand, as the queue can get pretty big. You only have one day in London, you don't want to waste it in a queue!
Riding the London Eye might be a touristy activity, but it's without a doubt one of the best views in London.
Book your fast track London Eye entrance here!
South Bank
After visiting the London Eye I recommend you walk along the River Thames and explore South Bank.
This is one of my favourite parts of London, especially on a sunny day. Regardless of the time of year you visit, there is always something going on along South Bank.
At Christmas time you will find Southbank Christmas Market just a few minutes walk after the London Eye. In summer the same space gets used as an outdoors bar and street food area.
As you walk along the riverside you will come across some iconic London landmarks, such as Shakespeare's Globe, Millennium Bridge (one of the most Instagrammable places in London in my opinion) the Tate Modern, and you will be able to see the dome of St Paul's Cathedral and the skyscrapers of the City from across the river.
Given that you are only in London for one day I don't recommend going inside the Tate Modern or Shakespeare's Globe, as it would take up too much time. However that is obviously entirely dependent on your personal travel preferences and interests.
This London 1-day itinerary is maximised to show you as much as possible of the beautiful British capital in 24 hours, but feel free to edit as appropriate!
Borough Market
After all this walking, you're probably getting a little hungry! Time for a food stop at Borough Market. Borough Market is one of my favourite street food markets in London.
It's one of the largest and oldest food markets in London, and you find also many normal market stalls such as fresh fruit, vegetables and bread.
On top of that there are loads of ethnic street food stalls, selling delicacies from all over the world such as pad thai, curry, pasta but also some British classics like pie and scotch eggs.
Tower Bridge
After enjoying the tasty food at Borough Market it's time for another London icon; Tower Bridge!
The walk from Borough Market to Tower Bridge will take you past Hay's Galleria, a lovely indoor shopping area, and More London Place, a cool outdoor area where you can sit in the sun, and a bit of a picnic while you enjoy the view over Tower Bridge and the City. It's one of my favourite Londoner local gems.
Tower Bridge is famous for the two iconic towers that distinguish it from all other bridges in London. You can cross the bridge for free both on foot or by car, as well as visiting the inside.
Like everything else on this list, I recommend purchasing tickets beforehand if you want to visit Tower Bridge, so that you can save some time.
Tower of London
After crossing Tower Bridge you will find yourself next to the Tower of London. The Tower of London is a historic castle, which was used as prison for over 800 years and where the Crown Jewels are now held.
It's one of the most famous and visited attractions in London. Here you can learn about this secure fortress, castle and prison, as well as lots of interesting history and facts about London and British culture.
If you're visiting in winter they also set up an ice skating rink by the Tower of London, so that you can pair a fun activity with sightseeing!
Click here to book your visit to Tower of London and the Crown Jewels!
Sky Garden
I know it's been a packed day so far, but just one little extra push and you can end your day at one of the coolest rooftop bars and most Instagram-worthy restaurants in London.
Sky Garden isn't only a bar, it's also an indoor garden (as the name might suggest) with restaurants, bars, a viewing platform and they also host cool events such as sunrise yoga.
Entry is free but you have to book a timeslot online. If you visit after 7PM it's walk in and you can just go in without reservation, although you might have to queue a little bit. Sky Garden has incredible views over the river Thames and the London skyline.
Here you can have a drink (cocktails are priced at around £15, which is pricey but not unreasonable for the venue), enjoy the sunset over London and watch the skyline light up as it gets dark. The perfect ending to your day in London!
London in a day route map
I've put together a map of the walking route I suggest in this London itinerary. As you can see it adds up to around 2 hours of walking, on a pretty level terrain and always on normal streets.
Taking into account breaks for photo moments, food, and just in general to appreciate the beauty of London, this walking itinerary will take up the whole day.
Final thoughts on what to do in 1 day in London
Have longer in London? Check out this London 5-day itinerary!
There you have it, the ultimate 1-day London itinerary, suggested by a Londoner! While one day isn't enough to really appreciate this beautiful city, it will give you the opportunity to see all the main highlights and get a feel for the London vibe.
I hope you find this itinerary useful in planning your day in London! If you have any questions or suggestions for spots not mentioned in this itinerary, let me know in the comments below!
Spending longer in London? Check out these extra resources:
Enjoyed reading about how to spend one day in London? Pin it!