It's pretty likely that this post contains affiliate links. If you make a purchase through them I will receive a small commission, at no extra cost to you.
If you search for #london on Instagram over 136 million results will come up. That's a lot of content being created every day in the beautiful British capital. With so many beautiful corners everywhere, it's easy to see why!
London is one of the most Instagrammable cities in the world. From famous historical landmarks to modern architecture, from quaint streets to epic viewpoints, it has it all. But how do you decide where to take photos?
In this guide I've listed all the most Instagrammable places in London. I put together a compilation of all the most Instagram-worthy spots with exact locations and photo tips for the most Insta look.
Map of the most Instagrammable places in London
I've mapped below all the photogenic spots listed in this guide.
You can easily visit them all by yourself, however if you prefer to have a guide and photographer showing you around and helping you snap gorgeous photos you can also do a London Instagram tour.
This will not only to take you to some of the most Instagram-worthy places in London (not quite all of them, if you wanted to visit all 40+ spots in this guide it would take you 2-3 days) but you will also have a photographer with you helping you snap the best shots!
It can be a fun idea for those looking for the perfect Instagram shot, without having to rely on your friends or kind strangers to take photos of you.
Click here to book your London Instagram photo tour!
Instagram-worthy landmarks & buildings
London Eye
The London Eye is possibly one of the most iconic and recognisable landmarks in London. There are a number of different spots from which you can capture great Instagram shots of it.
From Westminster Pier
For maximum Instagram points, you will want to capture a photo of the London Eye from across the river, close to the Westminster pier. There are two red phone boxes that you can pose with, and have the London Eye behind you.
Red phone boxes and the London Eye, what more could you ask for from a London shot? It's one of my personal favourite photo spots. Just be careful where you stand as you take the photo, as there are lots of bikes going past there.
See the exact location here.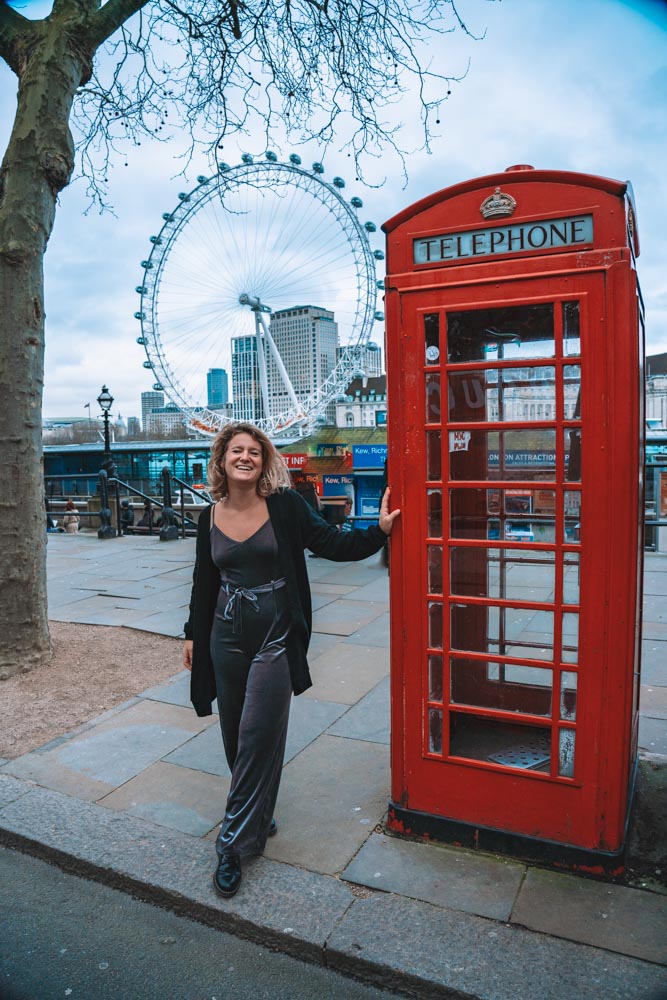 From Westminster Bridge
Westminster Bridge is always very busy, but even on weekends you can usually get a quiet spot and moment without too many people around. I love this view of the London Eye with the River Thames and I'm sure your Instagram followers will love it too!
Click here for the exact location.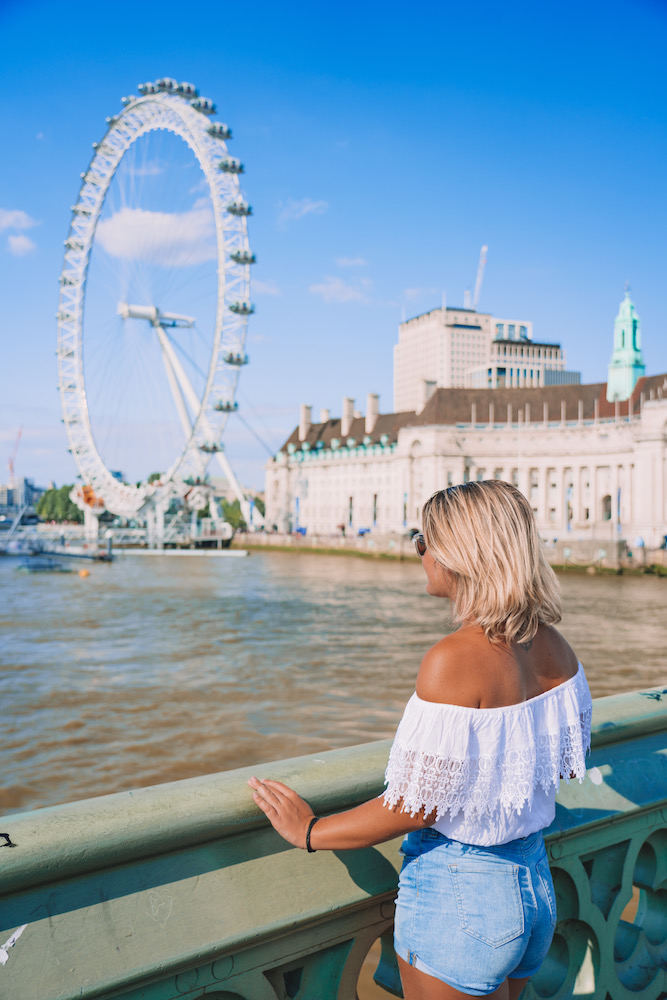 From South Bank
For something a little different, why not capture the London Eye from South Bank. All the other photo spots will allow you to get the whole London Eye in the picture, whilst from here you will be too close for that.
I quite like the difference in shot and being able to see more of the details on the London Eye. If you can get a bit of the Houses of Parliament in the back, it makes for a great Insta-shot!
Click here for the exact location.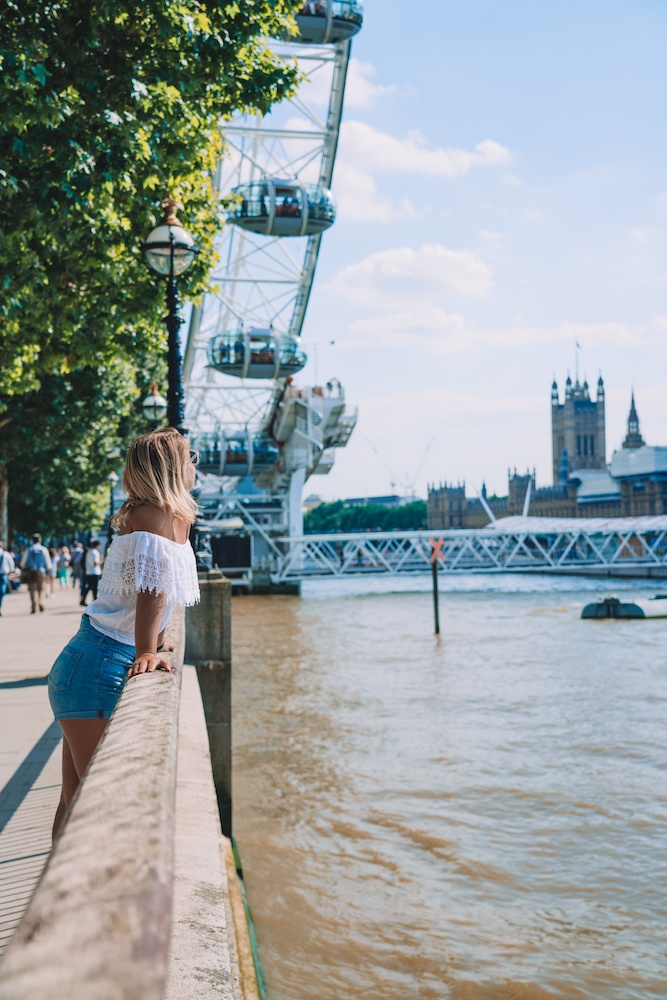 From Hungerford Bridge and Golden Jubilee Bridges
This is one of my personal favourite sunset spots in London. From here you can see the sun setting behind the Houses of Parliament, and flooding both the London Eye and River Thames with beautiful golden light.
It might not be the most Instagrammable shot since if you want to get all elements in you will have to shoot landscape (and we all know portrait is better for Instagram) but it's still going to be a breath taking photo.
Check out the exact location here.
Big Ben
Big Ben is another one of those iconic landmarks in London, which you just have to take a photo with.
While at the moment it's all covered up in scaffolding, it's still a must-see in London. Similarly to the London Eye there are a couple different angles that are particularly Instagrammable.
From the phone boxes on Great George Street
On the road leading up to Big Ben you will find a line of phone boxes, which are probably the most photographed phone boxes in London (the ones by Westminster Pier for those London Eye shots come in as close seconds).
A red phone box and Big Ben, what more could you want from a London Instagram shot? If you wait for a red double decker bus to go past you'll be ticking off all the boxes!
Click here to see the exact location.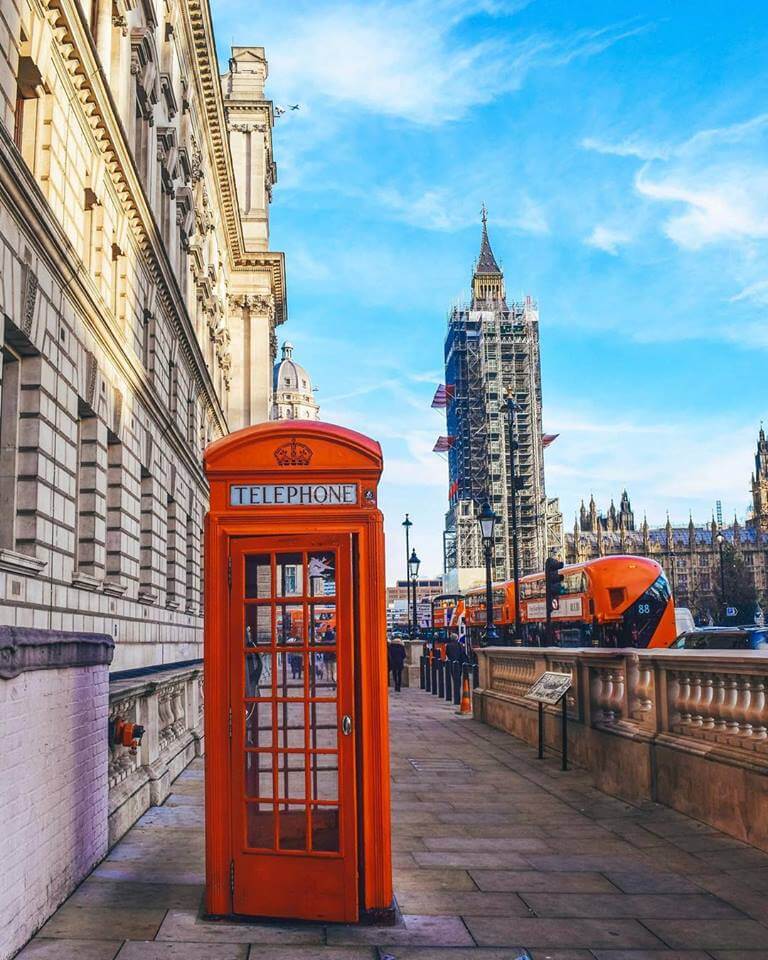 From Westminster Bridge
From one side of Westminster Bridge you can capture great photos of the London Eye, whilst from the other you can get great photos of Big Ben and the Houses of Parliament!
Click here for the exact location.
From across the river
Once you cross Westminster Bridge you have to go immediately to the right, and you will see the entrance of the underpass to go to the London Eye. I personally love this angle for photos as I find the arch gives it a nice and unique framing.
Click here for the exact location.
St Paul's Cathedral
St Paul's Cathedral is one of the biggest and most important churches in London. It has beautiful architecture and is easily one of the most Instagram-worthy spots in London.
From the ground floor of One New Change
My personal favourite angle to photograph St Paul's Cathedral is from the nearby mall called One New Change. There is a beautiful framing of it from the ground floor close to the stairs.
Here you can capture St Paul's Cathedral reflected in the shop windows of the mall. It's a great way to get a bit of a creative angle on a classic building.
See the exact location here.
From the south side
If you walk away from One New Change, get closer to St Paul's and stay on the side closer to the river, you will soon reach a very Instagrammable phone box (yes, once again). If you have a wide-angle lens this is the time to use it.
I just personally love this angle as it gives you the opportunity to see more of the details and architecture of St Paul's, as well as appreciating the sheer size of it. When put in perspective next to a person it's easier to understand just how big it is.
Click here for the exact location.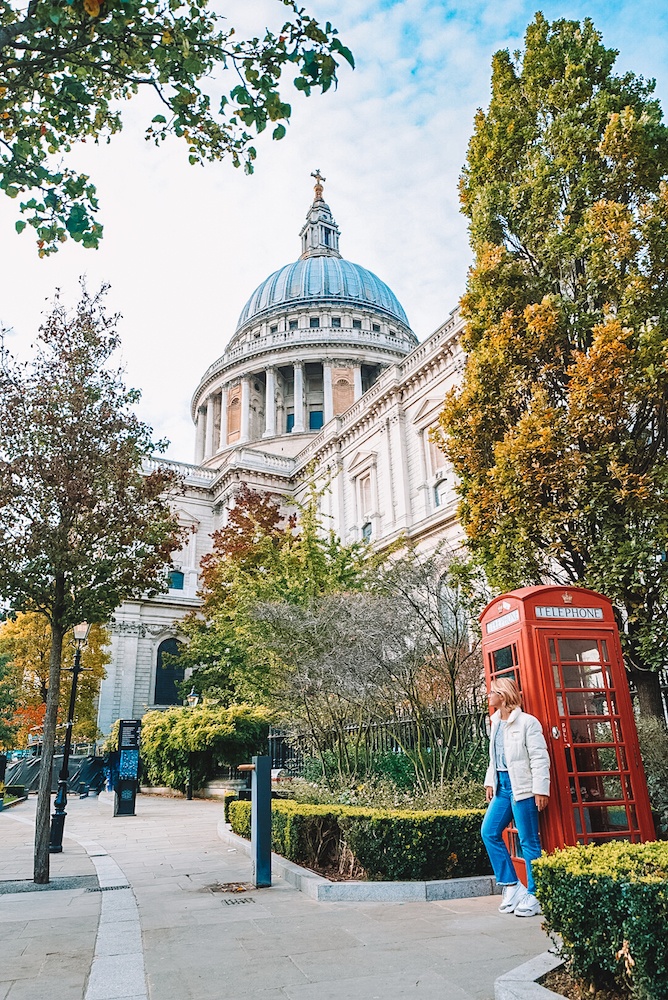 From Millennium Bridge
Somewhat further away from St Paul's, one of my favourite photo spots in London is from Millennium Bridge. You will only see the dome of St Paul's in the background, but I personally love the symmetry and framing of Millennium Bridge.
See the exact location here.
Tower Bridge
Tower Bridge is one of my favourite landmarks in London. I spent two years working in a corporate office just next to it, and despite hating my job, I used to love looking out of the window and seeing Tower Bridge.
Like all photogenic landmarks it has more than one angle from which it looks Instagrammable and fabulous.
From More London Place
I personally love this side of Tower Bridge, since it's the side my office was on and I'm most used to seeing. In summer there are also street food markets and pop up bars with sun lounge chairs.
Despite being in such a touristy spot, I always say the Scoop is a bit of a Londoners secret gem. While you snap away your Instagrammable photos of Tower Bridge you can also enjoy drinks and food from the pop up by the Scoop.
Click here to see the exact location.
From on the bridge
This photo spot is possibly the busiest and hardest to photograph, but which gives you the opportunity to capture some pretty creative and alternative content. I like the framing and change of perspective from seeing both towers to being under them.
If you're visiting at night you could also get creative with long exposure shots, and capture light trails as the cars and buses drive on the road. You need a tripod for these kinds of shots.
See the exact location here.
From the Girl with a Dolphin statue
As soon as you cross the bridge you go down the stairs and in the opposite direction relative to the Tower of London. After about 20 metres you will find the Girl with a Dolphin Statue.
I personally love this spot for photos because you can see the Shard in the back behind Tower Bridge, and it adds an extra layer of complexity to the photo. It's especially good at sunset since it will set behind Tower Bridge.
Click here for the exact location.
From along the Northern riverside
If statues and fountains aren't your thing, just going along the river until you get to one of the boat docking piers. Here you can get down closer to the river, another very Instagrammable spot for sunset!
Check out the exact location here.
Westminster Abbey
With its beautiful architecture, it's only natural that Westminster Abbey would feature on this list. My personal favourite spot to photograph it from is from the phone boxes in front of Barclays Bank.
That way you can, once again, combine a famous London landmark with a London icon. It also allows you to get the whole abbey in, as well as a red double decker bus if you time it right!
See the exact location here.
Natural History Museum
From outside
The Natural History Museum in South Kensington is one of my favourite places in London.
Besides being a fun and interactive museum, it also offers plenty of photo opportunities. From the outside my favourite is on the path leading up to it, as you can capture the whole building in its beauty.
See the location here.
From inside
Entry to the Natural History Museum is free so I definitely recommend making the most of it! And not just for pictures, if you're interested in dinosaurs and nature, there are a lot of exhibitions here to keep you entertained.
If it's just the photo spot you're interested in, once you walk in from the main entrance walk all the way to the back and go up the grand staircase.
You can get creative and take photos from one side of the other of the top floor with the arches and balconies, but personally I prefer the top down look of the staircase. It really shows how vast and beautiful it is.
St Dunstan in the East
St Dunstan in the East is a church that was partially destroyed during World War Two. The ruins have been turned into a lovely garden that you can visit for free.
It's a very peaceful place, even if you will probably find quite a few other Instagrammers there. I love the framing in the shot below, with the Shard in the background and the contrast between modern and old.
Click here for the exact location.
Royal Albert Hall
The Royal Albert Hall isn't one of the most famous landmarks in London, and it doesn't feature on Instagram as much as some of the other buildings on this list, which is a shame!
With its bold red colours and unique architecture it makes for a beautiful and unique Instagram photo backdrop.
See the location here.
Harrods
Harrods is possibly the most famous shopping centre in London, if not the whole of England. Here you will find all sorts of big name labels, as well as a delicious food court.
The price tag can be pretty high so if you don't feel like shopping don't worry, you can still get some great Instagram photos from outside!
If you're visiting London around Christmas time then you're in for a treat! Harrods puts up a beautiful Christmas lights display on its facade, which made for even more stunning photos.
Click here for the exact location.
Picture perfect streets in London
Neal's Yard
I guess Neal's Yard is more of a yard than an actual street, but you get what I'm going for. Located close to Covent Garden, Neal's Yard is a colourful little corner of London, with flowers hanging from the windows and matching benches.
It's not what you'd expect to find in Central London and that's one of the elements that makes it all the more Instagrammable.
See the exact location here.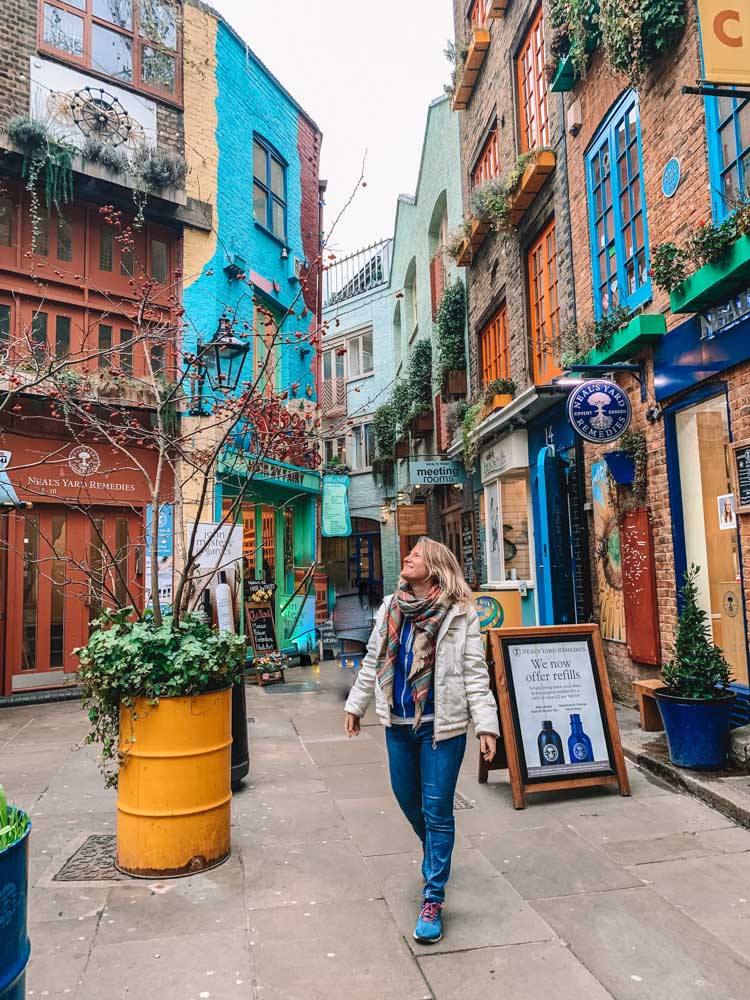 Kynance Mews
Kynance Mews is a very Instagrammable spot, but only if you visit at the right time of year. If you're there in autumn you will find the gate at the entrance of the Mews covered in bright red leaves, the perfect backdrop to any Insta shot!
Check out the exact location here.
Wardour Street – China Town Gate
Wardour Street is the entry to China Town, marked by a huge red Chinese gate. Around Chinese New Year the street behind it is decorated with red lanterns, perfect for that extra pop of colour in your Insta shots!
Check out the exact location here.
Leadenhall Market
Also not an individual street, Leadenhall Market is junction of two streets in a covered market area. The ceilings, archways and decorations on the walls make it one of the most Instagrammable spots in London.
Unlike many of the tourist attractions on this list, this one will actually be less busy on a weekend. It's located in the heart of the city so it's busier during the week, when all the corporate workers walk through it or go there for 5pm drinks.
See the exact location here.
Westbourne Grove
Perpendicular to the famous Portobello Road market you will find Westbourne Grove. This street is lined with beautiful Victorian houses, painted in faint pastel colours.
Besides being adorable, they're the perfect backdrops for any Instagram photo! Just remember that people live in these houses so please be respectful, don't behave in any way you wouldn't want others to behave on your doorstep.
Click here for the exact location.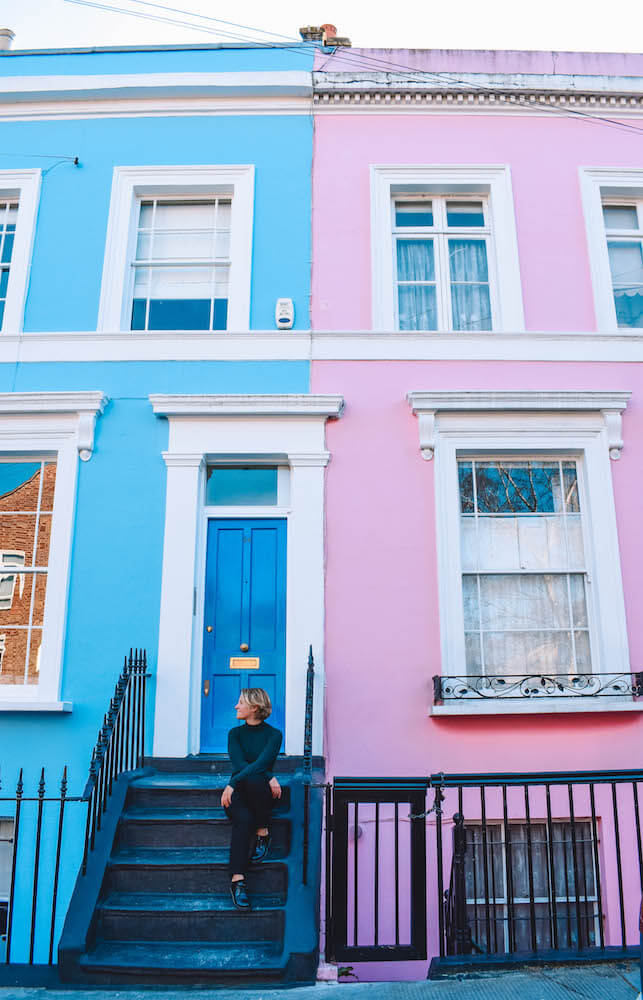 Hillgate Place
If you haven't had enough of pastel coloured houses around Portobello, then you definitely have to add Hillgate Place to your London Instagram series. This whole area of London is full of adorable streets.
Once you get to Hillgate Place you can wander around the surrounding streets, where you will find cute colourful houses everywhere.
They often have cars parked in front of them so they might be tough to photograph, but there's so many you're guaranteed at least one great Instagram shot!
Check out the exact location here.
Kensington Park Gardens
This street is perfect for those who want to take pictures with traditional Victorian British houses, and capture that typical Notting Hill vibe.
With their white facades with balconies, columns and tall windows, it's the perfect spot for those quintessentially British Instagram photos.
This is also a stunning part of London to walk around, simply follow my free Notting Hill walking tour and it will take you to all the most beautiful parts of Notting Hill!.
See the exact location here.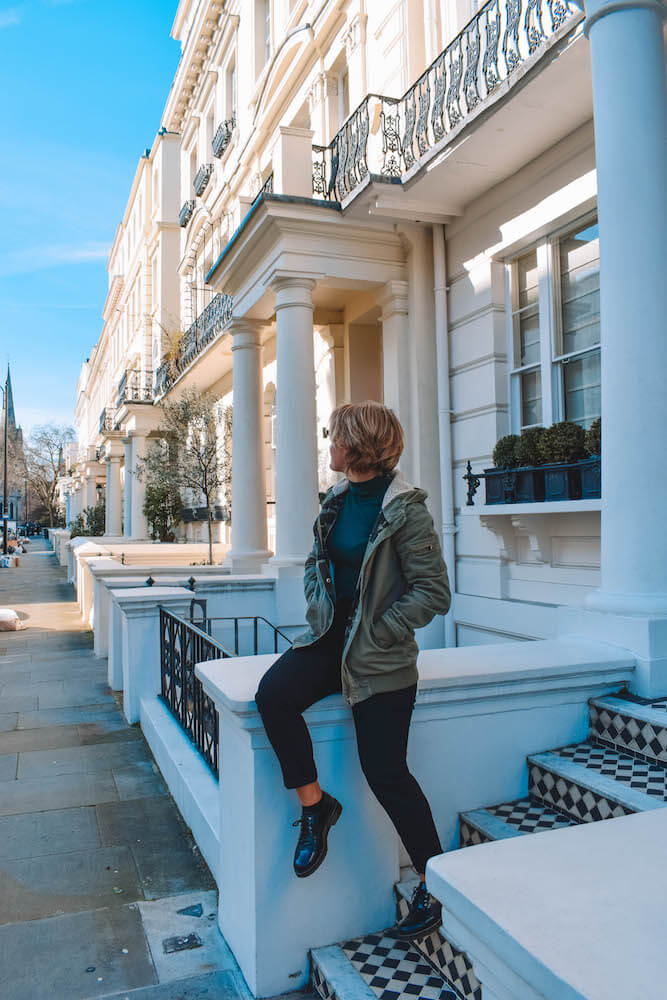 Ladbroke Square
Ladbroke Square is similar to Kensington Park Gardens in architecture, however instead of the buildings being painted all in white they have exposed bricks.
It's a great spot to add some variations to your Instagram content, while maintaining the British Victorian aesthetic. Beyond the ones listed here, around Notting Hill you are guaranteed to find some of the prettiest streets in London.
See the exact location here.
Elizabeth Street
If you're looking for fabulous floral shop fronts, Elizabeth Street is the place to find them. The most famous shop front here is Peggy Porschen, the renown pink bakery with their floral doorway, which changes at every change of season.
However if you just walk along the street you will find more floral spots that are perfect for your Instagram shots. My favourite is the perfume shop Les Senteurs, with its colourful flowers and turquoise walls.
See the exact location of the show below here.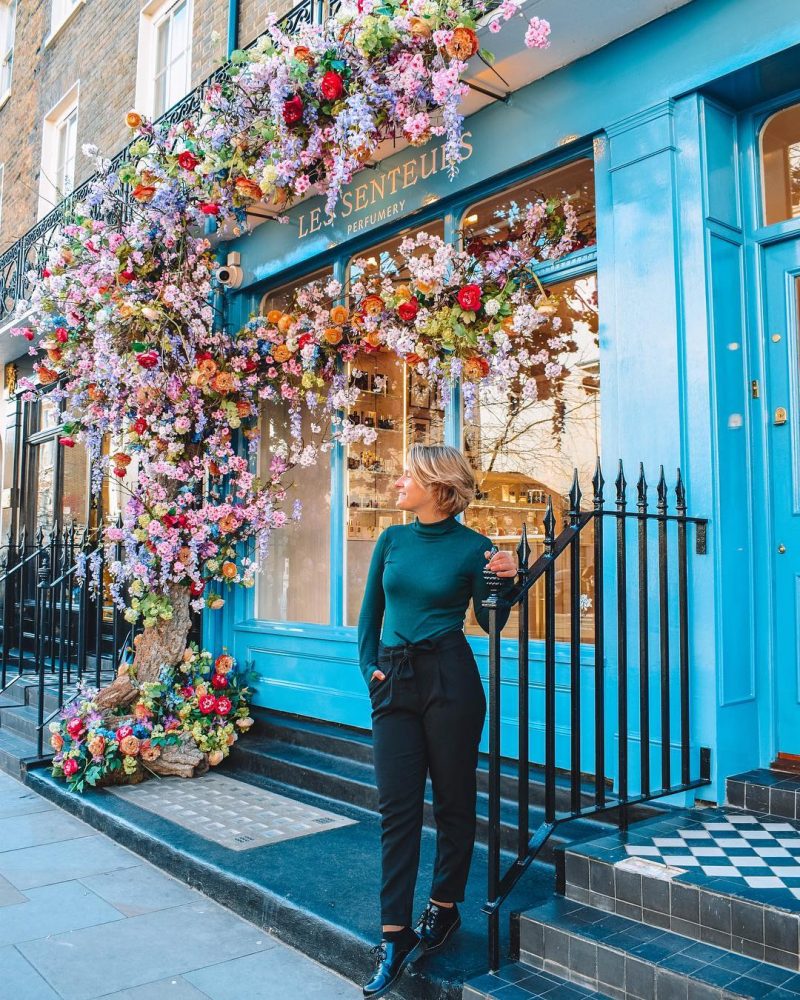 Camden Market
Camden Market is one of my favourite areas in London.
I used to live in the area when I first moved to London for university and even now, whenever I go there, it reminds me of those fun years. Besides that it's also a very quirky and colourful neighbourhood, perfect for street photography.
The most Instagrammable spot is a small street towards the back of the "stables" market area. They recently put up colourful umbrellas covering the street and it makes for the perfect photo spot!
Click here to find this exact spot in Camden Market.
Oxford Street
For those who are a bit into photography, Oxford Street is the perfect place to play around with long exposure and shutter speed shots. You will need a tripod for these kind of shots, otherwise your photos will be blurry.
A low shutter speed will capture moving objects as blurs or trails. I think it's the perfect way to convey the hustle and bustle of central London in a photo.
Find out the exact location of this shot here.
New Inn Yard
Located in the quirky neighbourhood of Shoreditch, New Inn Yard is the perfect place for some edgy street art photos. You will find loads of awesome street art in Shoreditch, but the ones in and around New Inn Yard are especially good.
It might not be a recognisable London spot, but it can definitely make for a cool backdrop for your London Instagram photos.
Click here for the exact location.
Instagram-worthy viewpoints in London
Sky Garden
If you guys have been following this blog for a while you may have realised that I am borderline obsessed with Sky Garden. I think it's not only one of the best views and best rooftop bars in London, but it's also very Instagrammable.
The combination of stunning views over the rooftops of London, with modern architecture and green plants is a winner for me. Whichever direction you take photos in; you're guaranteed some insane shots.
See the exact location here.
The Shard
Given that it's the tallest building in the United Kingdom, it's only natural that the Shard is also one of the most incredible viewpoints in London. There are the viewing decks of the View from The Shard where you can go and take epic photos from.
However I always personally recommend having drinks at the bar in the Shard instead.
Cocktails are cheaper than ticket entry to the viewing deck, and it's only a few floors beneath. So you can enjoy pretty much the same view, but with a glass of wine or mojito in hand.
See the exact location here.
One New Change
One New Change isn't only a great Insta spot from the ground floor, it also has an incredible rooftop with sweeping views. From the roof of One New Change you get a close up view of the St Paul's Cathedral dome, as well as the London skyline.
Entrance is free; just take one of the lifts and head to the top floor!
There's also a bar here that you usually have to book beforehand, however if you're only going to the terrace for free the view there's no bookings required. From here you can see also the Shard and as far as the London Eye.
Click here for the exact location.
London Eye
I know I've already listed above every possible angle from which to take a photo of the London Eye, however I hadn't yet listed the most obvious, from above it!
The London Eye has one of the most incredible views in central London, overlooking directly over Big Ben and Houses or Parliament.
Click here for the exact location.
Monument to the Great Fire of London.
This is a spot I recently discovered and absolutely loved. Entrance is £5 for adults and you get beautiful 360 views over the roofs of the City. I like it because it's high enough to get a view but not tall enough to lose the details.
See the exact location here.
SushiSamba
SushiSamba is the tallest outdoor dining terrace in Europe. It's located on the 38th and 39thfloors of the Heron Tower, and has epic 360 views over the City. Needless to say both the interior design and views are very photogenic.
SushiSamba is also one of the most Instagrammable restaurants in London. London has a lot of very photogenic restaurants, both in their interior décor, food styling and floral decorations.
There's so many of them that I decided to write a separate guide for them, otherwise this huge list would become even more gigantic! I also wrote a separate guide to the most Instagrammable cafes in London.
See the exact location here.
The Garden at 120
Located on the top floor of 120 Fenchurch Street you will find the Garden at 120.
The garden is free to enter and not only has beautiful views over London, but also a modern style and green spaces to relax. It's the perfect spot for some Instagram shots and also to relax a bit.
Click here for the exact location.
St Pauls Cathedral
St Paul's Cathedral is not only a beautiful building to take photos of, but also has a great rooftop to capture the view over London. For the best Instagram shots make sure to go all the way to the top of the dome.
Besides the epic views over London you can also see a lot of the details of St Paul's up close, which will make you appreciate the architecture and design even more.
See the exact location here.
Most Instagrammable hotels in London
There are lots of beautiful hotels in London, both boutique hotels but also hostels that provide picture perfect opportunities.
From outside
If you watched Harry Potter growing up, you might recognise the outside of the St Pancras Renaissance Hotel (discover the other Harry Potter filming locations in London here!).
It might not be the Weasleys' light blue Ford Anglia but this purple car that always seems to be parked outside the hotel seems to be begging to be photographed!
Click here for the exact location.
From inside, on the grand staircase
The inside of the St Pancras Renaissance Hotel is even grander than the outside. There is one spot especially, the Grand Staircase, that is very beautiful and Instagrammable.
With its rich red colours and various levels of stairs it's the perfect location for a bit of a fancy photoshoot!
Check out the exact location, prices and availability here!
Cheval Three Quays is in a prime spot for Instagram content. Located right on the banks of the River Thames you can get awesome views over both Tower Bridge and the Shard.
The properties are also very modern and stylish if you fancy some indoors photography. It's one of the most popular London hotels with a view, and it's easy to see why.
Click here to see the exact location and book your stay!
I know we've had the Shard already as one of the most Instagrammable views, but I think the Shangi-La Hotel deserved a mention by itself.
Besides the epic view that you can get from other floors of the Shard, the hotel can add some great features to your Instagram feed.
Especially if you choose one of the rooms with the bathtub by the window. Flower baths are already Instagrammable as it is, pair them with a stunning view, and you've got a winner!
Click here to see the exact location and book your stay!
Want to test your London knowledge? Take the ultimate London quiz!
Final thoughts on the best Instagram photo spots in London
There you have it, the ultimate compilation of the most Instagrammable spots in London! I've now been living in London for 8 years, 3 of which as a fulltime content creator so I've been on a lot of photo shoots around the city.
If there's other great Instagram spots that I've missed let me know in the comments below! This guide is sure to get you started on the right foot, and touring London for all the most photogenic spots.
If you follow this guide your Instagram feed will be full of fabulous photos, which will make all your friends back home wish they were in London too!
Now that you have the photos, you just need to craft the perfect caption! Check out these awesome London quotes that make for fun London Instagram captions to help you get inspired!
Need help planning your time in London? Check out my itineraries for one day, two days and five days in London! Or if you're making the big move, my guide on moving to London!
Enjoyed reading about the most Instagrammable places in London? Pin it!