It's pretty likely that this post contains affiliate links. If you make a purchase through them I will receive a small commission, at no extra cost to you.
Notting Hill is one of the most popular and beautiful places in London. In Notting Hill you can find beautiful Victorian houses, the quirky vintage market of Portobello, tranquil parks and more.
Even after living in London for eight years, Notting Hill is one of those places I keep coming back to. There is no shortage of cool things to do in Notting Hill.
If you're searching the best things to do in this cool London neighbourhood, you've come to the right place!
Where is Notting Hill?
Notting Hill is a neighbourhood in West London, but still very central. It's a fairly big area, encompassing all the beautiful architecture from Ladbroke Grove down to Kensington.
How to get to Notting Hill
Getting around London can be a bit of a nightmare, but getting to Notting Hill is easy. There are multiple tube stations you can get off at to visit Notting Hill, depending on what part of Notting Hill you want to explore.
You can take the Hammersmith & City or the Circle lines to Ladbroke Grove, to explore Portobello Road Market, or the Central line to Notting Hill Gate for the beautiful Victorian architecture. The area is also serviced by many buses.
10 top things to do in Notting Hill
Do some vintage shopping on Portobello Road
Portobello Road and Portobello Market always feature on every London itinerary and bucket list, and with good reason. In this unique street you will find some of the quirkiest and most fun distinctive London shops.
Portobello Road is a really long road, which runs from Notting Hill Gate up to Barlby Road, pretty much for the whole length of Notting Hill.
The popular section is the one closer to Ladbroke Grove tube station, since it's the one where you can find the most shops and the market.
Portobello Road is famous for its vintage shops. Here you can find all sorts of unique souvenirs, as well as cute London themed gifts. Personally I really like it because the products on sale feel pretty unique, and not the standard mass-produced souvenirs.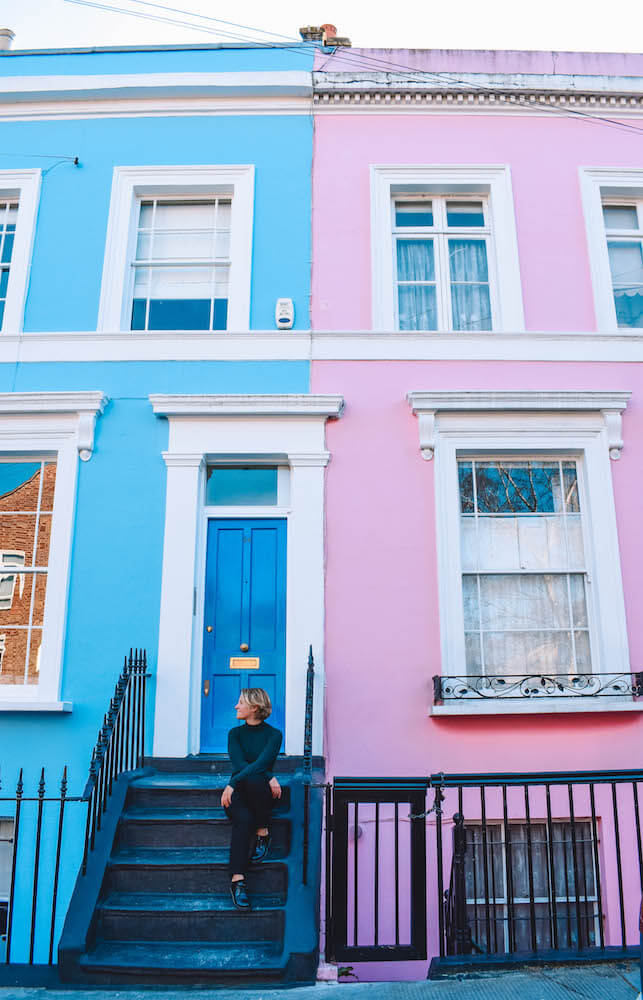 Eat at Portobello Road Market
I love street food markets, and Portobello Road Market is one of my favourites. Located around the northern part of Portobello Road, closer to Ladbroke Station, here you can find cuisines from all over the world.
Portobello Road Market has stalls with all sorts of ethnic cuisines, as well as proper market stalls selling fresh fruit and vegetables. Whatever you feel like eating, there's a pretty high chance you will find it here.
If you're visiting London in summer it's a great place to wander around and taste some delicious food at a cheap price, all while soaking in the sun.
Taste delicious cuisine from all over the world!
Portobello Road Market isn't the only place in Notting Hill where you can find delicious food. The wide variety of cuisines is one of the things I love most about London, and especially Notting Hill.
From genuine Italian pizza to an American style brunch, you can find something for everyone in Notting Hill.
One of my personal favourites is Pizza Pilgrims' in Queensway. Being Italian, I can be quite picky when it comes to pizza, and I can confidently say the one at Pizza Pilgrims' is the real deal.
See the pink house of St Luke's Mews
St Luke's Mews became extremely popular after featuring in the famous Christmas movie Love Actually.
It's the location of that cheesy scene (or romantic, however you want to see it) where Mark confesses his love for Julie with placards.
The pink house on St Luke's Mews has become an incredibly popular stop for anyone on a mission to get the perfect London Instagram shots. With its pink façade and plants, it's simply too cute.
Admire the beautiful Victorian architecture
I love walking around this part of London. The tall white Victorian houses, with their columns and big windows, are a pleasure to admire as you walk.
These are considered to be some of the prettiest streets in London, and it's easy to see why. They're what most people think about when they imagine the streets of London.
I put together a Notting Hill walking route that you can follow to make sure you see all the most beautiful streets and houses. I love walking around here and imagining what it must be like to live in one of those houses, maybe one day!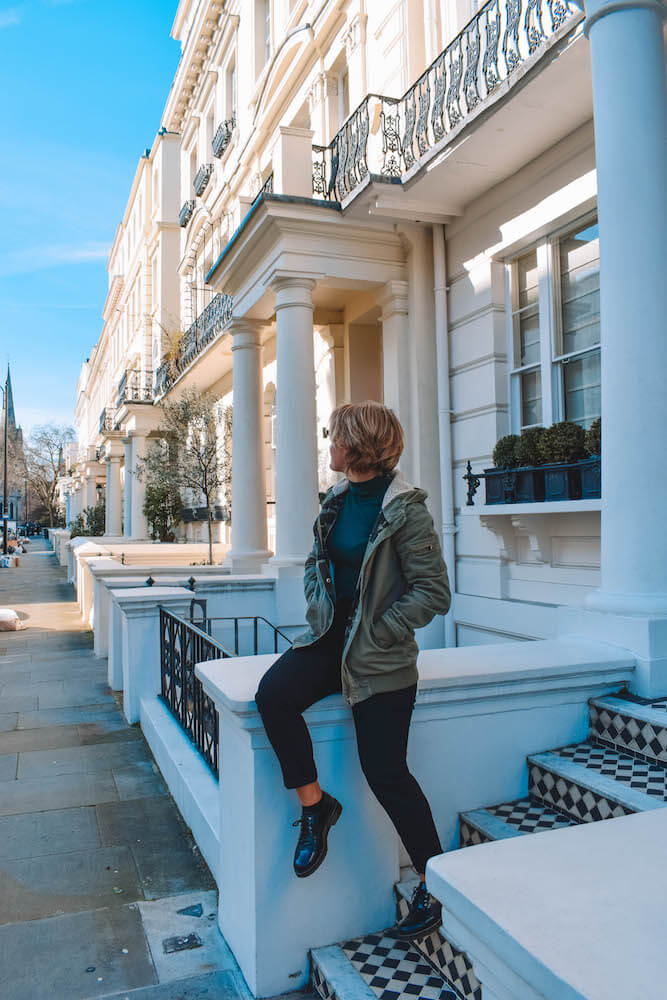 Relax at Holland Park
Holland Park is one of the most beautiful parks in London, albeit one of the less famous. It might not quite be a Londoners' hidden gem, but it's still far from the crowds that Hyde Park and Regents Park receive.
This makes it a perfect place to relax! Take a break from your Notting Hill explorations by visiting this peaceful park. You can bring some food and drinks, and enjoying a relaxing picnic in the sun.
See the beautiful cherry blossoms (in spring)
In spring you will find lots of gorgeous cherry blossoms all over London, and especially so in Notting Hill. Dotted all over this neighbourhood you will find beautiful cherry and magnolia trees.
I already mentioned that I love walking around this part of London, but in spring it's even more picturesque. At almost every corner you can find trees with beautiful pink blooms, which contrast perfectly with the white Victorian backdrop.
Eat at the Churchill Arms
The Churchill Arms is one of the most famous pubs in London. Located on the border between Notting Hill and Kensington, both London boroughs claim this pub as their own.
This pub has a spectacular façade, decorated with loads of potted plants that make it easily recognisable. However it's not just the décor that makes it special, the food is also delicious!
It's a must-see especially if you're visiting London around Christmas time. They swap out all the plants with Christmas trees, and when they turn on the lights it becomes one of the spots with the most beautiful Christmas decorations in London!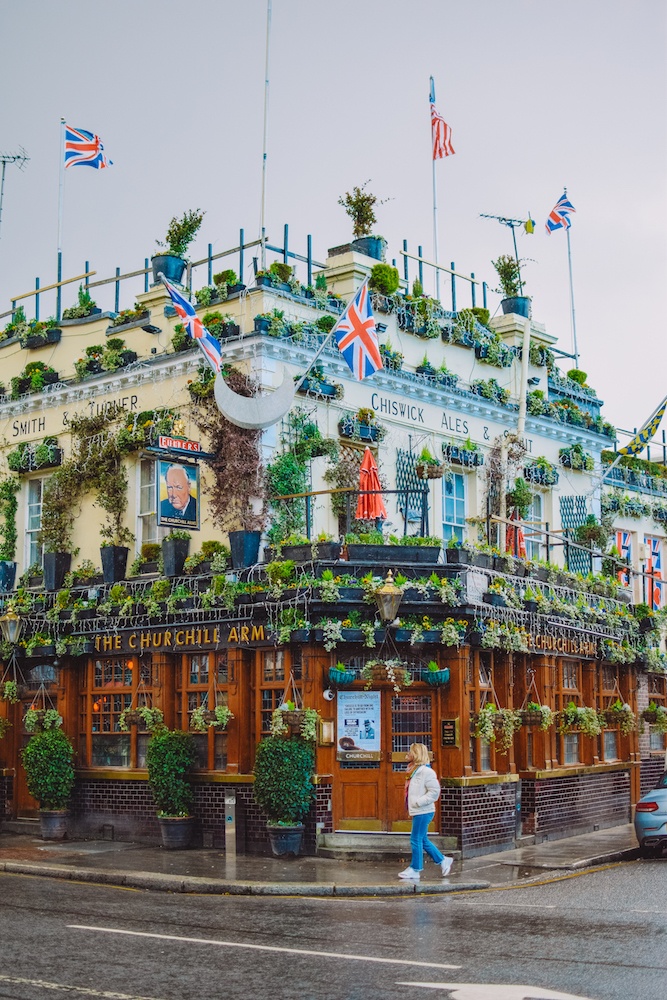 Visit some of London's cutest cafés
Everything about Notting Hill is pretty, even the cafés. There has been a rise lately in restaurants creating an Instagram-worthy dining experience, whether it's with their food, interior décor or façade decorations.
The cafes in Notting Hill especially have picked up on this trend. Whether it's the black and white exterior of Biscuiteers, or a colourful brunch at Farm Girl, in Notting Hill you will find many picture perfect cafés.
Take a break from your exploration of Notting Hill, grab a coffee, a muffin and a seat at one of these cute cafés. You can sit and just relax for a while, taking in the lovely atmosphere and vibe.
Enjoy Notting Hill Carnival
Notting Hill Carnival is one of the biggest events in all of London. This annual event takes over the streets of Notting Hill for two days at the end of August, and has been going on since 1966.
This event originates in the Caribbean community, and is a significant event in Black British culture. It's a huge street festival where people from all over London come and parade on the streets of Notting Hill.
It's an explosion of colours, music and positive vibes. If you're visiting London in summer, it's a must-see on your Notting Hill bucket list.
Discover the bookshops of Notting Hill
Notting Hill is also home to quite a few high-quality independent bookstores. Before moving to London I thought there was just the bookstore from the "Notting Hill" movie, but turns out it's actually a thing!
The most famous one is without a doubt The Notting Hill Bookshop, but there are also many other popular ones. Even if you're not a book worm, they're still worth a visit.
Final thoughts on the must see in Notting Hill
There you have it, the ultimate compilation of the Notting Hill must-sees! Whether it's admiring the colourful houses of Portobello, vintage shopping at Portobello Road market, bar hopping or eating a delicious brunch, Notting Hill has something for everybody.
In this guide I tried to include all the most awesome and fun things to do in Notting Hill. Is there some other activity or location that you think should feature on this list? Let me know in the comments!
I hope you find this guide useful in planning your time in Notting Hill and London!
Enjoyed reading my Notting Hill travel guide? Pin it!