It's pretty likely that this post contains affiliate links. If you make a purchase through them I will receive a small commission, at no extra cost to you.
London is packed with amazing bars from Camden to Kensington. And the little area of Notting Hill happens to have a few noteworthy bars of its own.
Nestled amongst the pretty streets of Notting Hill, you will find lots of fun and quirky bars.
While in Notting Hill, you can stop for a cold beer at the historic Churchill Arms, savor the high-quality gin at The Distillery, or even enjoy some alcohol-free drinks and tasty vegan dishes at Redemption.
So if you're looking for the best bars in Notting Hill, this list includes all of the best places for you to grab a drink.
6 Best Bars in Notting Hill
Portobello Star
Portobello Star has long been established as one of the best bars in Notting Hill.
As a matter of fact, this Notting Hill landmark first opened in 1740. Ever since then, it has welcomed hundreds of celebrities. One of the reasons for Portobello Star's longevity may be its ability to straddle the line between a pub and a bar.
So while you can pick from a slew of premium beers, you can also get fun cocktails, like a Portobello Bellini, an apple cider mojito, or a rum espresso martini.
As an added bonus, Portobello Star has one of the best happy hours in Notting Hill. It takes place every single night from 4 p.m. to 7 p.m. every day except Fridays (which is from 4 p.m. to 6 p.m.) and Saturdays (which does not have happy hour).
And if you're hoping to take your knowledge of cocktails to the next step, you can attend a cocktail masterclass to learn how to make some of your favorite drinks at home.
Redemption
Redemption is one of the most unique bars in Notting Hill. If there's one thing that is supposed to be a requirement for bars, it's alcohol. But Redemption has managed to make a name for itself despite every drink on the menu being completely alcohol-free.
While this strategy might not be for you, it certainly has its appeal. After all, who wouldn't want to try a virgin hibiscus margarita, a pineapple caipirinha, or a Redemption bloody Mary?
To add to the mocktails galore, Redemption also has a slew of vegan dishes. You can try the BBQ pulled jackfruit, the Redemption burger, or the beetroot carpaccio.
So settle in near the white marble bar, sit on the soft turquoise seat, grab something delicious off the menu, and simply enjoy your night.
The Churchill Arms
The Churchill Arms is actually on the border between Notting Hill and Kensington, and both of these areas try to claim this fine establishment as its own.
Built in 1750, this Notting Hill bar is only a decade younger than the historic Portobello Star.
Consequently, The Churchill Arms has welcomed nearly as many noteworthy faces, including Prime Minister Winston Churchill's grandparents. As a matter of fact, the pub was named after these two lovebirds!
Once you walk through the wooden door of this flower-laden building, you can grab a seat and sip on a pint of ale amongst the potted plants hanging from the ceiling, the photos hanging on the walls, and the crowds milling about.
And as if the history and the flora-filled exterior weren't enough to surprise you, The Churchill Arms also serves up some fantastic Thai food. So while you're sipping on your chilled beer of choice, you can also eat pad thai, pad si-ew, or panang curry.
With its gorgeous facade, the Churchill Arms is considered one of the most Instagrammable restaurants in London, and it's pretty common to see photographers getting those perfect insta-shots just outside.
If you're visiting London in winter here you can also admire some of the coolest Christmas decorations in London. They swap all the plants outside with lit up Christmas trees, and it becomes quite a sight to behold!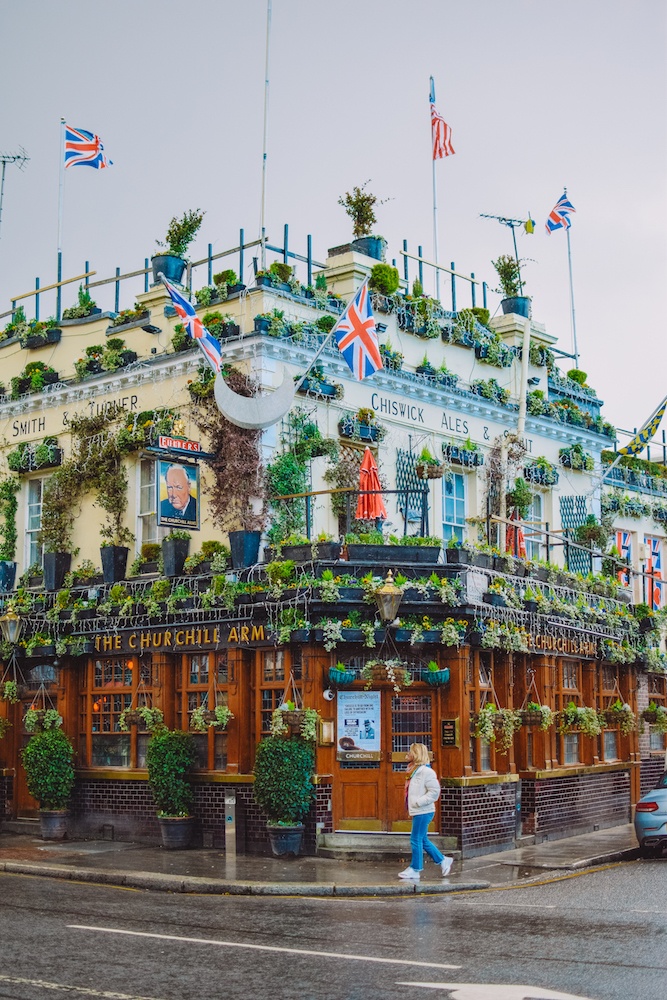 The Distillery 
If you're a gin fan, you'll definitely think that The Distillery is one of the coolest bars in Notting Hill. The Distillery is actually split into two sections: The Resting Room and The Malt Floor.
The Resting Room is a bar serving up some of the finest drinks in town, including King Theodore of Corsica gin & fever-tree Mediterranean tonic as well as The Distillery iron curtain.
The Malt Floor, on the other hand, is a cocktail lounge and restaurant. While there, you can order the chipotle roasted chicken, the soft shell crab burger, or the "porn star martini" mousse.
And you certainly can't forget to pair these fantastic dishes with a drink, such as the red snapper, The Distillery bloody Mary, or the ruby breakfast garibaldi.
And if you want to enjoy more of what The Distillery has to offer, this brand has quite a few fun experiences. You can take a gin masterclass, come up with your own personal gin recipe, and even stay at The Distillery's gin-themed hotel.
Trailer Happiness
If you're looking for a little taste of sunny paradise away from the typically gloomy weather of London, Trailer Happiness might offer a welcome reprieve.
Not only has Trailer Happiness established itself as one of the premier cocktail bars in Notting Hill, it also has a fun tiki-inspired vibe.
Take a few photos with the tropical plant-painted exterior, flip through the cocktail menu that displays a hula girl on the cover, and try one of the many island-inspired drinks.
The Polynesian princess, supersonic tiki tonic, and basic beach have all proven to be crowd favourites. Bottom line: if you're looking for a solid cocktail in Notting Hill, Trailer Happiness is the place to go. 
The Mitre
The Mitre has established itself as one of the best bars in Notting Hill thanks to its sheer number of alcoholic beverages.
While at The Mitre, you can choose between hundreds of beers, wines, spirits, and cocktails, so you're sure to find the perfect drink to quench your thirst.
Then pair your drink with some cozy British comfort food, like the Sunday roast or Charter pie, and you'll be set for the rest of the night. 
Final Thoughts on the Best Bars in Notting Hill
No matter what you're looking for in a bar in Notting Hill, the town will have something that'll satisfy you.
Whether that's a historic establishment with a slew of classic cold beers, a distillery with a gin-inspired hotel, or a tiki-esque bar with fantastic cocktails, you're sure to have a good time during your night on the town.
As an added bonus, Notting Hill is one of the best places to stay in London, including for first-time visitors. This prime location will put you close to many attractions on your London bucket list, as well as being a beautiful place to explore on foot.
Are there other places to awesome drinks in Notting Hill that I should feature on this list? Let me know in the comments below!
Looking for more awesome bars in London? Check out these bar suggestions!
Looking for more Notting Hill & London tips? Check out these guides!
Enjoyed reading about the best bars in Notting Hill? Pin it!