It's pretty likely that this post contains affiliate links. If you make a purchase through them I will receive a small commission, at no extra cost to you.
There are dozens of fantastic brunch places in London. You can choose between brunch spots with adorable atmospheres, international cuisines, or as much alcohol as you could possibly desire.
And the borough of Notting Hill in particular has quite a few noteworthy brunch spots. Notting Hill's best brunch places range from the Aussie-inspired Granger & Co. to the healthy yet tasty Daylesford Organic to the homey Bluebelles of Portobello.
Regardless of the type of brunch you're hoping to have, Notting Hill has somewhere that'll put a smile on your face. So if you're looking for the best brunch in Notting Hill, this list includes all of the best places for you to eat.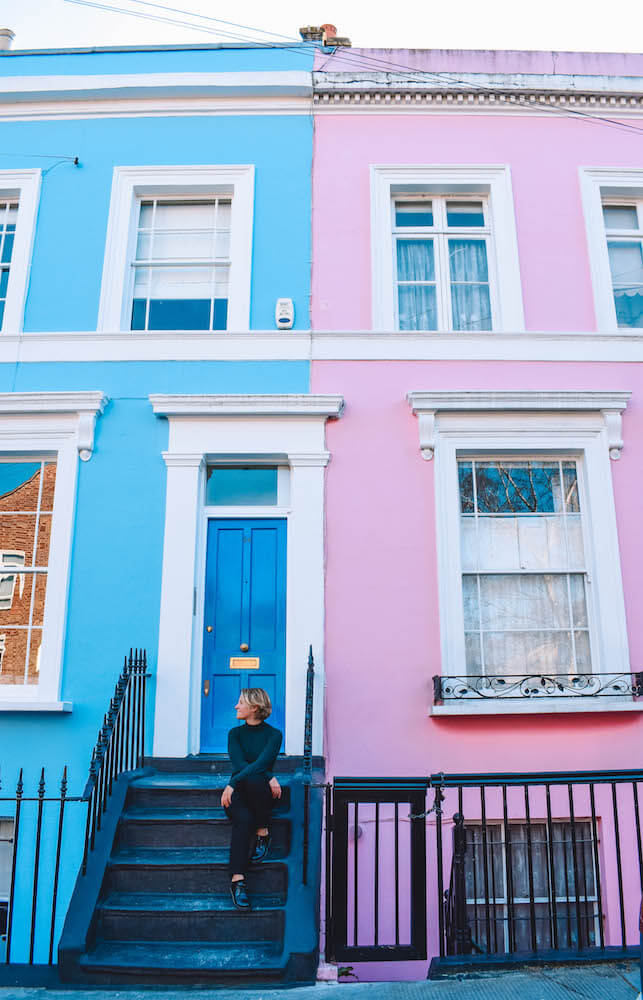 6 Places to Get the Best Brunch in Notting Hill
Granger & Co.
With its Aussie twist, lines winding out the door, and four thriving locations, Granger & Co. is undoubtedly one of the best brunch places in Notting Hill, as well as one of the best cafes in Notting Hill.
Granger & Co. is named after its successful owner, Bill Granger, who has delicious restaurants all around the world – from Sydney to Honolulu to Seoul. The Notting Hill location of Granger & Co. in particular serves up healthy Australian favorites.
While there, you can try the popular ricotta hotcakes, be a little adventurous with the salmon-focused Fresh Aussie, or opt for the larger plate of soft shell crab, fried rice, and a poached egg.
Farm Girl Café
But Granger & Co. isn't the only noteworthy Aussie-influenced eatery in Notting Hill! Farm Girl Café was started by and named after Rose Mann, a born-and-raised Aussie.
This Notting Hill brunch spot is known for its healthy, farm fresh options.
You can savor a fantastic acai bowl with granola and coconut shavings, bite into intriguing avocado toast with beetroot puree and Sichuan peppers, or go for the Korean-inspired spicy bulldog tacos with braised shiitake bulgogi.
And while the food is fantastic, Farm Girl Café is known for its coffee too. As a matter of fact, this adorable spot is one of the best cafes in Notting Hill as well.
The rose latte and lavender latte are not only tasty, but also make this cute brunch eatery worthy of being one of the most instagrammable London cafés.
Daylesford Organic
Daylesford Organic is committed to providing its customers with farm fresh, organic food. As a matter of fact, a large portion of their produce comes from the company's personal farm in the Cotswolds.
The ambience of Daylesford Organic fits with the farm-to-table vibe. With tree trunk rounds plastered into the walls and little rosemary plants in the center of each table, Daylesford Organic boasts a very nature-focused vibe.
And the food simply continues this pattern. You can try the market garden vegan breakfast, an elegant eggs benedict, or even a classic full English breakfast.
If you want to continue to eat healthy, organic food at home, Daylesford Organic also has a bakery, deli, and produce area on the ground floor where you can purchase whatever ingredients you'd like.
Golborne Deli
Golborne Deli is where all the Notting Hill locals like to go for the best breakfast in Notting Hill.
This understated eatery is known for two things: its coffee and its food. And you can enjoy both while sitting at one of the handful of sidewalk tables and doing a little people watching.
You can get all the classic coffee beverages at Golborne Deli, including cappuccinos, lattes, and americanos.
As for the food, you'll have a ton of options. You can go for a small, yet satisfying pain au chocolate, a sweet-and-salty stack of pancakes with bananas and pancetta, or a classic deli breakfast with scrambled eggs, crispy pancetta, and toasted ciabatta. 
Lowry & Baker 
First, Lowry & Baker's location on Portobello Road is certainly noteworthy. This picture-perfect road is one of the prettiest streets in London! So as you savor at the tasty treats at Lowry & Baker, you can also admire the aesthetics of Portobello Road.
Then, once you step inside of Lowry & Baker, you'll feel as if you've been welcomed into someone's home, thanks to the rustic furniture and mismatched china.
And while Lowry & Baker is primarily known for its coffee, you can also get some delicious bites to eat. Try the avocado toast, eggs benedict, or one of the many freshly baked goods. 
Bluebelles of Portobello
Overall, Bluebelles of Portobello has managed to slide under-the-radar. But despite that fact, this hidden nook is still one of the best places to get brunch in Notting Hill.
First, just like Lowry & Baker, Bluebelles of Portobello is situated on Portobello Road, one of the most beautiful places in London.
If you're lucky, you may pass by the eye-catching pastel-colored houses and check it off your London bucket list while on your way to this fabulous brunch spot.
Then, as you walk into Bluebelles of Portobello, you'll be welcomed with an immaculate yet homey vibe. With a lavender accent wall, sparkling twinkle lights, and charming chalk board menus, you'll know that you've hit the jackpot.
And then you'll get to try some of the scrumptious food! The little green breakfast pot, which is essentially a little hot pot with spinach and eggs, is one of the most popular dishes.
You can also try a fried egg bap, a little shakshuka pot, the interesting Bluebelles mess, or one of their fresh baked goods.
Final Thoughts on the Best Brunch Places in Notting Hill
Notting Hill is home to so many amazing brunch places.
Whether you're hoping to get a banana-and-pancetta-filled stack of pancakes, some healthy shiitake bulgogi tacos, or a flavor-filled shakshuka pot, there is a Notting Hill brunch place that is perfect for your culinary cravings.
Notting Hill also happens to be one of the best places to stay in London, including for first-time visitors. After all, you'll be near some of the best London attractions, restaurants, parks, and picnic spots.
Are there other places to get the best brunch in Notting Hill that I should feature on this list? Let me know in the comments below!
Looking for more brunch suggestions in London? Check out these awesome brunch spots!
Looking for more Notting Hill & London tips and inspiration? Check out these guides!
Enjoyed reading about the best brunch in Notting Hill? Pin it!