It's pretty likely that this post contains affiliate links. If you make a purchase through them I will receive a small commission, at no extra cost to you.
London is a beautiful city, with some incredible architecture dotted all over the city. It isn't just the main tourist landmarks that are worthy of a visit in London, there are beautiful streets all over the city that should feature on everyone's London bucket list.
For those searching for the prettiest streets in London, you've just found them! I've compiled a list of the most beautiful streets in London with exact location and map, so that you can go on a hunt for them all!
I selected streets that either have beautiful architecture, colourful floral displays or typical cute British houses. Whatever your style, you're bound to find a London street here that you will fall in love with.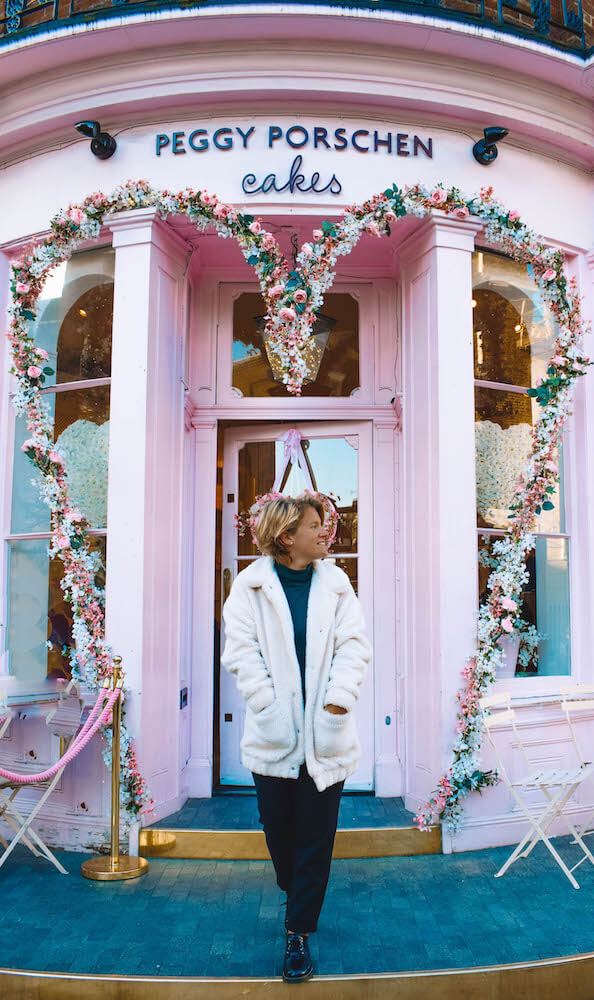 Map of the prettiest streets in London
I've mapped below all the prettiest streets in London, so you can easily visualise them on a map and plan your time in London.
Getting around London can be a nightmare so you want to optimise your time in each neighbourhood, not spend ages travelling across London!
20 of the most beautiful streets in London
Elizabeth Street
Elizabeth Street ranks as one of the prettiest streets in London thanks to the beautiful displays of the shops on this street. Peggy Porschen is one of the most Instagrammable cafes in London.
It's a bakery famous for its pastel pink décor and extravagant floral displays around the door, started the movement, and it's now quite common to find lots of shop fronts in Elizabeth Street decorated in similar styles.
From Peggy Porschen just walk along Elizabeth Street, and you'll find other shops such as the perfume store Les Senteurs or the flower shop Moyses Stevens Flowers with their beautiful floral displays.
With so many colourful flowers (even in winter!) bringing a pop of colour on grey London days, Elizabeth Street is without a doubt one of the prettiest streets in London.
See the exact location here.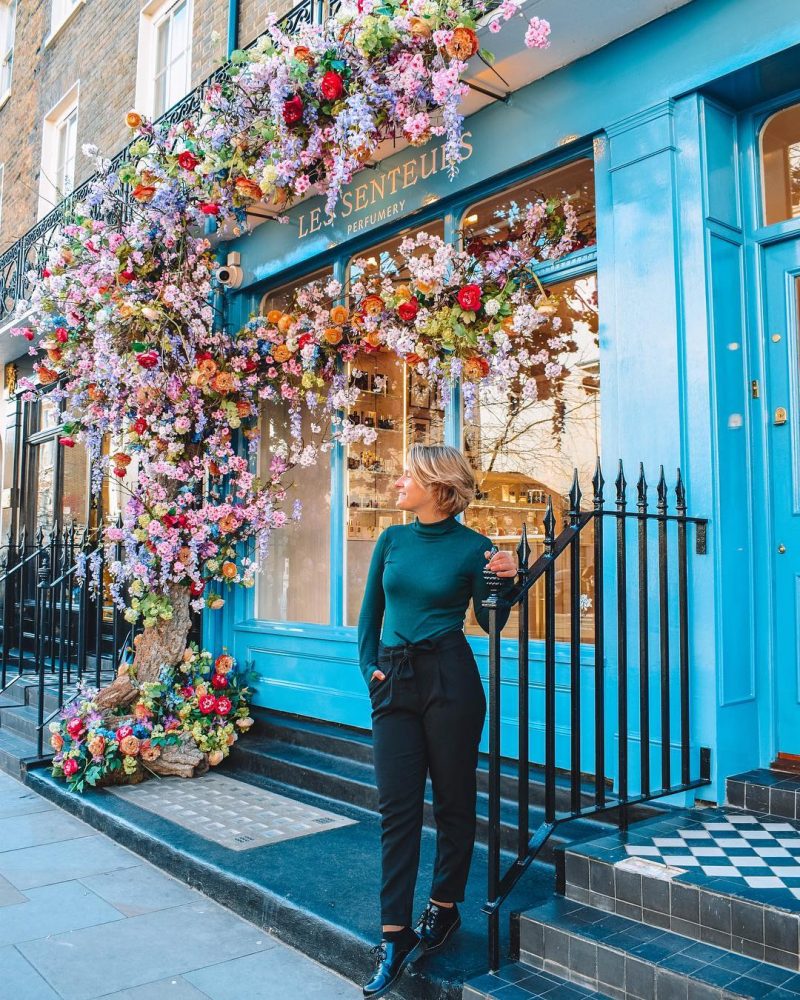 Kynance Mews
Kynance Mews is famous not only for it's quaint little houses, but also for its impressive autumn leaf displays. The start of one of the streets is characterised by an arch covered in leaves.
If you visit in autumn it will be covered in bright red leaves. It's a popular spot for Instagram photos, just make sure to time it and visit at the right time of year!
Click here to see the exact location.
Neal's Yard
I guess Neal's Yard isn't quite a street, but it's so pretty it couldn't not feature on this list! Located super close to Covent Garden, this cute little courtyard is an explosion of colours, which you wouldn't really expect.
The buildings in Neal's Yard are fairly small, with that old brick look. Combine that to colourful facades and plants on every balcony and it's not really what you would imagine to find in central London.
It's without a doubt one of the most beautiful places in London.
See the exact location here.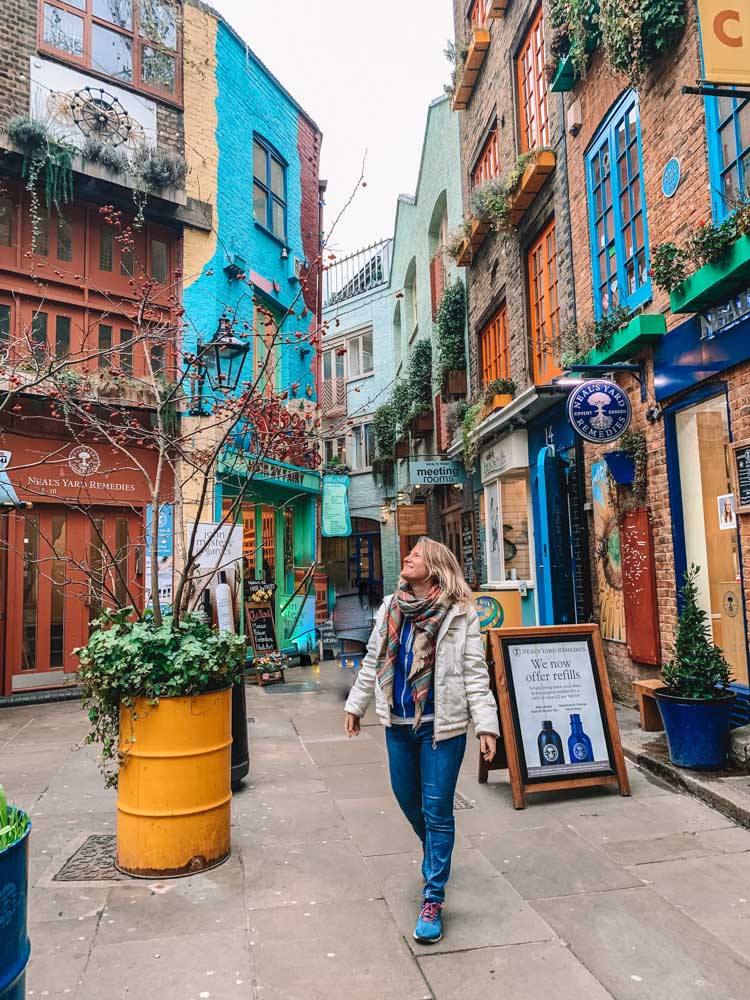 St Luke's Mews
There is a specific spot on St Luke's Mews that earns it its name amongst the prettiest streets in London. It's also very easy to figure out which one that is. You've guessed right, the bold pink house with flowers on its balconies.
Not only is it incredibly pretty, it's also a famous movie spot! British Christmas favourite Love Actually was shot here. This is where Mark confesses his feelings to Juliet with a series of placards.
Whether you liked the movie scene or not (I mean, she's his best friends wife!) you can't deny the house and street are very pretty.
Click here for the exact location.
Wardour Street
Being the connecting road from Leicester Square to Oxford Street is a pretty big task, which Wardour Street achieves extremely well.
It's also the entry to Chinatown and you will find the famous Chinatown Gate as soon as you turn on Wardour Street from Leicester Square.
The imposing red gate stands in the middle of the street, signalling that you're about to enter in a completely different vibe of London. If you visit during Chinese New Year there will also be red lanterns decorating the street, making it even prettier.
Check out the exact location here.
Leadenhall Market
Leadenhall Market isn't so much a single street, as a crossing of four streets that meet in a beautiful covered market. This cobbled area is characterised by the cream, red and green colours, and the stunning high ceilings.
The particularity of Leadenhall Market is that unlike many attractions in London, you will probably find it completely empty on a weekend.
Being located in the heart of the city you will often find it buzzing with people eating and drinking after working hours, but on the weekends very few people come down to see it.
It's very close to Sky Garden, one of my personal favourite rooftop bars in London. Entrance is free and the view is gorgeous, so make sure to add it to your London itinerary.
See the exact location here.
Carnaby Street
It's not only one of the prettiest streets in London, but also one of the most famous.
Tucked away from the chaos of the surrounding Mayfair, Carnaby Street is entirely pedestrian and appears like a quiet haven after the traffic and chaos of Oxford Street.
You'll find Carnaby Street signs greeting you at the start and end of the road, and colourful buildings all throughout. The road is dotted with lots of quirky shops, as well as some bars and restaurants.
From Carnaby Street you can also access Kingly Court, an indoors courtyard with lots of tasty restaurants and pubs. Depending of the time of year you visit you might also find all sorts of extravagant decorations.
Click here to see the exact location.
Portobello Road
Portobello Road is not only one of the prettiest streets in London, but also one of the most famous and varied. Starting just next to Notting Hill Gate tube station it goes all the way up to Ladbroke Grove station.
The start of the street (starting from Notting Hill Gate) has some adorable small and colourful houses, but as you walk along the street you will find the architecture changes quite a bit.
As you go along the houses become bigger and are lined up with more shops. As you approach Ladbroke Grove station you will start finding vintage shops, street food stalls and the stalls of the famous Portobello Market.
Portobello Road is the perfect place to visit if you want to see pretty and colourful houses, as well as doing some vintage shopping and enjoying street food.
Check out the exact location here.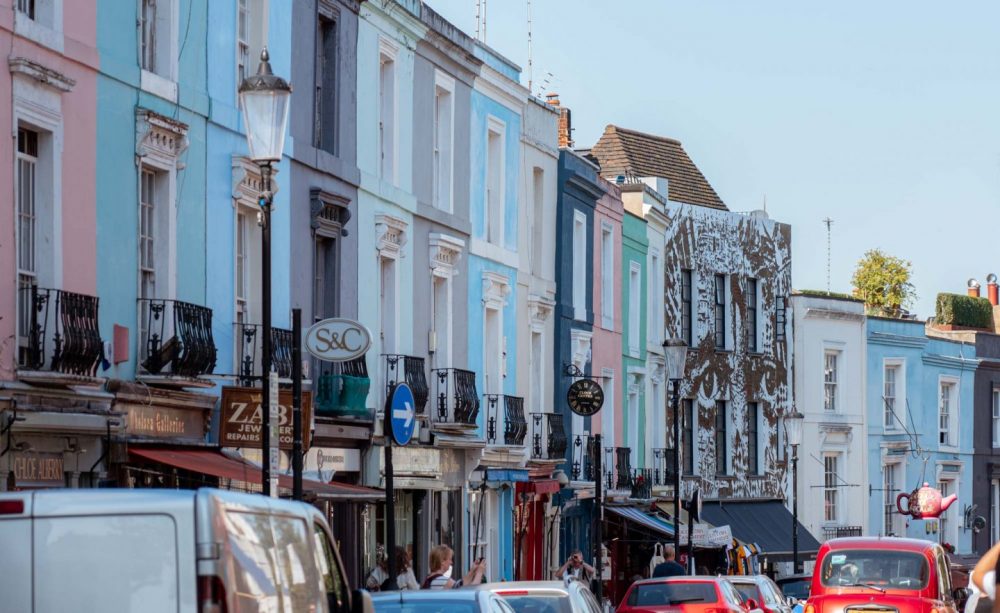 Westbourne Grove
Just branching off from the famous Portobello Road, you will find Westbourne Grove. This street is characterised by typical British houses, painted in bright pastel colours.
There are houses of all colours, from pale pink and turquoise to grey or yellow. It's without a doubt one of the prettiest streets in London. In this area you will find a lot of the most Instagrammable places in London.
See the exact location here.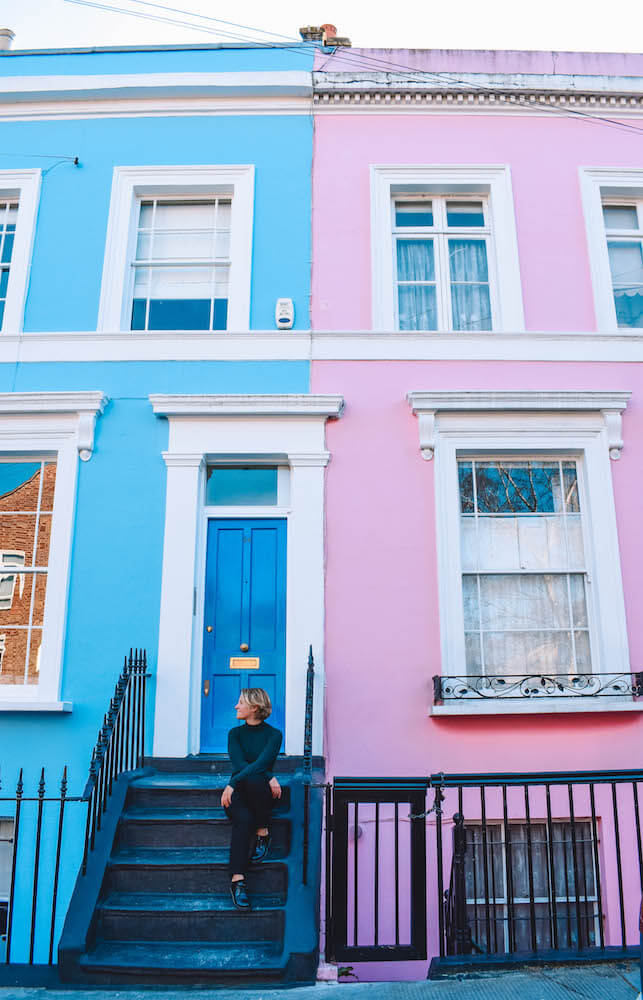 Lancaster Road
After visiting Westbourne Grove just keep walking along Portobello Road, and you will soon find Lancaster Road. This road somewhat resembles its neighbouring streets, but in bolder colours and bigger sizes.
The houses here are bigger and more imposing, and painted in strong colours like red, blue and purple. It stands out when compared to the more quaint streets around it, and will surprise you with its boldness.
Check out the exact location here.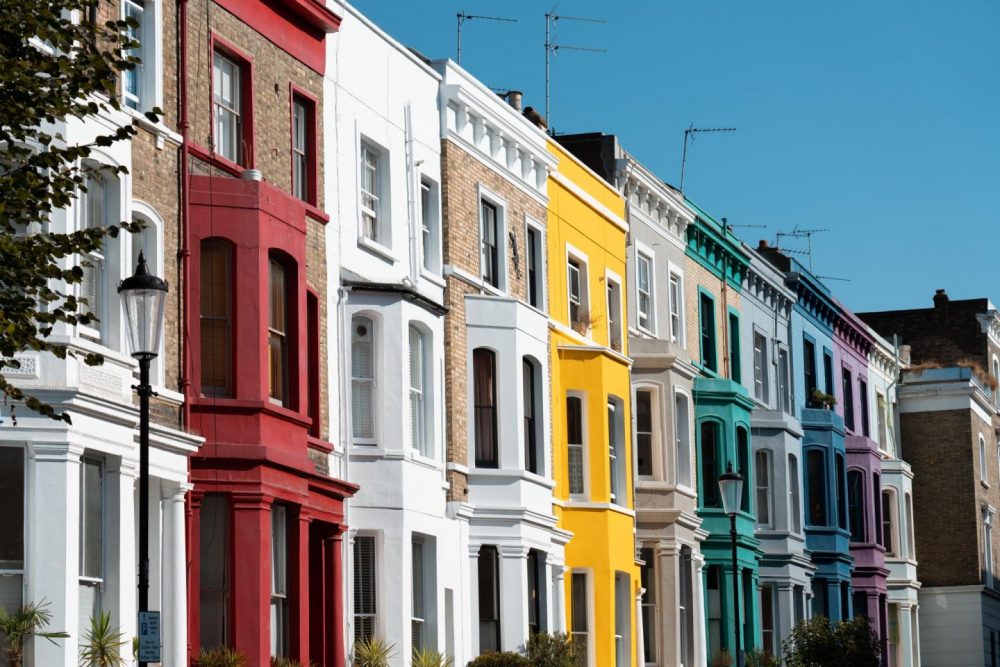 Westbourne Park Road
While London might not excel in the originality of its street names, the houses that line them are all very varied and incredibly pretty. Westbourne Park Road brings together elements of Ladbroke Square and its name twin Westbourne Grove.
It has the bold Victorian architecture of Lancaster Road, with the columns at the entry and the bricks on show, but instead of being white, these are of all different pastel colours.
Get the exact location here.
Hillgate Place
A lot of the prettiest streets in London are concentrated around the Portobello and Notting Hill area. Not far from the Notting Hill tube station you will find Hillgate Place, a lovely area with a series of streets lined up with beautiful coloured houses.
The houses here are similar to those in Westbourne Grove, with the typical British Victorian architecture but smaller, and painted all shades of pastel colours.
Hillgate Place is much quieter than Westbourne Grove or Portobello and is a must see for anyone searching for a pretty and quaint street.
Click here to see the exact location.
Ladbroke Square
Once again in the Notting Hill area, Ladbroke Square is the perfect street to go if you want to see some traditional British Victorian houses, which have become some of London's famous icons.
The houses here fit exactly what I imagined London houses would look like before I moved here (and realised that the reality of the student housing I would be living in was very different).
With their white columns, exposed bricks and balconies they are exactly what you picture when you think of pretty London houses. The houses are lined up all around a small park called Ladbroke Gardens.
Click here to see the exact location.
Kensington Park Gardens
If Ladbroke Square didn't quite fulfil your British Victorian house expectations, Kensington Park Gardens is sure to remedy that. It has similar grand architecture with the columns and balconies, but here the houses are completely white.
That adds an even more luxurious and Victorian vibe to the street. You can easily see many of these streets by following my Notting Hill walking route.
Get the exact location here.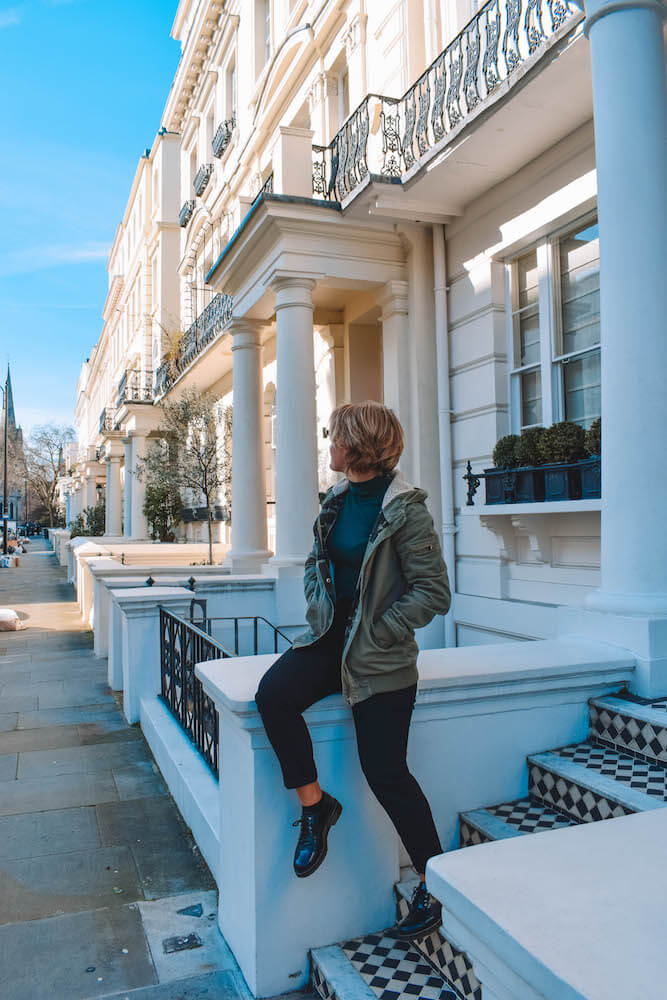 Camden High Street
Camden High Street is a bit different from the other streets on this list. Unlike the others it isn't characterised by pretty architecture or floral displays. Instead, it's particularly famous for its whacky shop fronts and crazy vibe.
Camden Town has a very cool street food and souvenir market, selling all sorts of crazy things. But as you walk from Camden Town tube station, before reaching the market, you will walk along Camden High Street and its crazy decorations.
Some of the most recognisable ones are the dragon of the Max Orient Chinese restaurant, and the shoes of the next-door shoe shop. Camden High Street is different from the others but that doesn't make it any less pretty.
See the exact location here.
Umbrella street in Camden Market
After admiring the whacky storefronts of Camden High Street it's time to venture into Camden Market. Here you will find tasty street food and fun London souvenir stalls.
Deep in the "stables" of Camden Market you will find a street with loads of colourful umbrellas lining the ceiling. Pair that to the exposed bricks and colourful clothes stalls and you have a winner.
Click here for the exact location.
Chalcot Square Gardens
I recently walked past Chalcot Square Gardens and was honestly in awe at how beautiful the houses that lined this little park are. The houses here have the Victorian grandeur of South Kensington, but they have all been painted in pastel colours.
There were families with children playing in the gardens and it made me want to get a house there (maybe one day I'll be able to afford it lol). With is tranquility and soft colours it's without a doubt one of the prettiest streets in London.
This area is still somewhat of a Londoners local hidden gem. Compared to the streets of Notting Hill that everybody takes photos of, these streets are still very quiet.
Click here to see the exact location.
Chalcot Crescent
Chalcot Crescent is just round the corner from Chalcot Square Gardens and has a similar style, with the grand architecture and pastel colours. It reminded me of Notting Hill but without the tourist crowds.
The peculiarity of this road, beyond the beautiful houses, is that it's crescent shaped, meaning you get a cool effect with the houses gradually turning and not being in a straight line.
From here you can also easily walk over to Regent's Park and Primrose Hill, one of the best parks in London, as well as one of the best viewpoints in London and one of my personal favourite picnic spots.
See the exact location here.
Brick Lane
Ok maybe Brick Lane isn't exactly "pretty", but it's definitely unconventional, a bit crazy and beautiful in its own way. Brick Lane is home to some of the coolest street art in London.
Shoreditch as a whole has a lot of cool street art. You can do your own Shoreditch street art walking tour to explore all the quirkiest and most unique graffiti pieces. There are also loads of cool cafes and restaurants around here.
So after you've snapped some pictures with the awesome graffiti, refill on the famous Brick Lane bagels or curries!
Cornwall Gardens
Let's start with the premise that this whole area of London is beautiful. You could spend hours walking around South Kensington and find one beautiful street after the next.
Walking around this neighbourhood is actually one of my favourite walking routes in London.
Historically this is one of the richer and fanciest parts of London, and that's reflected in the architecture and cleanliness of the streets. Here the beautiful British Victorian houses are even more grand and imposing.
Cornwall Gardens is one of the streets I found to be most impressive, but you will find pretty streets all around the area.
Final thoughts on London's prettiest streets
And there you have it, the ultimate compilation of all the prettiest streets in London! Are there other streets in London you think should be on this list? Let me know in the comments below!
Every time I go for a walk around London I find new cute streets to add to this list. I hope you find this guide useful in planning your trip to London, and deciding which stunning streets you should visit!
Looking for more London tips & tricks? Check out these guides!
Enjoyed reading about the prettiest streets in London? Pin it!