It's pretty likely that this post contains affiliate links. If you make a purchase through them I will receive a small commission, at no extra cost to you.
There is a common misconception that London is an expensive city to travel to. While it's true that a lot of things are pricey, as a tourist there are also loads of free attractions that you can enjoy.
In this guide I've put together a compilation of all the best free things to do in London. So that when you plan your London trip, you can save some cash on all these amazing free attractions!
Free museums in London
Did you know that all the museums in London are free entry? Now you do!
Most of the museums will have special exhibitions on for a limited amount of time that you have to pay for, but the permanent exhibitions are always free. Here are my favourite free museums in London.
Natural Science Museum
The Natural Science Museum is my personal favourite museum in London. When I first visited London at age 11 I made my parents spend a whole day inside the Natural Science Museum, I'm not even kidding.
Besides the stunning interior and epic architecture the Natural Science Museum is full of entertaining games and displays, both for children and adults. Some of the coolest exhibitions are the dinosaurs and marine life ones.
Science Museum
After a full day in the Natural Science Museum, I then made my parents spend a whole day at the Science Museum. The Science Museum is even more interactive, with lots of games that you can play and cool things you can learn.
My personal favourite exhibition at the Science Museum is the space one. They even have a full-sized replica of Eagle, the lander that took Armstrong to the moon in 1969!
Victoria & Albert Museum
In the trinity of London museums, up next comes the Victoria & Albert Museum. Also located in South Kensington, just across the street from the Natural History and Science Museums, you will find the V&A.
This museum couldn't be more different from the first two on this list.
Entrance to the V&A is still completely free, but the exhibitions on show here are entirely dedicated to art and design. Here you can see all sorts of art pieces and sculptures, as well as collections on photography, jewellery and illustration.
British Museum
The first time I visited the British Museum I ignorantly thought it would be a celebration of British culture.
Instead, it's a huge collection of historical artefacts from all over the world (I guess being a huge colonial power made everything part of British history?).
Entrance to the British Museum and permanent exhibition is free, but there are occasional exhibitions that you can pay for if you want. In the free exhibition you can see famous pieces like Rosetta's Stone and an Easter Island head.
National Gallery
The National Gallery in Trafalgar Square is one of the most famous attractions in London. It houses a collection of over 2,300 paintings dated from the mid-13th century to 1900.
If you're an art lover, it's a must-visit. Entrance to the National Gallery is free, although there are sometimes exhibitions and events that will charge an extra fee. 
Tate Modern
The Tate Modern is a modern art gallery located on the south bank of the River Thames. They have a permanent free exhibition, as well as seasonal ones that you will have to pay for if you want to see them.
Personally I found the permanent free exhibition more than enough to occupy a full afternoon. Unless the seasonal exhibition is of an artist you really want to see you can easily just visit the Tate for free.
Besides being awesome and free, the museums in London are a great activity if you're visiting London in winter. That way you can still experience this beautiful city while sheltering yourself from typical London rainy days.
Beautiful free viewpoints in London
The Garden at 120
I recently discovered this spot and I love it. Located on the rooftop of 120 Fenchurch Street you will find the Garden at 120. It's an outdoor garden area with benches, a stream and green spaces.
It's right in the heart of the City and has great views over some of the most famous buildings in London, as well as the Tower of London. Entrance is completely free. It's the perfect spot for a picnic and chill while exploring Central London!
Primrose Hill
Located on the northern part of Regent's Park, Primrose Hill is a small hill with great views. From the top of Primrose Hill you can see the whole London skyline, from the London Eye to the Shard and all the way to the skyscrapers of Canary Wharf.
I also love that you see it poking above the tree line. Primrose Hill is a bit of a local's hidden gem, and it's not uncommon to see Londoners enjoying a picnic or drink here, especially in summer.
Sky Garden
I've said it before, and I will say it again, Sky Garden is one of my favourite places in London.
Sky Garden is a combination of bars, restaurants, viewing platform and indoor garden where they sometimes hold events like sunrise yoga. It's one of the coolest places in London.
Entrance is completely free, you just have to sign up online beforehand for a specific timeslot.
If you visit after 7PM you don't have to sign up, it's walk-in but you might have to queue for a bit. It's without a doubt one of the best views in London (as well as a very Instagrammable spot)!
If you fancy a drink the prices aren't unreasonable, around 7 GBP for a beer and 15 GBP for a cocktail. Yes they're expensive, but considering you're in one of the best rooftop bars in London, it could be worst.
One New Change
Another great viewpoint, and completely for free, is the rooftop of One New Change. One New Change is a shopping mall next to St Paul's Cathedral.
The rooftop isn't particularly high but it has great close up views of the St Paul's Cathedral dome. From there you can also see the London Eye, the Shard and most of the London skyline.
Free Activities & Events in London
Angel Comedy Club
Despite living in Angel for three years it took me a while to discover this gem. Every night at the Camden Head pub they have a free stand-up comedy night, and trust me when I say it's hilarious.
It's free entry and you can't pre book so seats are on a first-come first-serve basis. To guarantee you get a good seat you will want to be in the queue outside the pub at least half an hour before the start of the show.
Waiters from the pub will come out and ask if you want to order a drink but this isn't compulsory.
At the end of the show you can leave a donation if you had fun but again, it's not compulsory, so you could spend a fun evening without spending a penny if you so choose.
Summer By The River
Summer By The River is possibly my favourite London event, and not just because I used to work right around the corner from it.
Every summer the Scoop, an outdoor amphitheatre right on the banks of the River Thames with view of Tower Bridge, gets turned into an epic summer festival venue.
They set up a street food stall and bar with deck chairs, as well as free table football and Ping-Pong tables. Every night there's a different free event on in the Scoop.
My favourite is the Friday night mass karaoke because even if you're a bad singer, nobody can hear you in the crowd anyway!
Changing of the guard
The changing of the guard is possibly one of the most iconic London tourist activities, and it's entirely free! It happens every day at 11AM at Buckingham Palace. Make sure to get there a bit earlier if you want a front line spot!
Platform 9 and ¾
If you're a Harry Potter fans you have to go see platform 9 and 3/4. Actually, you should go see it even if you're not a Harry Potter fan!
It's inside Kings Cross station, but not between platforms 9 and 10 sadly, these are only accessible if you have a valid train ticket.
The Harry Potter spot is located in the main hall of Kings Cross, close to the big departures board. There might be a queue depending on the time of day, but it's always free to visit.
You can snap all the photos you want, pretending to be a wizard on your way to taking the Hogwarts Express.
Southbank Skate Space
If you like skateboarding, you might want to visit Southbank Skate Space. This is a big outdoor skating park located right along the river edge. It's free and is open all day long.
Even if you don't skate it's still a cool spot to check out as you walk along the river. I love the colourful graffiti that decorate the skate park and I love watching good skateboarders do tricks.
Notting Hill Carnival
If you visit London at the end of August, you might have the pleasure of seeing Notting Hill carnival! This huge event takes place every year on the streets of Notting Hill, and is a colourful celebration of the Caribbean community.
Everybody dresses up and parades down the streets, dancing and enjoying the music and vibe. The event is completely free and anyone can join in. Don't be shy, have some fun!
Free parks you can visit in London
Hyde Park
Hyde Park is possibly the most famous park in London. Entrance is free and you can just walk around, soak in the sunshine and greenery, taking a break from the busy city life.
The prettiest spots in Hyde Park are the walk along the Serpentine and the Italian Gardens. If you visit London around Christmas time, you can also visit Winder Wonderland in Hyde Park.
It's a huge Christmas market, which is also entirely free. Here you will find one of the best Christmas light displays in London.
Regents Park
Regents Park is smaller than Hyde Park, but is nonetheless a beautiful park that you can visit for free. Located in the northern area of the city, this park is also home to many football fields and the London Zoo.
Inside Regents Park you will also find Queen Mary's Rose Gardens, a lovely garden with over 10,000 rose bushes. In spring when the roses are in bloom it's absolutely gorgeous. 
St Dunstan in the East
St Dunstan in the East is a little known local gem. Located in the heart of the City, it's a spot where you can go relax away from the crowds and bustle of the city.
It used to be a church that got largely destroyed in the Second World War, whose ruins now act as a public garden. It's not a big park but it's a lovely spot to enjoy a breather from the busy city life, and entrance is completely free.
Free markets, areas and attractions in London
I'll admit this category is somewhat of a confusing one, but I think you get what I'm trying to say?
I've listed below all the coolest markets, neighbourhoods or attractions in London that don't charge an entrance fee, and which you should add to your London itinerary!
Chinatown
Located in the heart of London, between Soho and Leicester Square, you will find Chinatown. Chinatown is a vibrant and colourful neighbourhood that celebrates Chinese culture.
Here you will find loads of Chinese shops, bars, restaurants and supermarkets. Even if you don't purchase anything it's still a fun area to explore, with colourful Chinese lanterns and the elaborate Chinatown Gates.
Camden Market
I spent two years living in Camden and I love this part of London. Camden Lock Market is one of the most colourful and lively markets in London, even if a little overpriced (sadly that's what happens when a spot becomes famous).
Nonetheless, even if some of the food stalls are a bit pricey, the atmosphere of the market is incredible. There is no entrance fee so you can just wander around the market, explore the stables, check out the stalls, and sampl a lot of freebies!
Most street food stalls will have a taster platter or offer samples on a tiny fork. As a student I've had full meals before just by combining all the samples from all the stalls (I'm not saying you should do it, I'm just saying it's possible).
Window-shopping at Harrods
I know what you're thinking, isn't Harrods really expensive? Yes it is. Anything you purchase from Harrods will have a higher price tag simply for the fact that it comes in a green bag with the golden Harrods writing.
However nobody will charge you for window-shopping. Harrods is still an iconic must-see spot in London, even if you don't purchase anything.
You can wander in, admire the beautiful architecture of the building, marvel at some of the price tags, and have a few samples from the food court, all for free!
Portobello Market
If you're looking for a colourful vintage and street food market, Portobello Market is the one for you. Located on the famous Portobello Road, one of the prettiest streets in London, you will find this entertaining and varied market.
Portobello Road Market is very varied in the type of things they sell. From tourist souvenirs to vintage clothes or even furniture, as well as Caribbean or Indian street food, it has it all. It's one of my favourite markets in London to explore.
It's also close to many of the Notting Hill attractions, like the gorgeous Victorian houses, bars and brunch spots. You can explore this area following my free Notting Hill walking tour.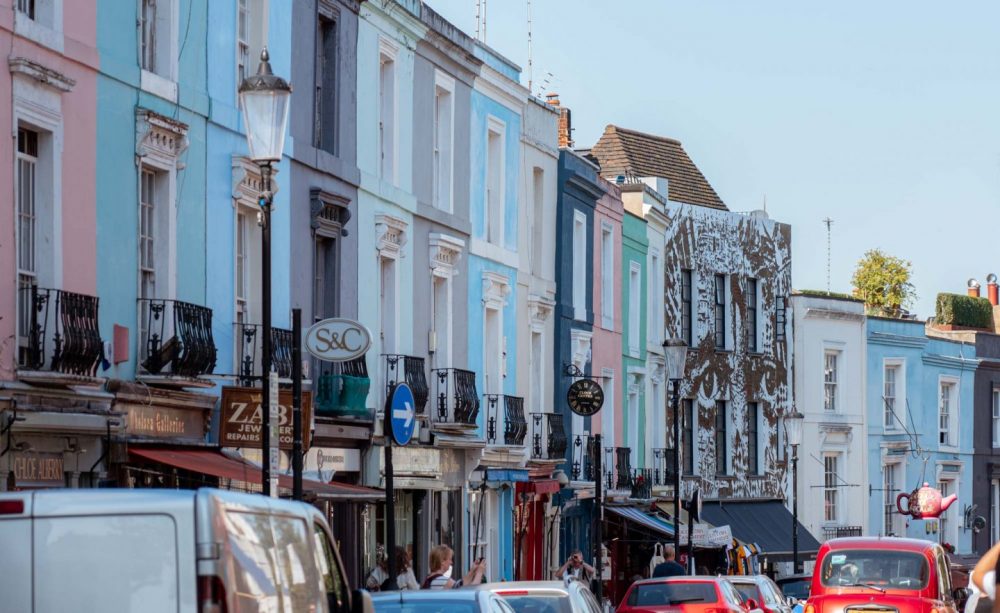 Covent Garden
Covent Garden always features on every London bucket list. This area is a must-visit for all tourists.
In the heart of Covent Garden square lies the Apple Market, a traditional covered market that is now home to many shops, cocktail bars, cafes and restaurants, as well as some more old-school stalls.
On the lower level of the Apple Market there is often a band playing live music, while in the outer square there are often street performers of all sorts.
While you could technically enjoy these performances for free, it's common courtesy to leave a tip if you do stay and watch the show.
Besides the live performances Covent Garden as a whole is a beautiful area to explore. It's mostly pedestrian so you can wander around freely. I love the architecture of the houses here, the vibrant colours and liveliness of the area.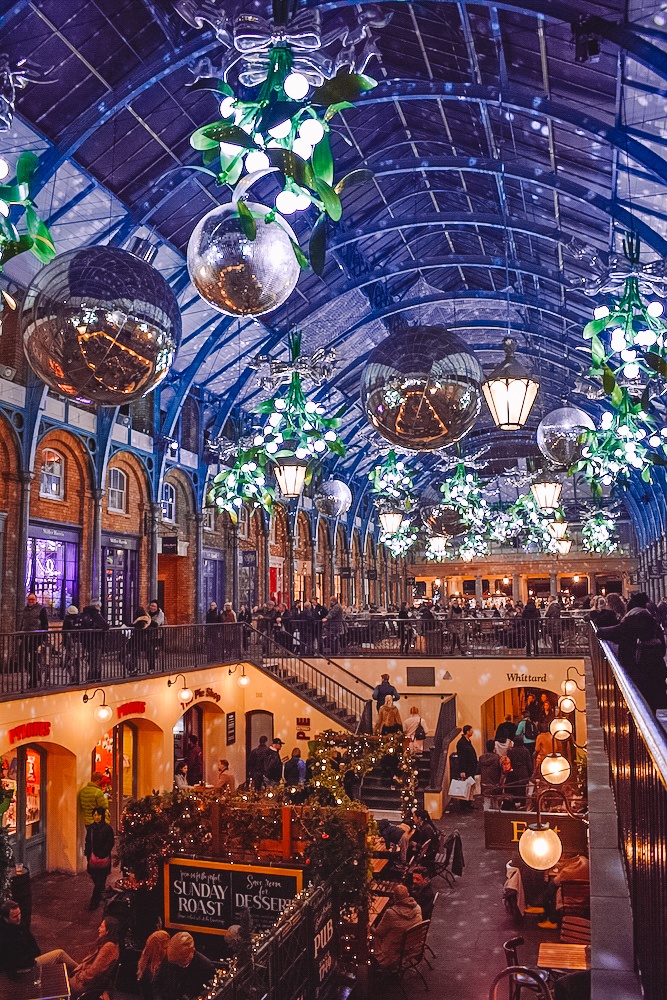 Explore the street art in Shoreditch
Shoreditch is the quirky and hipster area of London. Here you will find really cool street art dotted all over the neighbourhood. There are guided tours but you can also easily do your own Shoreditch street art walking tour.
Around Shoreditch you will also find loads of cool places to eat. Between one graffiti and the next you can fuel up on the famous bagels and curries of Brick Lane!
Old Spitalfields Market
I went to Old Spitalfields Market when I first moved to London as a student (of course, it's the hipster and edgy area of London after all) and then somewhat forgot about it. I went back recently to take my visiting cousin and seemed to have forgotten how gorgeous it is.
If you enjoyed the vintage vibes of Portobello, be ready to have them doubled. Old Spitalfields is a covered market with a myriad of stalls, which sell all sorts of fun vintage products. There's also quite a lot of stalls selling new stuff, but always with a quirky and edgy vibe.
From Old Spitalfields Market you can also easily walk over to Bricklane Sunday Market. This is another free vintage market that you can wander around. The markets here are even louder and livelier than Camden (in a good way).
Regent's Canal
Regent's Canal is a fairly long canal, however my favourite section is the one that goes from Kings Cross to Shoreditch. You can walk along the canal for free, and enjoy the relaxing and peaceful spots you find along the water.
Especially in summer, there are lots of cute little spots where you can stop for a moment and enjoy the scenery. Close to Kings Cross you will find Word on the Water, an adorable bookstore on a boat.
There are also big steps that are used as seats, where you can sit in the sun and enjoy the vibe (and maybe a drink from one of the nearby bars?)
See the main attractions of London from outside
While you will have to pay to enter the main attractions in London, you can still enjoy seeing them from outside.
Personally, even after living in London for 8 years, I've never been inside the Houses of Parliament, the Tower of London or other iconic London sights.
Especially if you don't have a lot of time, I personally prefer to see attractions from outside. I don't have a huge interest for history so I usually avoid paying for entry to museums or similar attractions, as I know I won't enjoy it.
The most famous free London attractions that you can see for free from outside are:
Big Ben
London Eye
Buckhingham Palace
Tower Bridge
Tower of London
If you have the time and are happy to spend a bit of money, you can visit all the above more thoroughly. But trust me when I say, they're all so beautiful and imposing that seeing them for free from outside is usually enough.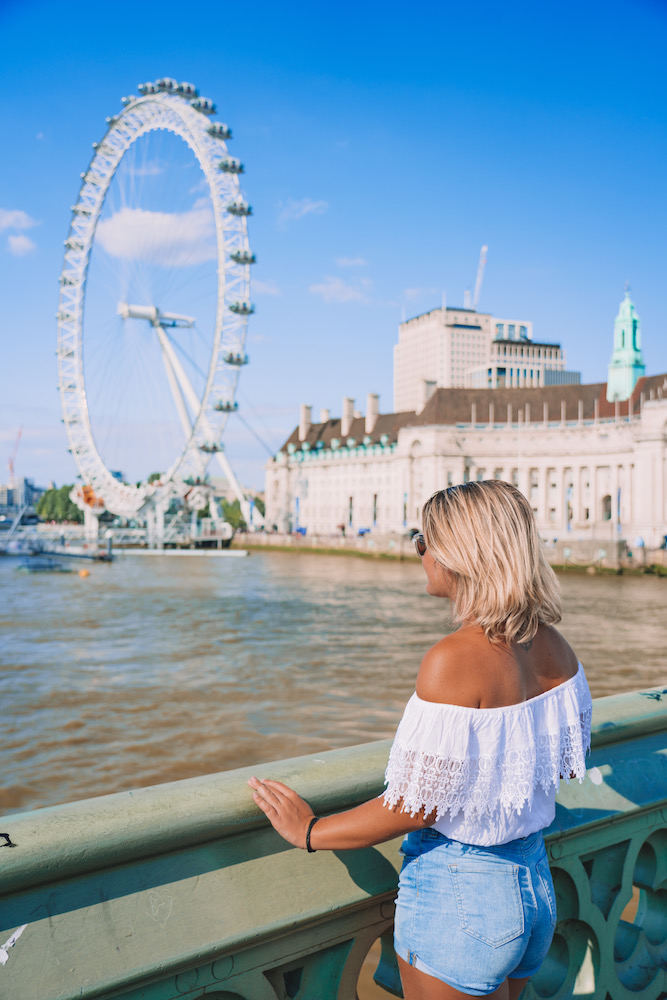 Final thoughts on free attractions in London
There you have it, the complete list of all the most awesome free things to do in London. These 33 parks, museums, events, activities or attractions are all entirely free.
You can enjoy some beautiful parts of London without having to pay an entrance fee. Do you have suggestions for other cool free things to do in London?
Let me know in the comments below! I hope you find this guide useful in planning your free activities around London.
Enjoyed reading about the coolest free things to do in London? Pin it!