It's pretty likely that this post contains affiliate links. If you make a purchase through them I will receive a small commission, at no extra cost to you.
With its traditional architecture, bustling street markets and colourful houses, Notting Hill is, without a doubt, one of the most beautiful places in London. If you're looking for the best places to explore in Notting Hill, this guide is perfect for you!
I put together a route for the best Notting Hill walking tour, including a map that you can use to do your own self guided walking tour, entirely for free! There are many beautiful corners in Notting Hill, and you don't want to miss any of them!
Notting Hill is one of the best places for walking in London, and with its gorgeous architecture and quiet streets it's easy to see why. This walking tour of Notting Hill will allow you to see all the main attractions and most beautiful spots.
So what are you waiting for, the ultimate Notting Hill walking tour is waiting for you!
Notting Hill walking tour map
Before we dive into the step by step guide, here is a map of the ultimate Notting Hill walking tour. As you can see it can be done in around one hour of walking, the terrain is pretty flat and fairly easy for all fitness levels.
However if you're a photo fan like me, it can easily end up taking much longer. Similarly if you enjoy vintage shopping and searching for cute London gifts, you will probably spend much longer in Portobello Road.
Make sure to time your visit to Notting Hill according to your interests, and factor in enough time in your London itinerary to properly explore this gorgeous part of London!
Should you do an organised Notting Hill walking tour?
The answer to this question ultimately depends on your interests. You can find many guided tours of Notting Hill, which will include interesting stories and anecdotes of the places you're visiting.
If you have an interest in history these can be fascinating, as well as cool opportunities to meet other travellers. Some cool Notting Hill walking tours include:
Alternatively, if you're just looking to see some stunning British architecture and wander around one of the most beautiful neighbourhoods in London, you can easily follow this guide and do your own Notting Hill walking tour for free.
My Notting Hill self guided & free walking tour
Personally I love starting my Notting Hill walks in Ladbroke Grove and making my way south towards South Kensington. However you could also do this tour starting at the end and it would also be fine.
Most Notting Hill walking tours start or end at Notting Hill Gate underground station, but I like to go beyond towards High Street Kensington because the architecture here is simply breath taking.
Start at Ladbroke Grove Station
I know getting around London can be a bit of a nightmare, but getting to Notting Hill is pretty easy. Ladbroke Grove Station is on the Circle and Hammersmith & City lines, as well as being serviced by the buses 7, 52, 70, 452, 23 and 228.
Getting here is easy, and is the perfect starting point for your Notting Hill walking tour. You can either head directly east and through the market to get to Portobello Road, or you can get there going via Lancaster Road.
Lancaster Road
Lancaster Road always features amongst the compilations of prettiest streets in London, and it's easy to see why. With its Victorian architecture and bold colours, it's quite a sight and unlike any other street in London.
To me it has a distinct Notting Hill feel, combining the beautiful Victorian architecture with bright and unique colours. From here simply walk along Lancaster Road, cross Portobello Road and on to your next stop.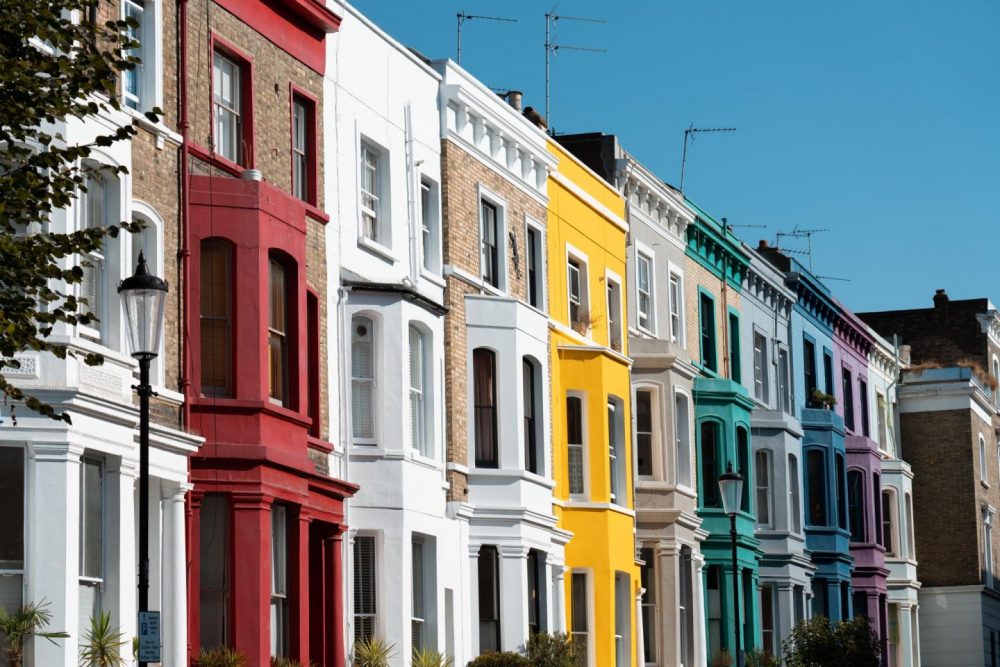 Saint Lukes Mews
I couldn't write a Notting Hill itinerary and not include Saint Lukes Mews. Here you will find the famous pink house that features in the British Christmas movie Love Actually!
It has become a popular Instagram photo spot in London, and you will likely find many people queuing up to snap photos of this pretty pink house.
If you plan to do the same, make sure to pair your photo with an inspirational London quote or a clever Instagram caption!
Westbourne Park Road
Before heading back to Portobello Road and the main attractions of Notting Hill, I always recommend taking a little detour via Westbourne Park Road. Similarly to Lancaster Road, here you will find beautiful architecture and pastel colours.
I personally love this street because the houses are very consistent, with their exposes bricks and the colour limited to the details around the windows and entrances.
Portobello Road
If you've followed my Notting Hill walking route you will have already crossed Portobello Road a few times, and now it's time to properly explore it!
Portobello is considered a must on any London bucket list, and always features on any London itinerary, and with good reason!
Portobello Road isn't just pretty, it's also alive and bustling with personality. The colourful houses are home to many vintage and quirky souvenir shops, it's the perfect place to grab some unique London souvenirs!
Towards the Ladbroke Grove end of Portobello Road you will find also the famous Portobello Road Market. It's home to a huge variety of market stalls, selling tasty street food, vintage clothing and fun souvenirs.
If you get hungry during your walk you are simply spoilt for choice. You could try some international street food, or pop into one of the many delicious Notting Hill cafes.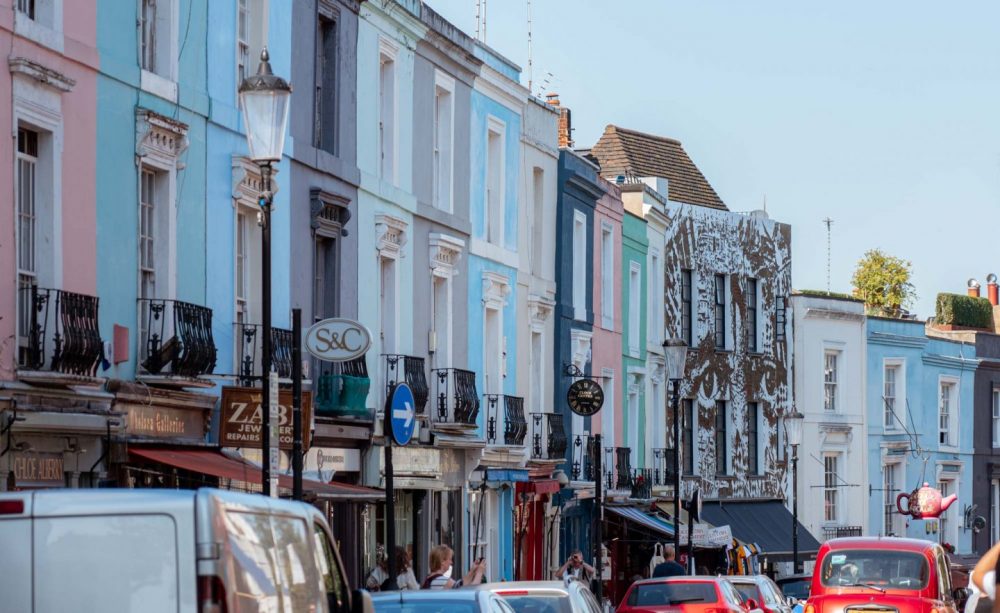 Westbourne Grove
When you get to about half way along Portobello Road I like to take a little detour down Westbourne Grove. Here you will find a row of pastel coloured houses, which make for the perfect photo backdrop.
One thing to bear in mind when photographing these beautiful houses is that people actually live here, so always be mindful and respectful about others.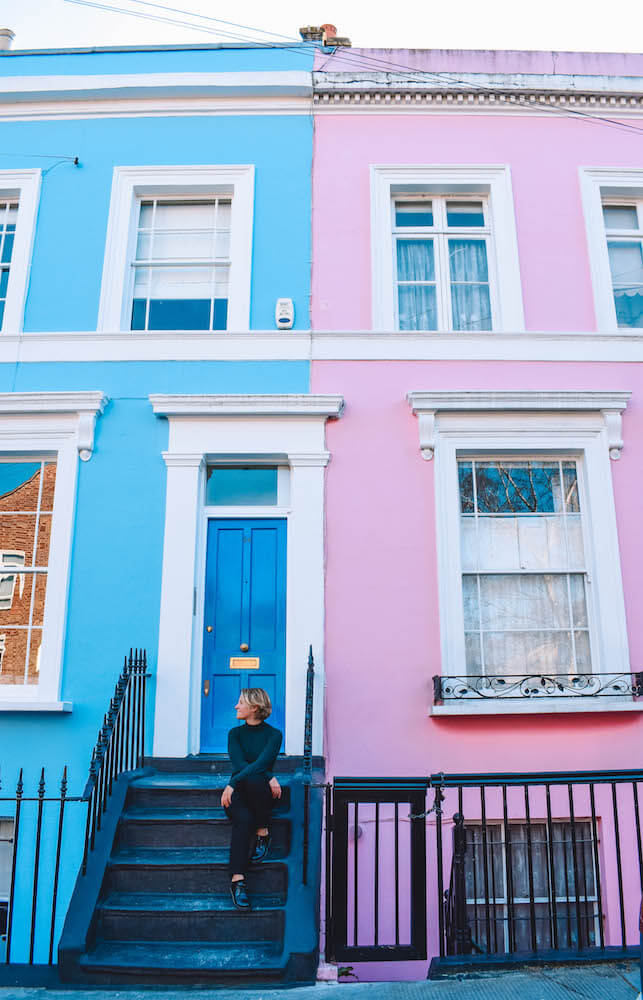 Kensington Park Gardens
After the colourful chaos of Portobello Road I love going off the main road and deeper into Notting Hill. Walk to Kensington Park Gardens, and be prepared for some of the most gorgeous houses and streets you will ever see.
Here you will find traditional Victorian houses, with their tall windows and columns, and pristine white façades. When I first moved to London I loved walking around here, and dreaming of living in one of these houses (who am I kidding, I still love doing that)!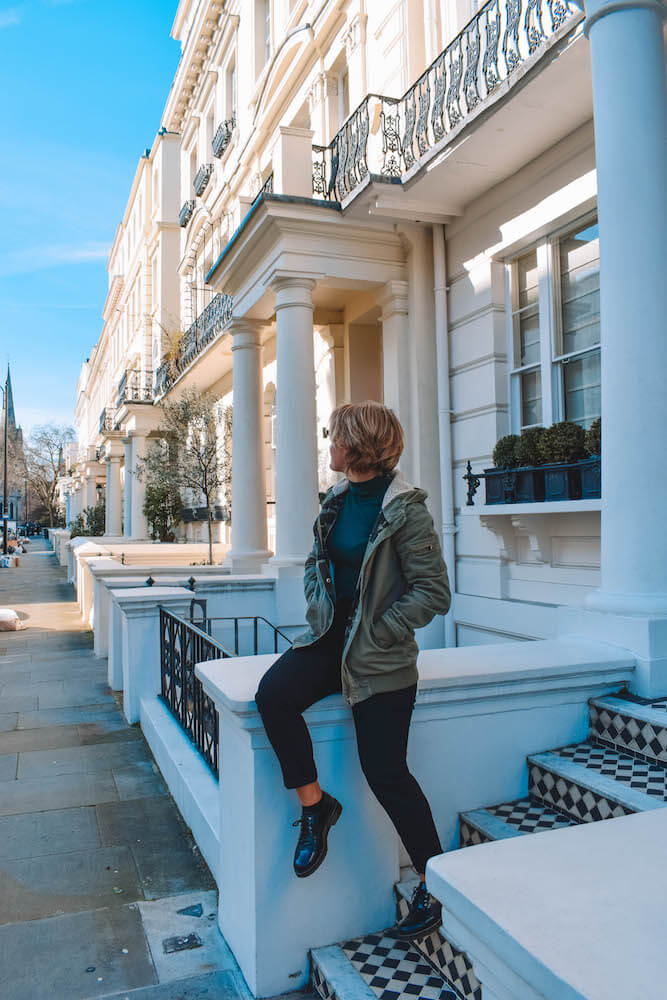 Ladbroke Square
If you can't get enough of these gorgeous Victorian houses, simply pop over to Ladbroke Square and you will be able to admire more stunning architecture.
The houses here have the traditional tall windows and columns, but I personally like that they're a bit different with their exposed bricks instead of being all white.
Hillgate Place
After Ladbroke Square make your way to Notting Hill Gate, you can get there walking along Kensington Park Road or Ladbroke Terrace, two equally beautiful streets.
Your next stop is Hillgate Place and all the surrounding streets. This little pocket of Notting Hill is simply gorgeous, and with its tranquil vibe it almost feels like stepping into a colourful fairytale and out of London.
The streets here are lined with small and quaint pastel coloured houses. The houses are much smaller than the grand Victorian ones in Ladbroke Square, but are equally beautiful.
The Churchill Arms
Up next in your Notting Hill walking tour is a very famous spot. The Churchill Arms is one of the best bars in Notting Hill, but since it's on the border with Kensington it's often listed amongst the best pubs in South Kensington.
The floral façade make it one of the most Instagrammable restaurants in London. Especially if you're visiting London in winter, it's a must see on any London Christmas lights tours, when the flowers are substituted with Christmas trees.
While the exterior is without a doubt what attracts most visitors these days, make sure to pop also inside. They serve delicious food and drinks, just what you need to refuel after your Notting Hill walk!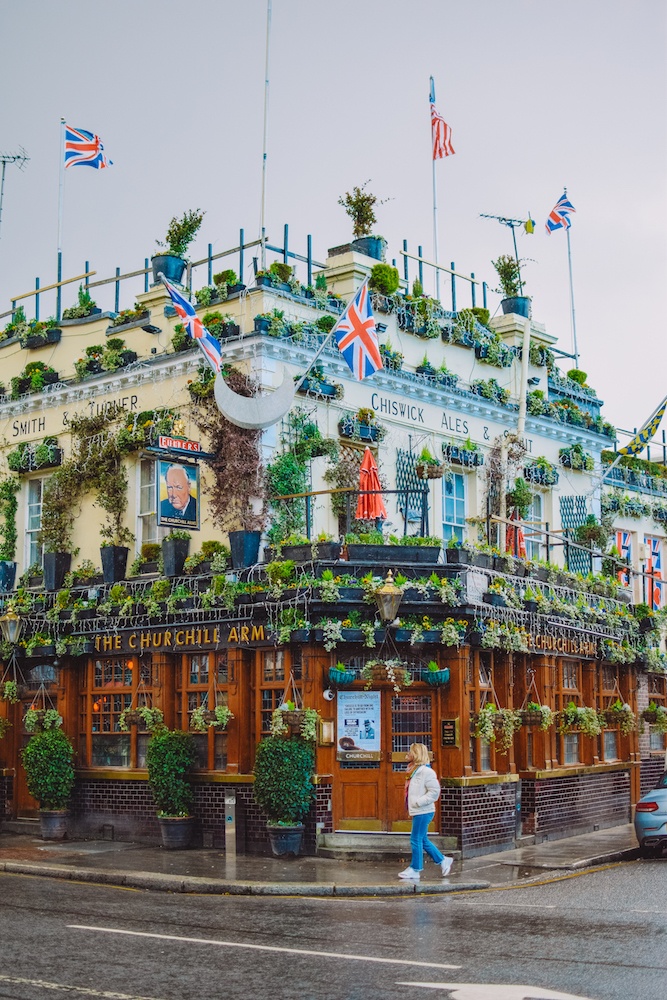 Hornton Street
This street is particularly beautiful if you're visiting London in spring. Here you will find many gorgeous cherry blossom and magnolia trees, which add that pretty pop of pink to the streets of Notting Hill.
Phillimore Gardens
Similarly to Hornton Street, this is another great spot if you want to see cherry blossoms paired with pretty British architecture.
From here you can then continue on to Holland Park, one of the prettiest parks in London, for a little green break, or head home via High Street Kensington station.
Final thoughts on the perfect walking tour of Notting Hill
There you have it, the ultimate walking tour of Notting Hill! Are there other parts of Notting Hill that you think should feature on this route? Let me know in the comments below!
I visit Notting Hill very regularly, and I simply adore walking around and admiring the gorgeous and colourful architecture. With this guide I wanted to give you a walking route you could easily follow yourself, and see all the highlights of Notting Hill.
Notting Hill is one of the most iconic places in London, and one of the best areas to stay for travellers. I hope you will find this guide useful in planning your time in Notting Hill!
Enjoyed reading my free & self-guided Notting Hill walking tour? Pin it!