It's pretty likely that this post contains affiliate links. If you make a purchase through them I will receive a small commission, at no extra cost to you.
Covent Garden is one of the most iconic attractions in London, and a must on any London bucket list. Located in the heart of London, this neighbourhood has much to offer beyond the main market area.
There are lots of awesome things to do in Covent Garden, for Londoners and tourists alike. From the shopping to watching live performers, or from unique dining experiences to quirky museums, Covent Garden has something for everyone.
In this guide I've listed all the best things to do in Covent Garden, including some local hidden gems. So without further ado, let's jump in and discover Covent Garden!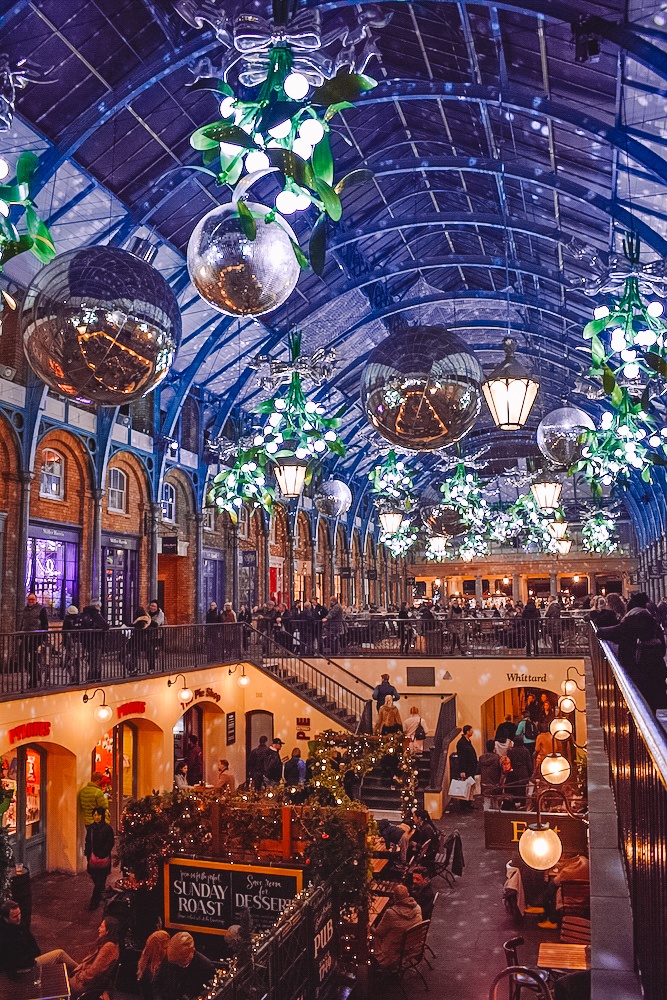 10 awesome things to do in Covent Garden
Discover Neal's Yard
It took me years after first moving to London to actually find Neal's Yard. I kept seeing it in cool London Instagram posts, but I could never figure out where it was.
When I realised just how central it was, and that I must have walked past it loads of times without knowing it was there, I felt like a right fool. Located a short walk away from Covent Garden tube station, this cute courtyard is a must-see on any London itinerary.
Neal's Yard is a small and colourful courtyard, with a few shops, bars and restaurants in it. There are flowerpots everywhere, and all the walls are brightly decorated.
Tucked away in the heart of London, the hustle and bustle of the city seems to slip away. This quaint courtyard is adorable and relaxing, and it almost doesn't feel like London.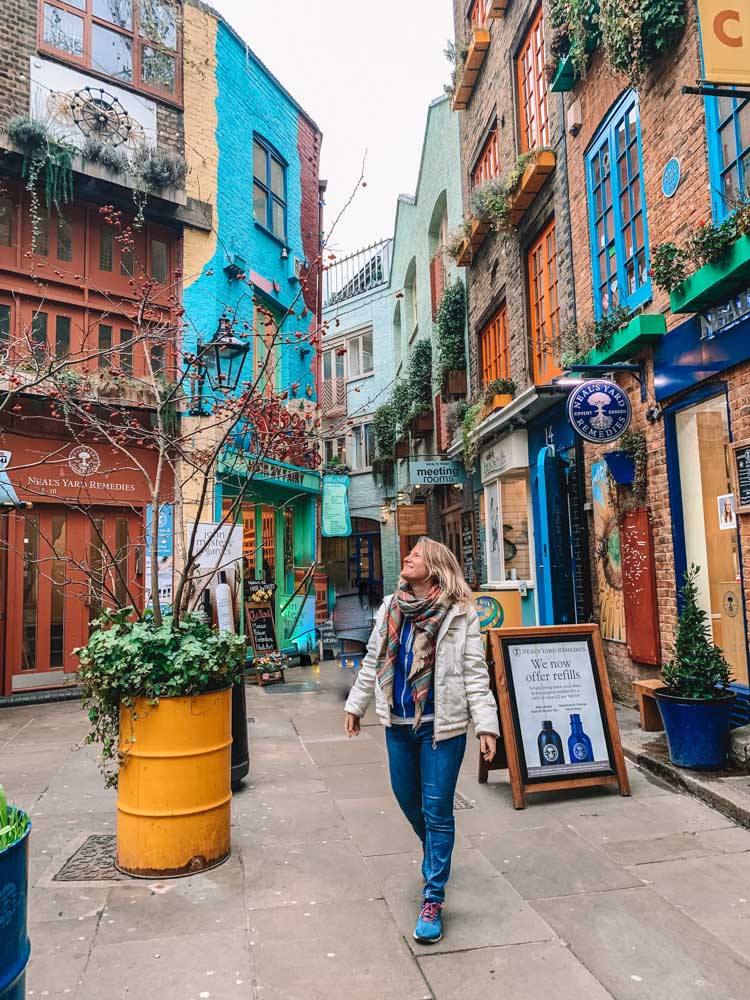 Eat at Seven Dials Market
I discovered Seven Dials Market quite recently, and it quickly became one of my favourite places. While it's not quite a street food market, it has that lively and communal vibe.
At Seven Dials Market you will find a huge variety of booths selling all sorts of cuisines, from truffle burgers to buns, with a big central dining area in the middle.
You can grab food from different stalls and then sit in the middle with your friends, all eating and trying different cuisines. There's also a bar where you can get cocktails and other drinks. It's the perfect place for a fun Friday night or casual date.
Shop at the Apple Market stalls
The Apple Market is possibly the most famous spot in Covent Garden, and the one most people picture in their heads when they think of Covent Garden.
The covered market has changed a lot over the years, but today it's home to many quirky bars, delicious restaurants, unique London souvenirstalls and fun shops. It's a cool place to explore, and perfect for some London gifts shopping.
It tends to get very busy so make sure to plan your London itinerary accordingly. If you can get here in the morning or on a weekday there will usually be less crowds.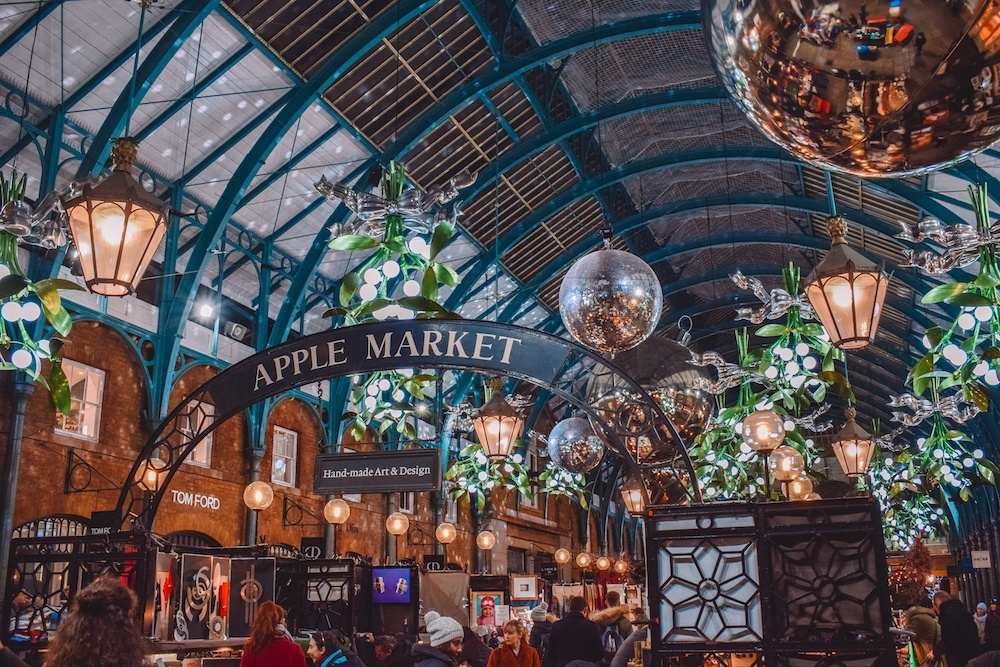 Eat at one of the many delicious restaurants
If you love eating (and who doesn't?) then a visit to Covent Garden is almost compulsory.
Being one of the most beautiful spots in London, it's only natural that there are loads of restaurants, food stalls and takeaway spots to accommodate the huge number of visitors.
Being such a touristy spot it's only natural that some of the restaurants might be tourist traps. However, there are also many lovely dining spots that you can't miss, as well as some picture perfect restaurants.
If you want to play it safe you can eat at places like Wagamama, Pho or Rosa's Thai. These are chains with venues all over London (and the UK), the food is good and affordable, and popular with both Londoners and tourists.
Close to Covent Garden you will also find B Bakery, a really cute café that offers delicious coffee and pastries. They also do a fun afternoon tea bus tour, if you want to try something unique.
Watch live performers
In Covent Garden you will always find some form of live performance going on. In the area just surrounding the covered market there are always live performers, putting on a show at any time of day.
Whether it's singing, acting, standing statues or acrobatic stunts, there really is a live performance for everyone. They're especially popular if you're in London in summer, since not many people wan to stand around in the cold.
Watch a performance at the Royal Opera House
As you might guess from the name, the Royal Opera House is an opera house and major performing arts venue located in Covent Garden. If you like watching the ballet, then a visit to the Royal Opera House is a must.
Even if you're not a fan, it's still a very interesting experience. With its distinctive interior décor and incredibly talented performers, watching a performance at the Royal Opera House is a once in a lifetime experience.
Discover Cecil Court
Cecil Court is a pedestrian street with Victorian shop fronts. It's one of the prettiest streets in London, and a must-see for any Harry Potter fan.
While it wasn't one of the many Harry Potter filming locations in London, it's said to be JK Rowling's inspiration for Diagon Alley.
Walking down the quaint street and admiring the vintage shops it's easy to see how this cute alley inspired one of the most famous fictional streets.
Cecil Court is one of my favourite spots for my London city walks. Here you will also find the bookstore where the very first Harry Potter book was sold.
Watch a West End show
You might have to go a little beyond Covent Garden for this one, but it's worth mentioning regardless. Covent Garden is still considered part of the West End, and no Covent Garden bucket list would be complete without a West End musical!
The closest one to Covent Garden is Lyceum Theatre, where they show The Lion King (my personal favourite musical) but there are many more theatres and shows just a short walk away.
It's the perfect activity for a rainy day or if you're visiting London in winter, since it will still allow you to do a typically London activity, while being indoors and warm for a few hours.
Drink at one of the awesome cocktail bars
If you're looking for a fun night out, Covent Garden is a great place to start. Dotted all over the area you will find unique and quirky cocktail bars, all of them serving much more than simple cocktails.
Some of my favourite cocktails bars in Covent Garden are Dirty Martini and Mr Fogg's Tavern.
Dirty Martini because it serves all kinds of delicious martinis and because it often becomes a dance floor after a certain hour, and Mr Fogg's Tavern because they serve truly unique and delicious cocktails.
Covent Garden might not be the first place in London that people think of for drinks, but you're guaranteed to find many intriguing bars.
Visit the London Transport Museum
It's no secret that London is full of exciting museums. The British Museum and Science Museum are the traditional and famous ones, but there are also many smaller and quirkier museums, which all sorts of interesting information.
The London Transport Museum is one of these. In this museum you will find everything you might have ever wondered about the history of London transport, as well as things you've never thought of.
Covering everything from horse power onwards, this museum also has loads of interactive activities, as well as contraptions that you can climb aboard of. It's a fun and engaging museum, which is a bit different from the usual art or science exhibition.
Final thoughts on the top things to do in Covent Garden 
There you have it, the ultimate compilation of the best things to do in Covent Garden! Are there are other cool things to do in Covent Garden that you think should feature on this list? Let me know in the comments below!
Despite being a very touristy spot, Covent Garden is one of my favourite places in London. It's always bustling and alive with a special energy, one that reminds me how lucky I am to live in London.
Covent Garden is also a great area to stay in London, especially for first time visitors. Besides offering loads of cool things to do, it's also perfectly located to easily get around London and see all the other iconic attractions.
I hope you find this Covent Garden guide useful in planning your time in London! If you have any questions about Covent Garden, or London in general, just let me know in the comments.
Enjoyed reading about the best places to visit in Covent Garden? Pin it!