It's pretty likely that this post contains affiliate links. If you make a purchase through them I will receive a small commission, at no extra cost to you.
Notting Hill is famous for many things, including pretty pastel-coloured terraces, the Caribbean Carnival and Julia Roberts. However, it's also well known for having one of the best selections of restaurants in London.
You'll find countless great places to eat as you explore Notting Hill's vibrant streets. This buzzing neighbourhood is filled with culture and energy, blending culinary influences from all over the world.
As you stroll along Portobello Road and beyond, you'll be drawn into an electric atmosphere and surrounded by some of the best places to eat.
Whether you want to start your afternoon with a healthy and ethically-sourced lunch at Farm Girl Café, grab an artisanal and stone-baked slice at Arancina, or round off your day amongst an indoor forest at Gold, you'll find food for every occasion in Notting Hill.
If you're looking for the best places to eat in Notting Hill, this list will guide you through some of the best restaurants around.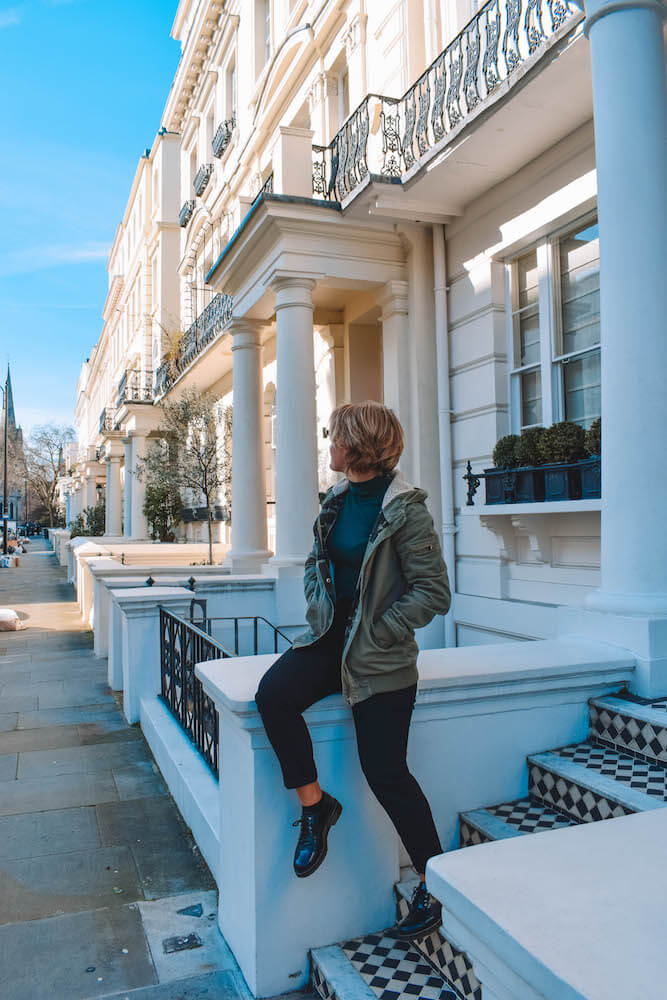 Best Restaurants in Notting Hill
Pizza Pilgrim
Situated on the buzzing Queensway, Pizza Pilgrims offers some of the best Neapolitan pizza around. The combination of an inviting atmosphere and innovative menu make Pizza Pilgrims one of the best places to eat in Notting Hill.
The dough is made fresh each day and is double-fermented, giving a light, chewy and charred crust. Their toppings are both traditional and inventive, and their menu highlights each area of Italy where the different elements are sourced.
The decor is nearly as exciting as the menu. Where else can you enjoy eating in raised bunk bed booths, surround yourself in leafy orange trees and gaze at walls lined with instagrammable pizza box art?
Make sure you leave room for their signature Nutella pizza ring for dessert, followed by an ice-cold shot of their own Amalfi limoncello.
Sunday in Brooklyn
After becoming a staple of the New York dining scene, Sunday in Brooklyn has travelled to London to become one of the top restaurants in Notting Hill.
You'll find a quality American-inspired brunch menu, inventive cocktails and a warm atmosphere bathed in natural light.
Placed by the vibrant Westbourne Grove, Sunday in Brooklyn is famous for their trademarked Sunday Pancakes: a large spongy stack glistening with hazelnut maple praline and brown butter glaze.
This instagrammable brunch tastes as good as it looks, so it's no surprise that Sunday in Brooklyn offers one of the best lunches in Notting Hill.
Don't feel like you're restricted to brunch – the menu also includes a range of comforting burgers and dinner options. The menu also contains separate cocktail lists for brunch and dinner, allowing you to pair your cocktail with the time of day.
Cotton's
Notting Hill is famous for its annual Caribbean Carnival, and Cotton's provides the flavours of Carnival all year round. Its tropical vibes, flavoursome Caribbean cuisine and huge rum selection make it one of the best restaurants in Notting Hill.
Situated two minutes' walk away from Notting Hill Gate, you can pair Caribbean classics like smoked pork and jerk salmon with an array of bright and summery cocktails.
Cotton's also provides one of the best brunches in Notting Hill, with three courses accompanied by two hours of bottomless rum punch or prosecco. They even hold the Guinness World Record for the most amount of rums commercially available! How long would it take to try all 372?
Farm Girl
Just a short walk away from Notting Hill Gate, Farm Girl is one of the best spots for lunch on Portobello Road. This Australian-influenced café places a focus on quality ingredients and local supply. It offers healthy breakfasts, comforting lunches and freshly baked cakes and pastries.
You can expect to lose track of time in the beautiful café, with its whitewashed walls dripping in green foliage and its signature pink tables. The food is famously instagrammable too! You can look forward to brunches adorned with colourful petals and intricately crafted latte art.
Farm Girl combines healthy, locally-sourced food with some of the best coffee in town, and is easily one of the best places to eat in Notting Hill.
Arancina
Placed at the foot of Portobello Road, Arancina offer hand-stretched stone-baked pizza and fresh handmade arancini. Their authentic Roman style and secret dough recipe makes them one of the best Italian restaurants in Notting Hill.
You can't miss the iconic orange 1960s Fiat Cinquencento placed in the window, sliced in half lengthways and adorned with long wooden boards of rectangular pizza.
This car brought the two brothers, and their famous pizza alla pala, from Italy to Notting Hill, where they established Arancina in the 1990s.
The crust is crisp and light, and will always leave you wanting more. You can grab a slice, enjoy an individual paletta (small board) or share a 70cm pala (paddle) between friends.
The Shed
The Shed is a showcase for the best of British cookery. Their emphasis on sustainability and a farm-to-fork menu make it one of Notting Hill's best restaurants.
The decor is rustic and quirky, and extends to a covered outdoor terrace lined with ivy that's perfect for summer and heated in winter.
The menu is highly seasonal, with as many ingredients as possible sourced from their own farm in West Sussex. Even the wine comes from their own vineyard, Nutbourne, which neighbours their farm.
The Shed specialises in tapas-style sharing platters, so you can make the most of trying as many different dishes as possible. You can also order the six-course 'Local & Wild' tasting menu to go on a culinary journey through the English countryside.
Portobello Road Market
Portobello Road is one of the most well-known streets in London, and is famous for its bustling and diverse market.
The street is lined with countless food stalls selling food from every corner of the globe, making the market one of the best places to eat in Notting Hill.
Take the time to explore the market on Fridays and Saturdays, and you'll be drawn in by the smell of sizzling dishes from all over the world.
Take a slight detour to the adjoining Golbourne Road and you'll find freshly-cooked Caribbean and North African street food all throughout the week. Whatever your tastes, you'll find some of the best places to eat along Portobello Road.
You can also stock up your kitchen with the huge range of fresh fruit and vegetables on offer. The fresh produce available at the market also directly supplies many of the top restaurants in Notting Hill!
Final Thoughts on the Best Restaurants in Notting Hill
Notting Hill is famous for many reasons, one of which is the incredible range of top places to eat. Whatever cuisine you're craving, it's easy to find many of the best restaurants scattered around Portobello Road, Ladbroke Grove, Queensway and beyond.
Notting Hill is also one of the most beautiful places in London, so you're able to enjoy some of the most beautiful restaurants nestled among iconic pastel-coloured houses, quirky antique shops and many other cornerstones of culture. It's a well-connected area with a number of tube stops, so you should have no problem getting around.
Portobello Road contains some of the best vintage shops around, and offers some of the best souvenirs and London-themed gifts. The colourful houses light up in the sun and make Notting Hill one of the best places to visit in the summer.
Notting Hill also contains some of the prettiest streets in London. See if you can find the famous pink house of St. Luke's Mews, alongside many other of the most instagrammable spots in London.
Come early to enjoy some of the best brunches in Notting Hill, or settle in at one of the best cafés in Notting Hill. After you've enjoyed some of the best places to eat, explore one of the Notting Hill walking routes to really make the most of the area. You can also stop by some of the best bars in Notting Hill along the way.
Looking for more things to do in London? Check out these tips:
Enjoyed reading about the best restaurants in Notting Hill? Pin it!